The CUInsight Experience podcast: Marsha Majors – Safe spaces (#78)
"We're here for one purpose, and that's to serve our members, serve one another well, and to serve our communities." - Marsha Majors
Thank you for tuning in to episode 78 of The CUInsight Experience podcast with your host, Randy Smith, co-founder of CUInsight.com. This episode is brought to you by our friends at PSCU. As the nation's premier payments CUSO, PSCU proudly supports the success of more than 1,500 credit unions.
In today's environment of remote work and social change, what is your credit union doing to ensure your members and employees feel welcome, heard, and well taken care of? On this week's show, I'm sitting down with Marsha Majors, President and CEO of US Eagle Federal Credit Union in New Mexico, to learn more about how she's leading her credit union through not only this global pandemic, but also George Floyd's death and the social upheaval that has followed in communities across the country. 
To that end, we discuss how important it has been for Marsh to continually communicate and reiterate the vision and values of US Eagle Federal Credit Union to her team and members through it all. Marsha also talks about the need to build trust and educate members in this new environment to help them feel safe and ensure a smooth transition to more efficient services channels. We also chat about why she thinks credit unions must be better about advocating for themselves going forward. 
Also in the episode, Marsha and I discuss how she's using her position as President and CEO to inspire and mentor young girls and women, and why she chooses to lead by example. Additionally, she shares her useful methodology for making difficult decisions, discusses the mistakes she sees young leaders making today, and details some of the ways her mentors have helped her in her career and how she is paying it forward by mentoring the young people of her community. 
In the final portion of our conversation, we learned that Marsha wanted to be a teacher when she was growing up and likes to listen to mellow music. She shares that the COVID-19 crisis has really forced her to stop and smell the roses, and appreciate the people in her life. I hope you enjoy this fantastic conversation! 
Find the full show notes on cuinsight.com
Subscribe on: Apple Podcasts, Spotify, Google Play, Stitcher 
Books mentioned on The CUInsight Experience podcast: Book List 
How to find Marsha:
Marsha Majors
MMajors@useagle.org
www.useagle.org
Marsha Majors
LinkedIn | Facebook | Twitter 
Show notes from this episode:
A big shout-out to our friends at PSCU, an amazing sponsor of The CUInsight Experience podcast. Thank you! 
Check out all the outstanding work that Marsha and her team at US Eagle Federal Credit Union are doing here. 
Shout-out: Randy's mother 
Shout-out: Renée Sattiewhite
Shout-out: Jill Nowacki
Shout-out: Maurice Smith
Shout-out: Global Women's Leadership Network 
Album mentioned: Anthology by Maze featuring Frankie Beverly
Album mentioned: The Best of Sade by Sade
Book mentioned: Who Moved My Cheese?: An Amazing Way to Deal with Change in Your Work and in Your Life by Spencer Johnson and Kenneth Blanchard
Book mentioned: Becoming by Michelle Obama
Previous guests mentioned in this episode: Renée Sattiewhite, Jill Nowacki (episodes 4, 18, 37 & 64), Maurice Smith
In This Episode:
[02:16] – Marsha, welcome to the show!
[03:13] – Marsha shares how she provides a safe place for her staff and members during these critical crises.
[06:00] – Will the pandemic change the way members do business with credit unions going forward?
[08:11] – Marsha speaks about how she believes credit unions should advocate for themselves and stay relevant.
[10:11] – Marsha shares how she came up through the ranks in a credit union.
[12:53] – In a year from now, what will you be most proud of that you and your team have accomplished?
[14:43] – Marsha speaks about what inspired her to take the position with US Eagle Federal Credit Union.
[16:05] – Has the inspiration changed since you took the position?
[16:50] – Marsha believes her leadership style is servant leadership, putting people first and leading by example.
[18:35] – As a leader, is there something your team has heard you say so many times they can finish your sentence?
[19:49] – Marsha discusses how she was born with the ability to make hard decisions.
[21:00] – When you become a leader, you have made it, a myth she wants to debunk.
[21:53] – Marsha shares the mistakes she has made and the mistakes she sees young leaders make today.
[22:59] – Stay true to yourself, know your capabilities are pieces of advice she has been given that she still uses.
[23:53] – How has the power of mentorship helped you in your career, and how are you paying it forward?
[24:53] – Marsha shares some recent self-doubt she has had to overcome.
[26:34] – Marsha speaks about some community work her organization has done that makes her smile and feel proud.
[27:40] – Marsha chats about what she does when she has a day off to recharge.
[30:16] – What were you like in high school and do you remember ever getting into memorable trouble?
[31:03] – Marsha says that she wanted to be a teacher when she was growing up.
[32:36] – What is your favorite album of all time?
[33:14] – Is there a book you think everyone should read?
[33:57] – People have become more important and spend time with family. 
[34:49] – Marsha shares her final thoughts for the listeners.
[35:38] – Thank you so much for being on the show today!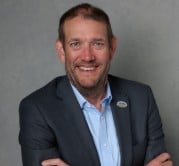 Randall Smith is the co-founder of CUInsight.com, the host of The CUInsight Experience podcast, and a bit of a wanderlust. As one of the co-founders of CUInsight.com he ...
Web: www.CUInsight.com
Details