The CUInsight Experience podcast: Mike Walsh – The algorithmic revolution (#15)
"Credit unions were a disruptor in their space too. They were a radical idea." - Mike Walsh
Welcome to episode 15 of The CUInsight Experience podcast. Hosted by Randy Smith, co-founder and publisher of CUInsight.com. Mike Walsh joins me today for a fascinating conversation with someone who is outside the credit union space. While at PSCU Member Forum in Austin, TX, I managed to snag one of the keynote speakers to sit down and chat, and that conversation is this episode! Mike is a futurist, author, a global nomad, and the CEO of Tomorrow. He is a consultant who helps leaders thrive in the current era of disruptive technological change.
In our short conversation, we dug into moving from the digital revolution to the algorithmic revolution, the power of data in that move, and how credit unions can capitalize on this. Mike starts things off by explaining what a futurist is, revealing that in fact we are all futurists in a way. After all, it's impossible to survive without having some kind of anticipation of what will happen next.
We've been through a digital revolution. The revolution that's coming is an algorithmic one. As Mike points out, this offers opportunities for credit unions, which are already disruptors in their space. However, technology is a double-edged sword, because we all essentially end up with the same systems. This means that the technology itself is no longer an advantage; it's just taken for granted. Instead, what you do in and around the technology is increasingly what matters more.
In this day and age, all of us are wondering about technology, innovation, and the future, especially as they relate to credit unions. This conversation with Mike addresses those questions, introduces new ones, and gives an insightful perspective into how to move forward.
Subscribe on: Apple Podcasts, Spotify, Google Podcasts, Stitcher
How to find Mike:
Mike Walsh
Futurist, Global Nomad, Speaker, and CEO of Tomorrow
www.mike-walsh.com
Twitter | Instagram | Linkedin | YouTube
Show notes from this episode:
PSCU Member Forum – This should be on your calendar for next year and where we recorded this episode on site in Austin.
Mike's podcast: Between Worlds (Check it out. He has some great guests. I subscribed.)
Mike's latest book: The Algorithmic Leader: How to Be Smart When Machines Are Smarter Than You
Mike's other books: The Dictionary Of Dangerous Ideas and Futuretainment: Yesterday the World Changed, Now It's Your Turn
Interested in booking Mike to speak at an event? You can find out more here.
Mike uses Feedly to follow all the blogs.
The publication Mike is reading everyday to stay informed: The Financial Times
Best album of all-time: Bill Evans, Chick Corea – Trilogy, Tosca
Previous guests mentioned on the show: Doug Leighton
You can find all past episodes of The CUInsight Experience here.
Mike's ask of our listeners: Read his latest book and follow him on Instagram.
In This Episode:
[00:03] (intro) – Welcome back to the CUInsight Experience! Randy introduces today's guest, Mike Walsh.
[00:48] (interview) –  Mike addresses two questions: what's the elevator pitch for what a futurist is, and is there something that he sees happening that credit unions need to wrap their heads around quickly?
[02:04] – We need to reset our expectations about what new versus old means, Mike explains.
[04:18] – Mike points out that credit unions were (and still are) a radical idea and a disruptor in their space.
[05:07] – We learn about the one way to get people who are set in their ways to change their mindset profoundly.
[06:12] – Mike points out that we're all consumers of IT now, and explains why technology is a double-edged sword.
[08:09] – Is it true that other countries are ahead of the US in a lot of ways when it comes to technology?
[11:47] – We hear Mike's thoughts on what to do with all the data once you've captured it for smaller companies that don't have data scientists on hand.
[13:31] – Mike chats about how he got his start on his career and ended up doing what he does now.
[14:54] – Does Mike have any tips for being productive while on the road, or hacks for people who are moving into that space? He answers, and also addresses how he manages teams when he's on the road so much.
[17:38] – We learn about a piece of advice that Mike finds himself going back to over and over again throughout his career.
[19:01] – Has Mike's inspiration changed over the course of his career?
[20:14] – Randy launches into the rapid-fire questions: does Mike remember the first time he got into memorable trouble?
[20:41] – Are there books or blogs that Mike reads and thinks that everyone should follow?
[21:18] – Does Mike have any specific daily routines that he needs to do, even while traveling so much?
[21:35] – What's the best album of all time?
[22:14] – What has gotten more important to Mike as he gets older?
[22:42] – Does Mike have any final thoughts or asks for listeners? And where can people get in touch with him?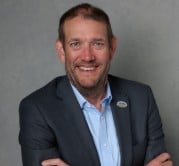 Randall Smith is the co-founder of CUInsight.com, the host of The CUInsight Experience podcast, and a bit of a wanderlust. As one of the co-founders of CUInsight.com he ...
Web: www.CUInsight.com
Details