The CUInsight Experience podcast: Miriam De Dios Woodward – Embracing change (#41)
"If you don't make the time for it, it's never going to happen." - Miriam De Dios Woodward
Thank you for tuning in to episode 41 of The CUInsight Experience podcast. Hosted by Randy Smith, co-founder of CUInsight.com. Today Randy is talking to Miriam De Dios Woodward, the President and CEO of PolicyWorks.
Regulatory compliance challenges that confront credit unions change and grow every year. Miriam believes in the value credit unions bring and is dedicated to helping them navigate the changing tides of these issues.
Miriam discusses the need for diversity, equity, and inclusion in the workplace and how credit unions will need to change their mindset to stay relevant in today's market. She says, don't let the compliance burden overwhelm your business. There are excellent resources out there to help you, so take advantage of them.
Randy and Miriam have a conversation about leadership and leading from a place of abundance instead of limitations. They discuss the personal connections you get with people in the credit union industry and how that was one of the things that pulled her into a career with credit unions from the beginning.
Miriam has excellent insights into finding balance with a career and a new baby, making personal development a priority throughout your career and embracing change. This episode is packed with information that can help you take your job to the next level. You won't want to miss a single word. Enjoy!
Subscribe on: Apple Podcasts, Spotify, Google Play, Stitcher 
How to find Miriam:
Miriam De Dios Woodward, President and CEO of PolicyWorks
miriam.dedioswoodward@policyworksllc.com
www.policyworksllc.com
Linkedin | Twitter 
Show notes from this episode:
Check out all the great work Miriam and her team are doing at PolicyWorks for credit unions.
Find out about more of Miriam here.
Shout-out: Coopera where Miriam was the president and CEO.
Shout-out: Warren and Christina Morrow
Album mentioned: Pies Descalzos by SHAKIRA
Book mentioned: Strengthsfinder by Tom Rath
Book mentioned: Emotional Intelligence by Daniel Goleman
Book mentioned: Lean In: Women, Work and the Will to Lead by Sheryl Sandberg
Book mentioned: The Trusted Advisor by David Maister
Book mentioned: Servant Leadership by Ken Blanchard
Book mentioned: Becoming by Michelle Obama
Both of us are big Audible fans.
Previous guests mentioned in this episode: Jill Nowacki (episodes 4, 18 & 37)
You can find all past episodes of The CUInsight Experience here. 
In This Episode:
[01:24] – Miriam, I am so excited to have you on the show!
[02:03] – Randy and Miriam discuss her transition from Coopera to its larger sister company PolicyWorks.
[04:01] – What challenges do credit unions have with regulations and compliance issues? What is PolicyWorks doing to help?
[06:27] – Miriam talks about her need to learn and get involved in organizations that she feels she can help.
[07:46] – Parenting her infant daughter is her passion right now; being a new mom takes much time.
[09:20] – At what level do diversity, equity, and inclusion start? How does it start?
[10:16] – What belief in credit unions will have to change to stay relevant fundamentally?
[11:40] – Being proactive with compliance is a mindset that can be beneficial.
[12:27] – Miriam tells us a story about how she started her career in credit unions.
[14:16] – Her inspiration in credit unions has not changed; she loves the personal connection of the mission-driven industry that credit unions are.
[15:58] – Connecting with people and her team was one of the first things she did as the leader of PolicyWorks.
[17:17] – What would your team say about your leadership style?
[18:03] – Embracing change is something her team has heard her say over and over as she learns her way in this new position.
[19:02] – Young leaders seem to make the mistake of not connecting with new people and trying to fit in when they should let their differences shine.
[21:12] – What failures did you have earlier in your career that you have learned from?
[22:31] – She was told early in her career always to make the time for personal development and lead from the place of abundance instead of limitations.
[24:41] – How do you keep your message fresh? PolicyWorks message?
[26:24] – Miriam makes time to travel with her family on her free days, a road trip, or just a new experience.
[27:28] – What was the first time you got into memorable trouble?
[28:13] – She needs a green shake or smoothie every morning, or it throws off her day.
[29:18] – Her favorite album?
[30:45] – What book have you gifted the most? What is your favorite book to read?
[31:56] – Family time is the most important thing to her, so she tries to be strategic with things outside of them.
[33:45] – When you hear the word success who comes to mind?
[34:31] – Any final thoughts or asks for your listeners?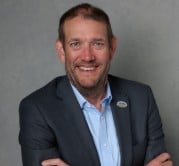 Randall Smith is the co-founder of CUInsight.com, the host of The CUInsight Experience podcast, and a bit of a wanderlust. As one of the co-founders of CUInsight.com he ...
Web: www.CUInsight.com
Details