The CUInsight Experience podcast: Paris Chevalier – Creating solutions (#117)
"Great leaders are great because they put in a lot of effort." - Paris Chevalier
Thank you for tuning in to episode 117 of The CUInsight Experience podcast with your host, Randy Smith, co-founder of CUInsight.com. This episode is brought to you by our friends at CUES. CUES is the leading talent development solutions provider to the credit union industry.
My guest on today's show is Paris Chevalier, President and CEO of South Bay Credit Union, based in California. In this episode, Paris shares her career path to CEO, the importance of supportive circles, and her thoughts on what is leading the credit union industry forward. Throughout the show, Paris provides a glimpse into what work-life integration looks like for her, tips to help empower your team, and how to manage the rapid innovation surging within the credit union space.
Paris believes CEOs need to continually focus on the big and communicate how all departments and roles work together to keep moving forward. She chats about her process to learn departments, new technology, and shared goals within the credit union. Paris relies on her marketing skills and the lessons from progressive and visionary mentors to thrive in her non-traditional career path. She attributes much of her success to her supportive circles inside and outside of the industry.
Collaboration and team development help Paris maintain purpose, and she often finds joy in helping her team discover solutions for themselves. Looking forward, Paris believes that credit unions will stay relevant because we have embraced our key differences and because our innovation comes with enthusiasm and engagement. 
As we wrap up the show, Paris expresses thoughts on the "born leader" phrase and dispels other leadership myths. We learn what she was like throughout school and the reasonable trouble she got into during college. Paris shares some encouraging words for new leaders and shares who she thinks of when she hears the word "success." Enjoy my conversation with Paris Chevalier! 
Subscribe on: Apple Podcasts, Spotify, Google Play, Stitcher 
Books mentioned on The CUInsight Experience podcast: Book List 
How to find Paris:
Paris Chevalier, President & CEO of South Bay Credit Union
parischevalier@gmail.com
https://www.southbaycu.com
Twitter | Instagram | Facebook | LinkedIn
Show notes from this episode:
A big shout-out to our friends at CUES, an amazing sponsor of The CUInsight Experience podcast. Thank you!
After listening to our show, check out the CUES podcast here.
Check out all that Paris and her team are doing at South Bay Credit Union here.
Place mentioned: California
Shout-out: Jill Nowacki, Humanidei
Shout-out: Paris' husband & two children
Shout-out: The Marketing Association of Credit Unions (MAC)
Shout-out: CUNA Marketing & Business Development Conference
Shout-out: Kathryn Davis
Shout-out: Teresa Freeborn
Shout-out: CUES
Program mentioned: CUDE Program
Shout-out: Gigi Hyland
Shout-out: Chad Helminak
Shout-out: Lois Kitsch
Shout-out: ACCOSCA
Place mentioned: Kenya
Shout-out: CUNA
Shout-out: CUNA GAC
Shout-out: St. Louis University
Place mentioned: St. Louis, Missouri
Place mentioned: New York
Shout-out: Ohana Festival
Shout-out: Eddie Vedder
Shout-out: Pearl Jam
Place mentioned: Hawaii
Place mentioned: Dana Point, California
Shout-out: Jack Johnson
Shout-out: Paris' mother & brother
Book mentioned: Educated: A Memoir by Tara Westover
Book mentioned: A Man Called Ove: A Novel by Fredrik Backman
Album mentioned: Ten by Pearl Jam
Artist mentioned: Anderson .Paak
Artist mentioned: Jay-Z
Previous guests mentioned in this episode: Kathryn Davis, Teresa Freeborn, Gigi Hyland, Jill Nowacki (episodes 4, 18, 37, 64, 82, 101, & 113) 
In This Episode:
[2:06] – How does Paris Chevalier feel about her new position as the CEO of South Bay Credit Union? What is her base advice to aspiring
[04:58] – Paris appreciated progressive and visionary leaders that help accept paths outside traditional business career paths.
[06:47] – Paris expects her past experiences can positively benefit her current leadership role in different business aspects, like DEI.
[08:49] – Here are the top methods Paris uses to ground herself to be intentional and strategic.
[10:21] – Paris attributes part of her  successful mindset to her supportive circles inside and outside of the credit Union industry.
[12:47] – What does impact in the credit union industry mean to Paris?
[15:30] – Paris says she's good at empowering her team by guiding the team to find their own solutions.
[17:46] – For credit unions to maintain relevance, Paris suggests that the industry embraces community, engagement, and upcoming talent.
[19:31] – Paris says she changed her college major a few times. She reminisces on how she went from a math major to marketing roles.
[21:22] – Paris shares her thoughts on new leadership, family life, and music.
[23:09] – Both Paris and her husband work in the credit union industry. She describes balancing her career, relationship, and family.
[24:56] – Paris talks about her recent purchases, and hints at memorable trouble from her younger days.
[26:28] – Which book gave Paris a lesson she uses in customer service today? Paris shares her music taste.
[28:10] – Paris describes the inspiring story of her mother.
[29:53] – Paris values "paying it forward", and is grateful for those who helped her along the way.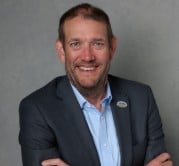 Randall Smith is the co-founder of CUInsight.com, the host of The CUInsight Experience podcast, and a bit of a wanderlust. As one of the co-founders of CUInsight.com he ...
Web: www.CUInsight.com
Details