The CUInsight Experience podcast: Podcasting gear
Over the past year and a half I've talked to a lot of people about podcasting since starting The CUInsight Experience podcast. A couple questions I get asked most often are what hacks do I have for starting a podcast and what equipment do I use.
To answer the first question I'll take from Nike and say "Just do it." Come up with the format of your show and commit to a minimum number of episodes and put it out in the world. When I started I committed to ten. I recorded the first two before the first was released and the next two before the second went live. I had my first ten guests lined up before I released the first episode. There was no going back.
As for the gear I would advise to keep it simple. I have a set up to record in-person and one to record remote over Zoom, Skype or SquadCast. I have listed the equipment and software I use below. As you can see, you can be up and running for under a thousand dollars. If you're recording over Zoom/Skype/SquadCast or not doing an interview style show you can be up and running for under a couple hundred bucks.
In-person Interviews:
Zoom H6 Six-track Portable Recorder – This recorder fits in my backpack and gets the job done. First thing to remember is to bring batteries (and have back up batteries). Nothing kills an interview faster than running out of batteries. I use the H6 with the mics listed below. The only other thing is a cheap pair of earbuds to check the sound. (I also use the Zoom H6 to record the intros and sponsor reads for the podcast.)
Shure SM58-LC Cardioid Vocal Microphone – I bought two of these purely based on the recommendation of Tim Ferriss of the Tim Ferriss Show. If they're good enough for a podcast with hundreds of millions of downloads, they're good enough for me. They are just old school stage mics that also fit nice in the backpack. You'll notice a theme, I like to travel light. 
Interviews – Zoom, Skype or SquadCast:
ecamm Call Recorder for Skype – This is the program I use to record the podcast through Skype. It only works with Skype. What I like about this is I can separate off individual audio files for me and the guest for editing purposes. The video can also be separated. Easy tool to use. One touch recording and then download the wav files once completed.
Zoom – Updated again: Since COVID-19 I've started using Zoom more than SquadCast and Skype. The only reason is EVERYONE is using Zoom and it makes for a more seamless process than explaining SquadCast. I still believe SquadCast produces a better audio quality but there is something to making the process as painless as possible for my guests.
SquadCast – Update: I've started using SquadCast more than Skype to record the audio only on the podcast in March of 2020. They are a fairly new company making improvements often with the goal of making it easier to have remote conversations without compromising the quality of the audio. There's been a few glitches but as of now I'm a fan of the product and mission.
Samson Q2U USB/XLR Dynamic Microphone – This mic is easy. Plug it in to your computer and you're up and running. I plug my headphones directly into the mic and I'm off and running to record over Skype. Everything you need comes in the podcasting pack from Amazon. 
Additional Equipment:
Bose QuietComfort 35 II – These are noise cancelling and wireless. I bought them because of all the travel I do. They are great on airplanes. They have now become my go to when recording podcasts over Skype as well. But to be honest, I find any earbuds will do the job if you're on a budget.
On-stage Foam Ball Microphone Windscreen – I guess you need these to reduce wind, breath sounds and popping noises. It also keeps the mic clean and they look cool.
Your Cable Store XLR 3 Pin Microphone Cable – A good cable for recording that works with both the Shure mic and the Samson mic. I always have a backup cable with me to be safe. Would hate to have bad sound because of a $7 cable.
On-stage Adjustable Desktop Microphone Stand – This is a simple heavy duty stand that I'm able to bring in and out of the closet when recording to keep the microphone at a proper level. I've looked at many other setups but in the end I try to stick with the simplest solution.
Bestand Cooling Computer Stand – In the beginning I stacked books under my Macbook to bring my camera angle up so guests on the podcast weren't looking up my nose. Then I found this stand and it does the job. It also clears space from the desk to have notes and the mic close by. A nice little product that does the trick for a Macbook.
AA Batteries – Did I mention batteries? I use fresh batteries for each in-person interview in the Zoom H6. Nothing would break the flow of the conversation more than the recorder going dead in the middle.
That's it. Now get out there and start your podcast. Also we appreciate when you subscribe and listen to The CUInsight Experience podcast too. Enjoy!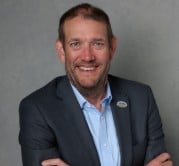 Randall Smith is the co-founder of CUInsight.com, the host of The CUInsight Experience podcast, and a bit of a wanderlust. As one of the co-founders of CUInsight.com he ...
Web: www.CUInsight.com
Details