The CUInsight Experience podcast: Ray Crouse – Leadership possibilities (#122)
"Never stop listening." - Ray Crouse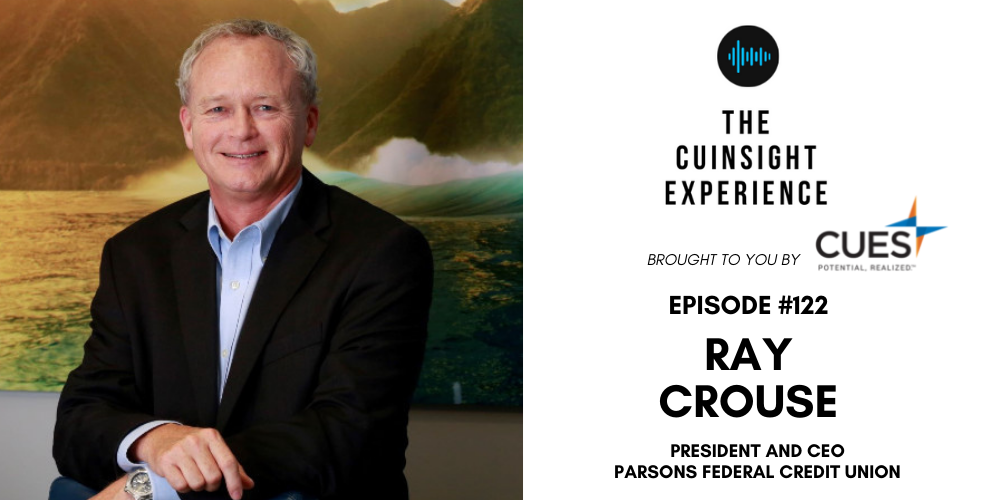 Thank you for tuning in to episode 122 of The CUInsight Experience podcast with your host, Randy Smith, co-founder of CUInsight.com. This episode is brought to you by CUES. CUES is the leading talent development solutions provider to the credit union industry. After listening to our show, be sure to register for CUES' new online panel discussion series, Real Talk. The inaugural topic, Women in the Workforce, kicks off on November 10th. Register now at cues.org/realtalk.
My guest on today's show is Ray Crouse, President & CEO of Parsons Federal Credit Union. In this episode, we chat about building a strong culture and enhancing board relations. Ray also discusses the importance of CUSOs to the credit union ecosystem. He shares his leadership experience during the pandemic and how he successfully navigated shifts with his teams on both the east and west coasts. 
Member expectations are changing as technology evolves, but Ray emphasizes how much the human aspect still matters in the industry. Ray believes that having a strong capital position does not equate to strong member service, and he shares that leaders must keep members at the forefront.
We also chat about the many digital transitions credit unions had to make in the last year and what Ray expects to happen in the industry moving forward as we explore new technologies.  
As we close the show, we learn that Ray enjoys the outdoors, and taking walks allows him to clear his mind and think strategically. He dispels a leadership myth and encourages leaders to serve not just their members but the community at large. Tune in to hear Ray's most recent purchase and his close call meeting a legendary artist. Enjoy my conversation with Ray Crouse!
Subscribe on: Apple Podcasts, Spotify, Stitcher 
Books mentioned on The CUInsight Experience podcast: Book List 
How to find Ray:
Ray Crouse, President & CEO of Parsons Federal Credit Union
ray@parsonsfcu.com
https://www.parsonsfcu.org
LinkedIn | YouTube
Show notes from this episode:
A big shout-out to our friends at CUES, an amazing sponsor of The CUInsight Experience podcast. Thank you!
Register for CUES' online panel discussion Real Talk: Women in the Workforce here.
Check out all that Ray and his team are doing at Parsons FCU here.
Shout-out: NACUSO
Shout-out: Jill Nowacki
Shout-out: Microsoft Teams
Place mentioned: Northern Virginia
Place mentioned: Pasadena, California
Shout-out: Bank of America
Shout-out: JP Morgan Chase
Shout-out: Ray's wife, Lynn
Place mentioned: Palm Springs, California
Shout-out: Ray's brother
Shout-out: NCUA
Shout-out: CUNA Mutual Group
Shout-out: Ray's daughters
Shout-out: Wachovia (now Wells Fargo)
Place mentioned: Winston-Salem, North Carolina
Shout-out: Morgan Stanley
Shout-out: Chevrolet Corvette
Place mentioned: South Carolina
Place mentioned: Blue Ridge Parkway
Shout-out: Peloton
Book mentioned: Bible
Book mentioned: Bible Study Workbooks
Book mentioned: The Speed of Trust: The One Thing That Changes Everything by Stephen M. R. Covey
Shout-out: Howard Hughes
Shout-out: Elon Musk
Shout-out: Warren Buffet
Book-mentioned: The Snowball: Warren Buffett and the Business of Life by Alice Schroeder
Artist mentioned: George Strait
Album mentioned: Love Is Everything by George Strait
Artist mentioned: The Rolling Stones
Artist mentioned: Mick Jagger
Shout-out: Netflix
Shout-out: Amazon Prime
Artist mentioned: Keith Richards
Previous guests mentioned in this episode: Jill Nowacki (episodes 4, 18, 37, 64, 82, 101, & 113)
In This Episode:
[01:53] – Ray Crouse describes working remotely as he leads a bicoastal team. What strategies did Ray implement?
[04:36] – Ray talks about how the company addressed isolation for their team.
[07:35] – What are the benefits of CUSO? Ray explains the aspects that led him to getting involved with CUSOs.
[10:10] – Can technology be the equalizer for credit unions in the industry?
[12:10] – Ray discusses exciting shifts he imagines for the industry in the next 2 to 5 years. He talks about the new expectations of branches and consumer experiences.
[14:11] – Here are Ray's go-to activities when he needs time to think. 
[16:45] – Surround yourself with people who are willing to offer a different perspective, and hold inquisitive conversations.
[19:08] – Having a strong capital position does not equate to strong member service. Ray emphasizes the focus on member experience.
[21:46] – Ray shares his thoughts about dealing with the board as a CEO.
[24:36] – As a CEO, be mindful of if you connect with the board during the interview phase.
[26:43] – Ray talks about how he found himself in a career related to credit unions.
[29:18] – Ray explores the other possible careers that could connect to his  background, and talks about how he fits well with credit unions.
[31:59] – Remove hurdles. Say "Yes". Smile.
[34:23] – Ray explains why being a leader extends service to the public, and he shares his thoughts on ignoring the vanity of leadership.
[36:53] – Did Ray get a Peloton?
[38:32] – Ray recalls dissecting cats during in-school suspensions, books he gifted, 
[41:32] – These lyrics from this George Strait song make Ray reflect on life lately.
[43:27] – Ray encourages future leaders to learn how the pieces of an organization fit together to know operations across the organization.
[45:02] – Thank you for listening, and be well friends!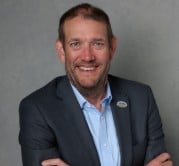 Randall Smith is the co-founder of CUInsight.com, the host of The CUInsight Experience podcast, and a bit of a wanderlust. As one of the co-founders of CUInsight.com he ...
Web: www.CUInsight.com
Details