The CUInsight Experience podcast: Renée Sattiewhite – Let's be clear (#52)
"There's a light that shines for people who are of service and purpose." - Renée Sattiewhite
Welcome to episode 52 of The CUInsight Experience podcast. Hosted by Randy Smith, co-founder of CUInsight.com. In this episode Randy welcomes Renée Sattiewhite to the show. Renée is the President and CEO of the African-American Credit Union Coalition. Randy and Renée both attended the 20th SACCA Congress in Mombasa, Kenya, where they got to spend a little time together. Listen as they talk about everything that's going on at the African American Credit Union Coalition, some of the ideas they have come up with, and the opportunities that exist.
Renée speaks about why the AACUC attends conferences even when they are far away, their partnership with ACCOSCA, and how mission-driven the SOCCO's are in Africa. She also talks about the mission of AACUC, DEI, and how the credit union movement can move forward in the coming years.
She also discusses the events that the AACUC organizes, her inspiration to take the position as CEO, and what they are doing to get more young leaders involved with the credit union movement. She believes that to lead in credit unions today, you must show the three characteristics of the titans in the industry, integrity, purpose, and a heart for service and leadership.
Renée talks about the line between ego and confidence, young leaders needing balance, and the advice she has been given over the years that she still uses today. Don't miss this exciting conversation, Renee has seen it all and is ready to share with us. Get your pen and paper ready because Renée drops nuggets of great information through the whole episode. Enjoy!
Subscribe on: Apple Podcasts, Spotify, Google Play, Stitcher
How to find Renée:
Renée Sattiewhite, President and CEO of the African-American Credit Union Coalition
www.aacuc.org
Renee@AACUC.org
LinkedIn | Twitter | Facebook | Vimeo 
Show notes from this episode:
Check out the inspiring work Renée and the AACUC are doing for credit unions here.
Also check out Renée's company Sattiewhite Training Productions Inc.
Shout-out: George Ombado
Shout-out: Bert J. Hash Jr.
Shout-out: Sheilah Montgomery
Shout-out: To the DE network far and wide. Become one. You won't regret it.
Shout-out: Maureen and Betty Rose at ACCOSCA
Shout-out: Lynette Smith, Maurice Smith, Adrian Johnson
Shout-out: Jill Nowacki
Movie mentioned: Harriet
Shout-out: Chuck Fagan and PSCU
Credit unions mentioned and appreciated: SECU, SchoolsFirst Federal Credit Union, Local Government Federal Credit Union, MECU, Together Credit Union
Shout-out: Doug Leighton and VISA
Shout-out: CUNA – Lauren Williams, Jamar Jemison, Ron Jooss
Credit union mentioned: United Nations FCU
Shout-out: Filene – You can listen to the podcast Renée mentioned here.
Shout-out: Bill Cheney and Crissy Cheney
Shout-out: Maurice Smith and the 8th Cooperative Principles article he wrote earlier this year.
Shout-out: Hubert Hoosman, Pete Crear, Michael Hale
Shout-out: United Way of Greater Atlanta VIP Program
Shout-out: Shirley Jenkins, Rita Haynes, Helen Godfrey-Smith
Shout-out: Bill Porter
Shout-out: Marsha Majors
Shout-out: Lois Kitsch
Shout-out: Bob Trunzo and CUNA Mutual Group
Shout-out: Mark Meyer, Gigi Hyland, Hannibal Brumskine
Shout-out: Jim Blaine, Chairman Rodney Hood
Shout-out: Timothy Anderson
Check out Renée's line of motivational posters: Sattiewhite Must Do's
Shout-out: Merry Peteuk
Album mentioned: Wild and Peaceful by Teena Marie
Book mentioned: Sowing Seeds: Life Lessons from My Father by Maurice R. Smith
Book mentioned: The Purpose Driven Life by Rick Warren
Book mentioned: The Prayer of Jabez by Bruce H. Wilkinson
Book mentioned: The Secret by Rhonda Byrne
Shout-out: Ed Presnell, Adam Lee, Cathie Mahon
Shout-out: Tracey Jackson
Check out the AACUC Reaching Towards the Future internship program.
Previous guests mentioned in this episode: George Ombado, Lynette Smith, Maurice Smith, Adrian Johnson, Jill Nowacki (episodes 4, 18 & 37), Chuck Fagan, Doug Leighton, Bill Cheney,  Lois Kitsch, Bob Trunzo, Gigi Hyland
You can find all past episodes of The CUInsight Experience here. 
In This Episode:
[01:37] – Welcome to the show, Renee!
[02:26] – Renee talks about why they need to participate in events even when they are halfway around the world and their partnership with ACCOSCA.
[03:39] – They discuss how mission-driven the credit unions are in Africa.
[05:50] – What is the mission statement for the AACUC? Why was the organization set up?
[07:16] – Renee speaks about walking a mile in her and things forward in the credit union industry.
[12:11] – She says that credit unions need to embrace the eighth cooperative principle for the industry to stay relevant.
[13:33] – What inspired you to take the position at AACUC?
[17:49] – The inspiration has to become more humble, more of service, and to get out her way and listen more.
[23:21] – Renee speaks about what needs to be done to get the young leaders into the credit union movement.
[24:59] – She believes that young leaders need to find balance on the four quadrants; personal and professional life, mental and physical stability.
[26:45] – How do you draw the line between ego and confidence?
[27:13] – Let's be clear, and by when and give up the need to be right are things the people around her hear all the time.
[28:28] – What piece of advice were you given that you go back to all of the time?
[31:26] – How do you keep your message fresh?
[32:28] – When she has a day off, she likes to crochet and shop.
[34:01] – She was suspended from school two times once in second grade and once in sixth grade.
[35:10] – Renee tells us she does a daily devotional every day before she goes to work.
[36:02] – What is your favorite album?
[36:55] – What is your favorite book or the one you give out to people a lot?
[39:02] – The opinion of others has become less important to her, and her health and family are most important.
[41:19] – Maurice Smith is who she thinks about when she hears the word success.
[45:52] – Her final thoughts are about Reaching Toward the Future Internship Program with Tracy Jackson.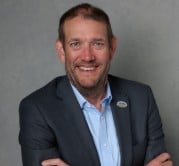 Randall Smith is the co-founder of CUInsight.com, the host of The CUInsight Experience podcast, and a bit of a wanderlust. As one of the co-founders of CUInsight.com he ...
Web: www.CUInsight.com
Details