The CUInsight Experience podcast: Tansley Stearns – Dreaming big (#36)
"What's the outcome the member cares about?" - Tansley Stearns
Welcome to episode 36 of The CUInsight Experience podcast. Hosted by Randy Smith, co-founder, and publisher of CUInsight.com. In this episode, Randy has a conversation with Tansley Stearns, the Chief People and Strategy Officer at Canvas Credit Union in Denver Colorado.
Randy and Tansley discuss the war for talent and her goal to make credit unions the employer of choice for college graduates. Tansley talks about the intersection of people and marketing and how communication is at the core inside and outside the credit union. She shares her journey to Canvas and all the wonderful things she has learned along the way. She discusses culture and the people she works with at Canvas and what they're doing to attract the brightest and the best to work in the credit union movement. 
Tansley shares how empathy can differentiate credit unions from other financial services and countless leadership lessons she has learned on her own journey. This episode is full of ways credit unions can and are transforming financial services. Enjoy!
Subscribe on: Apple Podcasts, Spotify, Google Play, Stitcher 
How to find Tansley:
Tansley Stearns
Chief People and Strategy Officer, Canvas Credit Union
www.canvas.org
TansleyS@canvas.org
LinkedIn | Twitter | Facebook 
Show notes from this episode:
Check out the brand the Canvas family has built here.
Shout-out: Colorado State University
Shout-out:: Filene Research Institute
Shout-out: Todd Marksberry
Shout-out: John Normandeau
When I drew a blank on the show (sorry John): It was John Spence who talked about repeating what people say in your head before you talk to be a better listener.
Shout-out: Mick Ebeling
Another guest mentioning Peloton. We may have to join the bandwagon.
Shout-out: Arianna Huffington on sleep.
Album mentioned: Every single album from the Dave Matthews Band
Book mentioned: The Innovator's Dilemma by Clayton Christensen
Book mentioned: A Prayer for Owen Meany by John Irving
Author mentioned: Greg Iles
Shout-out: Tansley's hometown Hillsdale, Michigan.
Previous guests mentioned in this episode: Jill Nowacki (Ep. 4 & Ep. 18), Brett Martinez, Gigi Hyland, John Spence, Leo Ardine
You can find all past episodes of The CUInsight Experience here. 
In This Episode:
[01:47] – Welcome to the show Tansley Stearns.
[02:14] – Why is making credit unions the employer of choice so important to Tansley?
[03:59] – What does Tansley think are the biggest challenges of making this happen?
[07:33] – What are some of the things that she has done to make working at Canvas more attractive for future employees?
[09:22] – Does she think that the intersection of people, talent and marketing go along with looking for new talent?
[10:36] – Did you bring this idea to the Canvas or were they implementing it before you got there?
[11:26] – How do you create the space in the day to have these kinds of discussions?
[13:36] – Tansley says that empathy is at the core of understanding customers needs.
[16:59] – What are the beliefs in the industry that you feel need to change?
[19:41] – What inspired Tansley to take the job at Canvas?
[21:30] – Has the inspiration changed now that you are settled in?
[22:35] – Tansley describes her leadership style as servant leadership
[25:48] – How has your leadership changed over your career?
[27:18] – What has your people at Canvas heard you say over and over?
[29:11] – What mistakes have you made over the length of your career that you see others make?
[31:45] – What piece of advice or life lesson does Tansley stilluse?
[32:55] – How do you keep everything fresh in your business?
[34:50] – Elevating everyone's voice is what Tansley feels makes Canvas unique?
[35:52] – What does your work life integration look like?
[38:32] – What is the first time Tansley got into memorable trouble?
[39:29] – What routine do you have that you must do every day?
[41:21] – Tansley's favorite album of all time?
[43:03] – What book does she recommend over and over?
[43:37] – Over time what has been come more important to Tansley and what has become less important?
[45:01] – When Tansley hears the word success who does she think of?
[45:53] – Any final asks or thoughts for our listeners?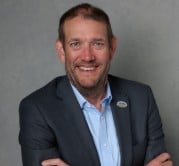 Randall Smith is the co-founder of CUInsight.com, the host of The CUInsight Experience podcast, and a bit of a wanderlust. As one of the co-founders of CUInsight.com he ...
Web: www.CUInsight.com
Details