The CUInsight Experience podcast: Teresa Freeborn – Dispelling the myth (#30)
"Start early, be bold, and just follow your heart." - Teresa Freeborn
Welcome to episode 30 of The CUInsight Experience podcast. Hosted by Randy Smith, co-founder and publisher of CUInsight.com. Today's guest is Teresa Freeborn the president and CEO of Xceed Financial Credit Union and a board member of CUNA. Randy and Teresa discuss awareness, inclusion, and the things credit unions need to do to stay relevant in today's financial world.
As a board member for CUNA, Teresa has been a champion of the national awareness campaign. CUNA is committed to increasing awareness about credit unions in the market. With their updated market research on the understanding of credit unions and how they work, the campaign has aimed to debunk the myths surrounding the financial institutions.
Along with awareness, Teresa is committed to increasing the levels of inclusion and diversity in her own credit union and driving changes by speaking up. She is no longer happy with staying silent when any of the "-isms" come up and charges everyone with not staying silent any longer.
Listen in to learn how Teresa made her way to the top spot, her views on leadership, and how credit unions must change to stay relevant. So many nuggets were shared in this episode, you won't want to miss them. Enjoy!
Subscribe on: Apple Podcasts, Spotify, Google Podcasts, Stitcher
How to find Teresa:
Teresa Freeborn
President & CEO of Xceed Financial Credit Union
tfreeborn@xfcu.org
www.xfcu.org
LinkedIn 
Show notes from this episode:
Campaign mentioned: CUNA National Awareness Campaign
Shout out: Filene Research Institute
Shout out: Bill Cheney
Shout out: Smash + Tess – Teresa's clothing store she runs with her daughter
Albums mentioned: Carole King – Tapestry, Led Zeppelin – IV, Janis Joplin – Pearl
Book mentioned: The Purple Cow by Seth Godin
Previous guests mentioned in this episode: Jill Nowacki (Ep. 4 & Ep. 18), Tracie Kenyon, Sam Paxson
You can find all past episodes of The CUInsight Experience here.
In This Episode:
[00:30] – Welcome back to the show! Today's guest is Teresa Freeborn, the president and CEO of Xceed Financial Credit Union.
[02:56] – Teresa shares information about the CUNA Awareness Campaign and its necessity.
[05:26] – Collaboration is one of the things that will turn the tide for credit unions in the future.
[05:52] – Teresa discusses the challenges credit unions face in today's market.
[06:59] – CUNA's market research revealed interesting misconceptions the market has about credit unions.
[09:55] – What are the roadblocks to inclusion in credit unions?
[15:18] – What advice would Teresa give to people looking to prove themselves in the industry?
[17:52] – Teresa's national work has improved the thoughts and views of her credit union. She chats about how.
[20:02] – Hear how Teresa reacts to the phrase, that's the way we've always done it.
[21:21] – Any fundamental beliefs that will need to change to improve credit union relevance?
[22:37] – Teresa shares what inspired her to take the top leadership role in her institution.
[24:32] – Learn how Teresa's inspiration has changed the longer she's been in her role as well as how she describes her leadership style.
[27:19] – The greatest strengths of her team are honesty and integrity.
[27:47] – The one line Teresa uses over and over again is…
[28:19] – Teresa chats about the mistakes she made early on in her career and what she would have done differently.
[29:30] – What advice or life lesson does Teresa go back to?
[30:39] – Learn what Teresa does when she runs into a wall or a problem she can't solve.
[31:56] – Keeping the credit union message fresh with her team and her members requires repeated telling.
[32:46] – The golf course is Teresa's happy place, but to recharge she works out.
[35:05] – Randy starts into the rapid-fire questions for this episode.
[36:06] – Working out and coffee are requirements for Teresa's day.
[36:32] – Her favorite album is…?
[37:40] – If she gifts a book, she gifts Seth Godin's The Purple Cow
[38:30] – Time has become more and more important to Teresa, but so has activism.
[40:23] – Teresa shares her final thoughts for the episode.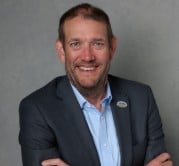 Randall Smith is the co-founder of CUInsight.com, the host of The CUInsight Experience podcast, and a bit of a wanderlust. As one of the co-founders of CUInsight.com he ...
Web: www.CUInsight.com
Details