The CUInsight Network podcast: Cannabis banking – Shield Compliance (#33)
Featuring Tony Repanich, President and COO at Shield Compliance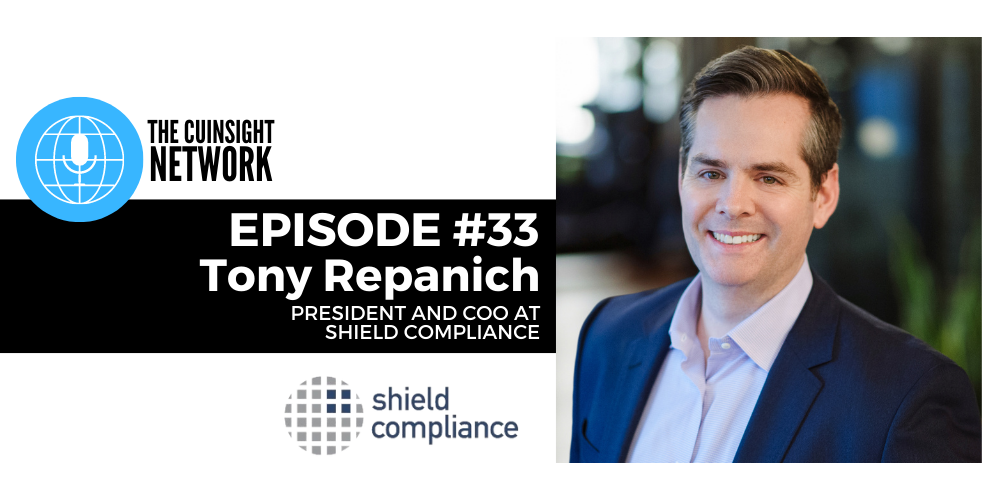 Thank you for tuning in to episode 33 of The CUInsight Network, with your host, Lauren Culp, Publisher & CEO of CUInsight.com. In The CUInsight Network, we take a deeper dive with the thought leaders who support the credit union community. We discuss issues and challenges facing credit unions and identify best practices to learn and grow together.
My guest today is Tony Repanich, President and COO at Shield Compliance. Shield Compliance works to transform how credit unions manage risk, comply with regulation, and satisfy growing operational demands associated with serving the legal cannabis market. Shield's core platform technologies automate the compliance process and give credit unions the structure they need to monitor, measure, and control operations. Their Shield Assure, Shield Engage, and Shield Transact products ensure efficiency and reliability so credit unions can remain compliant while taking risks in a new line of business.
Tony has been in the financial services industry for over two decades. In this episode, he talks  about how Shield Compliance can unlock new business opportunities and add value to credit unions. He discusses the economic advantages of cannabis banking and how they can provide the technology needed to mitigate and manage risk. Tony addresses the concerns facing the cannabis banking industry, including regulatory requirements, risk assessments, and personal viewpoints. 
Tune in to hear Tony discuss ways to satisfy the regulatory and risk side while supporting access to banking for legal enterprises. Tony also shares ways credit unions in areas with legalized cannabis industries can help make their communities safer by providing access to banking for these cash-heavy businesses. During our conversation, you'll also hear Tony dive into the cannabis banking playbook that he created to help credit unions understand the logistics of this new environment and frame out what they can expect.
As we wrap up the episode, Tony talks about the magic of Starbucks, his go-to podcast, and his favorite Peloton instructor. Enjoy my conversation with Tony Repanich!
Connect with Tony:
Tony Repanich, President and COO at Shield Compliance
tony@shieldbanking.com
www.shieldbanking.com
LinkedIn | Facebook
Show notes from this episode:
What an amazing interview with Tony! Check out all the exceptional work his team is doing over at Shield Compliance here.
Want to hear more from Tony Repanich? Click here.
Shout-out: Lego 
Place mentioned: Washington
Shout-out: Howard Schultz
Place mentioned: Seattle, WA
Shout-out: Starbucks
Shout-out: Peloton
Shout-out: Cody Rigsby
Shout-out: Emma Lovewell
Podcast mentioned: Start Here Podcast
Podcast mentioned: Up First Podcast
Podcast mentioned: The Daily
Book mentioned: Nickel And Dimed: On (Not) Getting By In America by Barbara Ehrenreich
In this episode:
[00:47] – Tony Repanich played with Legos as a kid, dreaming of being a banker.
[02:44] – Tony touches on the compliance requirements for cannabis banking.
[05:25] – Apply outside data to what's happening inside the credit union.
[07:22] – Tony emphasizes the idea of supporting the legal, professional businesses in the cannabis market.
[10:07] – What does risk assessment look like in cannabis banking?
[11:46] – What operational procedures change for credit unions entering the cannabis industry?
[13:17] – Reevaluate the technology assisting your management procedures.
[15:23] – Digital transformation is not binary, but rather a combination of tech and the human touch.
[17:47] – Tony admires when people create something extraordinary out of the ordinary.
[19:20] – Tony says he still recommends this book that he read for years. He talks about how it reflects the current times.
[21:23] – The cannabis banking space is an active and growing community.
Lauren Culp is the Publisher & CEO at CUInsight.com. She leads the growing team at CUInsight, works with organizations serving credit unions to maximize their brand and exposure, connects with ...
Web: https://www.cuinsight.com
Details