The CUInsight Network podcast: Data warehouse & workflows – Lodestar Technologies (#51)
Featuring Andrea Brown, VP of Client Engagement at Lodestar Technologies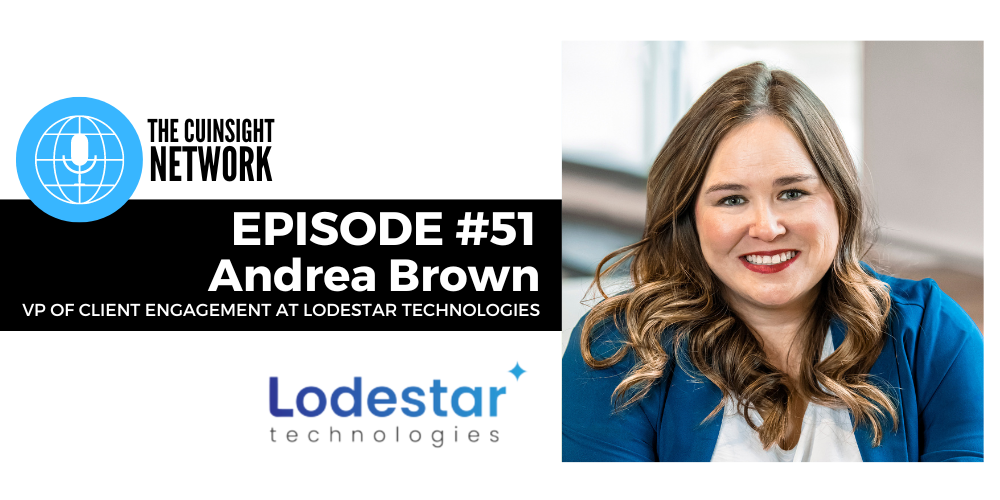 Thank you for tuning in to episode 51 of The CUInsight Network, with your host, Lauren Culp, Publisher & CEO of CUInsight.com. In The CUInsight Network, we take a deeper dive with the thought leaders who support the credit union community. We discuss issues and challenges facing credit unions and identify best practices to learn and grow together.
My guest on today's show is Andrea Brown, VP of Client Engagement at Lodestar Technologies. Andrea begins by sharing her education and career journey that molded her two passions together; data and credit unions. Lodestar Technologies is an analytics partner for financial institutions, providing a full-service analytics platform of data connectors, visuals, workflows, and strategic guidance to move forward in the analytics journey. Their team of experts come directly from the financial services industry and truly understand credit unions, their values, and mission. As partners, they empower and help clients spend less time on data collection so they have more time to dive in and understand and utilize their data. 
During our conversation, Andrea shares how credit unions can build a data strategy and put action behind it. She believes credit unions have a lot of choices and control over the systems they use which is beneficial in customizing it to their specific member needs. Andrea points out places where member data lives throughout the organization and which data strategies to prioritize. She explains where data plays a role in impactful marketing, through targeted communication and campaign management. We discuss how credit unions can translate data into value to create exceptional member experiences. As we look to the future, Andrea talks about machine learning, artificial intelligence, and advanced analytics as it pertains to credit unions and their data-marketing strategies.  
As we wrap up the episode, Andrea talks about why she has so many household organizers, her favorite podcasts, and which video game she plays with her sons. Enjoy my conversation with Andrea Brown!
Connect with Andrea:
Andrea Brown, VP of Client Engagement at Lodestar Technologies
andrea.brown@lodestartech.ca
https://lodestartech.ca
Andrea: LinkedIn
Lodestar Technologies: LinkedIn 
Show notes from this episode:
What an amazing interview with Andrea! Check out all the exceptional work her team is doing over at Lodestar Technologies here.
Want to hear more from Andrea? Click here.
Shout-out: Andrea's mom
Shout-out: Liberty FCU
Shout-out: Bill Schirmer
Shout-out: Amazon
Shout-out: Uber
Shout-out: Instacart
Shout-out: Shipt
Shout-out: Ziploc
Shout-out: Northern Savings Credit Union
Shout-out: Andrea's husband
Shout-out: Andrea's sons
Shout-out: Lego Batman: The Videogame
Shout-out: Xbox
Shout-out: Colleen Hoover
Podcast mentioned: We Can Do Hard Things with Glennon Doyle
Podcast mentioned: ReThinking with Adam Grant
Book mentioned: Untamed by Glennon Doyle
In this episode:
[00:38] – Andrea Brown says her mom expected her to be a lawyer since Andrea had this particular trait.
[02:42] – Andrea shares how she moved from a teller role into a career that deals with analytics.
[05:29] – Spend less time collecting data, and more time leveraging data. 
[07:27] – Create a targeted communication strategy.
[09:47] – Data can be all over the place. How can you start to organize it?
[12:25] – What data should credit unions prioritize first?
[15:13] – Andrea talks about effectively measuring your data to find what's working and what's not working.
[17:02] – What are you looking for in your data?
[19:41] – Consumers compare credit unions to major services across industries.
[21:54] – Andrea recalls a wonderful customer experience that left a huge impression on her. PART 1
[24:20] – Andrea recalls a wonderful customer experience that left a huge impression on her. PART 2
[26:00] – What does Andrea think about machine learning?
[28:54] – Andrea invests in organizers for everyday items.
[31:00] – "Everybody is excited."
[33:09] – Which book does Andrea like to give others?
[35:56] – "Don't let perfect get in the way of progress."
Lauren Culp is the Publisher & CEO at CUInsight.com. She leads the growing team at CUInsight, works with organizations serving credit unions to maximize their brand and exposure, connects with ...
Web: https://www.cuinsight.com
Details