The CUInsight Network podcast: Document management – SmartVault (#31)
Featuring Dania Buchanan, President at SmartVault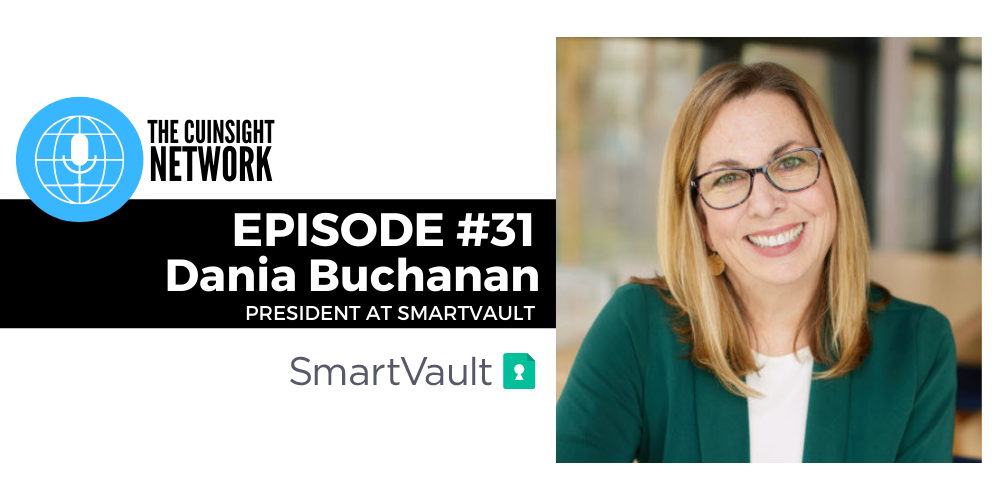 Thank you for tuning in to episode 31 of The CUInsight Network, with your host, Lauren Culp, Publisher & CEO of CUInsight.com. In The CUInsight Network, we take a deeper dive with the thought leaders who support the credit union community. We discuss issues and challenges facing credit unions and identify best practices to learn and grow together.
My guest today is Dania Buchanan, the President at SmartVault. The core mission at SmartVault is providing businesses with a central document destination that enables the adoption of a fully digital, fully automated document workflow. The SmartVault system is also highly secure and supports regulatory compliance mandates. They focus on reducing or eliminating routine and repetitive tasks associated with document workflows, serving small and mid-sized businesses like credit unions.
While she originally wanted to be a journalist, in this episode Dania discusses the inspiration that led to founding SmartVault and taking on the role as President. She shares that product disruption is exciting to her, as her team turns traditional document management on its head. We explore ways that integrating document management into the apps and workflows credit unions are already using can make them more competitive.
Dania always works to create a culture where staff can do the best and most vibrant work of their careers. Throughout the episode, we talk through the needs of employees to be able to collaborate whether working from the office, at home, or in a hybrid of the two. Dania expresses how important community service is to her as a leader and how she intentionally builds structures for her whole team to participate. As technology continues to evolve, Dania recommends building the foundation first and leveraging incremental change instead of trying to redo everything at once.
As we wrap up the episode, Dania shares a favorite beverage, her go-to podcasts, and the person she thinks of first when she hears the word "success." Enjoy my conversation with Dania Buchanan!
Connect with Dania:
Dania Buchanan, President at SmartVault
dbuchanan@smartvault.com
https://www.smartvault.com/
LinkedIn | Twitter | Facebook | Instagram
Show notes from this episode:
What an amazing interview with Dania! Check out all the exceptional work her team is doing over at SmartVault here.
Want to hear more from Dania Buchanan? Click here.
Place mentioned: Houston, Texas
Shout-out: Soda Stream
Shout-out: Topo Chico
Place mentioned: Mexico
Shout-out: Ketanji Brown Jackson
Shout-out: Spotify
Shout-out: Brian Reed
Podcast mentioned: S-Town
Podcast mentioned: The Trojan Horse Affair
Place mentioned: Birmingham, England
Shout-out: Brené Brown
Shout-out: The Beatles
Shout-out: Peter Jackson
Series mentioned: The Beatles: Get Back
Book mentioned: The Lyrics: 1956 to the Present by Paul McCartney
Shout-out: Brompton Bicycle
Place mentioned: Florida
Place mentioned: Gulf of Mexico
Place mentioned: Madison, Wisconsin
In this episode:
[00:41] – Dania Buchanan shares why she finds the idea of product disruption appealing.
[03:28] – Upgrading credit unions through a tech stack approach.
[04:58] – Dania explains how to reduce repetitive tasks with a transformation of paper-based workflow into a digital workflow.
[07:53] – Dania talks about monitoring the physical and mental well-being of employees to maintain a more stable work environment.
[10:49] – Create a culture where everyone can do their best and most vibrant work of their careers.
[13:30] – Listen to Dania describe the digital pathway members follow when credit unions build tech stacks that streamline document collection.
[15:37] – Dania talks about the security side of digital document collection.
[17:10] – The credit union community is a cycle of trust.
[19:59] – In terms of digital transformation, you need to walk before you run. Dania explains what this looks like in practice.
[22:10] – Dania shares her thoughts on sparkling water, Ketanji Brown Jackson, and her favorite podcasts.
[25:11] – What did Dania find fascinating about the Beatles documentary done by Peter Jackson?
[28:05] – Take a step back for a moment, and be intentional when you move forward again.
Lauren Culp is the Publisher & CEO at CUInsight.com. She leads the growing team at CUInsight, works with organizations serving credit unions to maximize their brand and exposure, connects with ...
Web: https://www.cuinsight.com
Details