The CUInsight Network podcast: Evolving experiences – Allied Solutions (#54)
Featuring Jack Imes, Chief Client Lending Consultant at Allied Solutions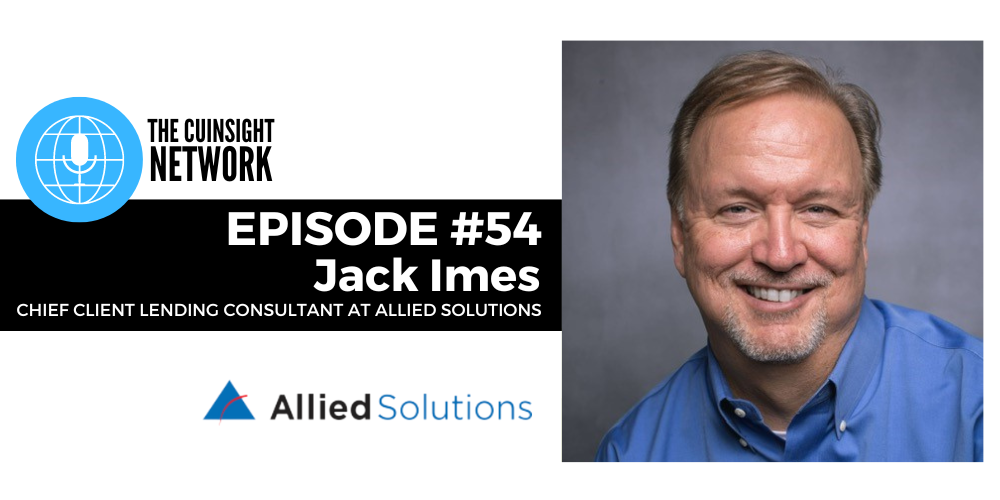 Thank you for tuning in to episode 54 of The CUInsight Network, with your host, Lauren Culp, Publisher & CEO of CUInsight.com. In The CUInsight Network, we take a deeper dive with the thought leaders who support the credit union community. We discuss issues and challenges facing credit unions and identify best practices to learn and grow together.
My guest on today's show is Jack Imes, Chief Client Lending Consultant at Allied Solutions. Jack spent over 35 years working with credit unions and community banks. Allied Solutions is focused on using technology-based solutions to help clients grow their bottom line, protect their business and members, and evolve to stay ahead of the competition.
During our conversation, Jack shares how technology is the key to creating a better member experience for all generations. He talks about constantly building relationships to bring the latest innovations to clients and their members. Jack explains how Allied Solutions' portfolio of diversified products is customized to meet individual partnership needs. As we look to the future, Allied Solutions is focused on supporting credit unions and providing them with tools for growth and longevity. Listen as Jack talks about providing seamless tech stack solutions to scale services and experiences.
As we wrap up the episode, Jack shares why he admires Michael Jordan, listening to podcasts, and exploring small towns. Enjoy my conversation with Jack Imes!
Connect with Jack:
Jack Imes, Chief Client Lending Consultant at Allied Solutions
jack.imes@alliedsolutions.net
alliedsolutions.net
Jack: LinkedIn
Allied Solutions: LinkedIn | Twitter | Facebook 
Show notes from this episode:
What an amazing interview with Jack! Check out all the exceptional work his team is doing over at Allied Solutions here.
Want to hear more from Jack? Click here.
Shout-out: Jack's dad
Shout-out: Amazon
Shout-out: Google
Shout-out: Apple
Shout-out: Jack's wife
Shout-out: Jack's son
Shout-out: Michael Jordan
Place mentioned: Illinois
Shout-out: Umpqua Holdings Corporation (d.b.a. Umpqua Bank)
Place mentioned: Oregon
Shout-out: Jack's granddaughter
Place mentioned: North Carolina 
Podcast mentioned: Smartless
Podcast mentioned: How Leaders Lead with David Novak
Podcast mentioned: The Ramsey Show
Book mentioned: Leading for Growth: How Umpqua Bank Got Cool and Created a Culture of Greatness by Alan R. Shrader and Ray Davis
In this episode:
[00:43] – Jack Imes worked in politics at first. How did he end up in the credit union industry?
[03:11] – What does Jack think about meeting consumer's digital demands?
[06:10] – Build a tech stack that helps the member experience become seamless.
[07:47] – Allied Solutions is constantly building partnerships to bring the latest innovations to clients.
[09:45] – Jack enjoys this story from Michael Jordan's journey.
[11:45] – You can learn a lot from listening to podcasts.
[13:46] – A pure motive of "people helping people."
Lauren Culp is the Publisher & CEO at CUInsight.com. She leads the growing team at CUInsight, works with organizations serving credit unions to maximize their brand and exposure, connects with ...
Web: https://www.cuinsight.com
Details