The CUInsight Network podcast: Fraud protection – NICE Actimize (#47)
Featuring Brian Keefe, Portfolio Presales Consultant at NICE Actimize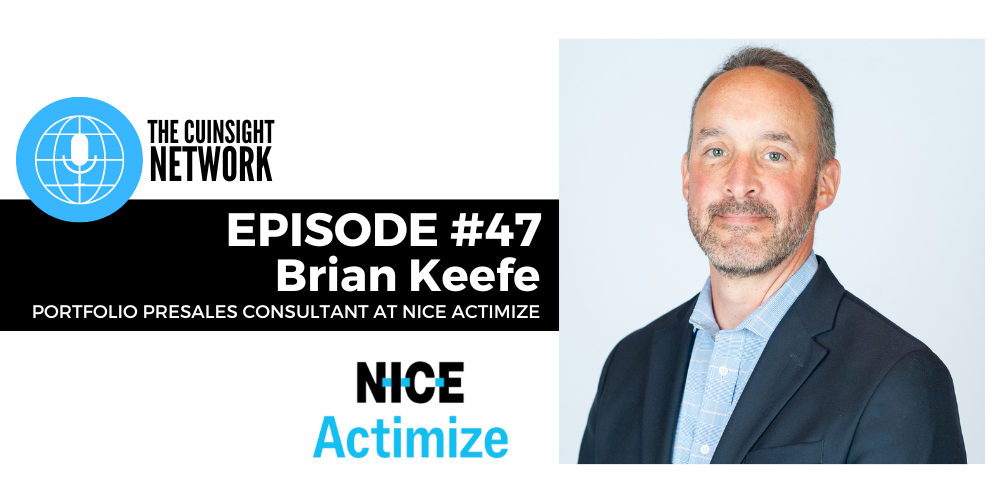 Thank you for tuning in to episode 47 of The CUInsight Network, with your host, Lauren Culp, Publisher & CEO of CUInsight.com. In The CUInsight Network, we take a deeper dive with the thought leaders who support the credit union community. We discuss issues and challenges facing credit unions and identify best practices to learn and grow together.
My guest on today's show is Brian Keefe, Portfolio Presales Consultant at NICE Actimize. Brian begins by sharing his career journey that started in law enforcement and led him to financial services. NICE Actimize brings together fraud analytics and data intelligence and insights on a single cloud-native platform to mitigate fraud and financial crime across financial institutions. The affordable cloud-based solution adds power and security to credit union operations. For over two decades, the team continues to develop new products and solutions that keep financial institutions a step ahead of financial crime.
During our conversation, Brian talks about investing in new solutions to handle faster payments with less risk. He points out the  expectations and importance of instant payments when it comes to meeting the needs of members and prospective members. Brian discusses how NICE Actimize can help credit unions detect and prevent real-time payments fraud. He explores the opportunities to offer the same secure and speedy services as larger financial institutions with the same level of risk mitigation. As we look to the future, Brian shares the importance of staying ahead of the curve when it comes to digital and legacy data and how NICE Actimize plans to continue helping credit unions do so.
As we wrap up the episode, Brian talks about connecting through VR glasses, his favorite podcast genres, and amazing small business owners. Enjoy my conversation with Brian Keefe!
Connect with Brian:
Brian Keefe, Portfolio Presales Consultant at NICE Actimize
Brian.Keefe@niceactimize.com
https://www.niceactimize.com
Brian: LinkedIn
NICE Actimize: LinkedIn | Twitter | Facebook | Instagram | YouTube
Show notes from this episode:
What an amazing interview with Brian! Check out all the exceptional work his team is doing over at NICE Actimize here.
Want to hear more from Brian? Click here.
Shout-out: Brian's children
Shout-out: Venmo
Shout-out: Zelle
Shout-out: TikTok
Shout-out: Amazon
Shout-out: Google
Shout-out: Facebook
Shout-out: J.P. Morgan
Shout-out: Chase Bank
Shout-out: Meta
Artist mentioned: Pearl Jam
Podcast mentioned: The Vanished
Book mentioned: Killers of the Flower Moon: The Osage Murders and the Birth of the FBI by David Grann
In this episode:
[00:42] – Brian Keefe says he originally considered pursuing law enforcement. PART 1
[03:24] – Brian says he originally considered pursuing law enforcement. PART 2
[05:12] – "Faster payments in a faster world."
[08:06] – Brian talks about listening to customers and getting ahead of customer needs.
[09:42] – What is Brian's advice for smaller financial institutions rolling out new solutions?
[11:25] – How can credit unions detect and prevent real-time payments fraud?
[14:25] – What kinds of fraud do credit unions need to pay attention to most?
[16:57] – Brian explains what is appealing about VR headsets.
[19:20] – Brian spends his time listening to true crime and comedy podcasts.
[22:03] – "You need to stay educated on what's happening today to anticipate what may happen in the future."
Lauren Culp is the Publisher & CEO at CUInsight.com. She leads the growing team at CUInsight, works with organizations serving credit unions to maximize their brand and exposure, connects with ...
Web: https://www.cuinsight.com
Details