The CUInsight Network podcast: Lead & lend – Coviance (#56)
Featuring Allen Jingst, Chief Revenue Officer at Coviance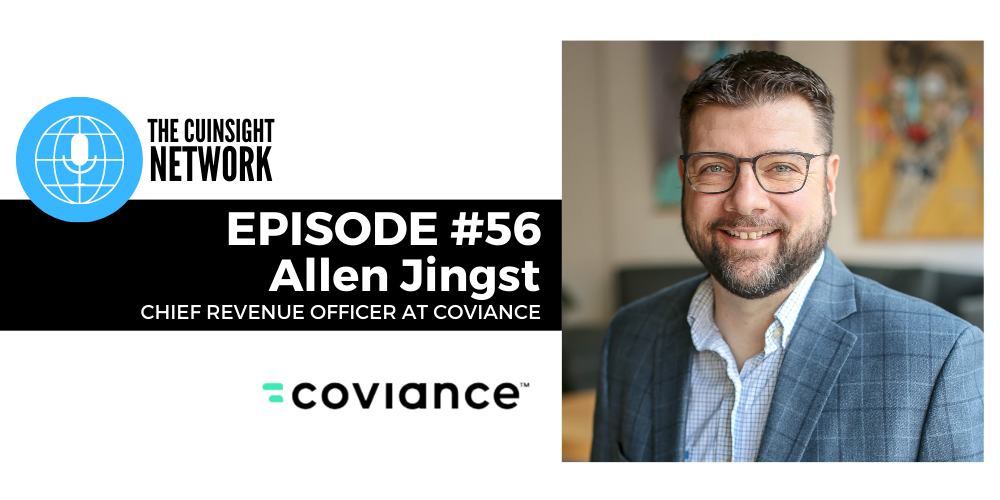 Thank you for tuning in to episode 56 of The CUInsight Network, with your host, Lauren Culp, Publisher & CEO of CUInsight.com. In The CUInsight Network, we take a deeper dive with the thought leaders who support the credit union community. We discuss issues and challenges facing credit unions and identify best practices to learn and grow together.
My guest on today's show is Allen Jingst, Chief Revenue Officer at Coviance. Allen talks about his passion for people and technology sales which led him on his career journey to his current role. Coviance is a technology-focused lending platform that makes home equity and HELOC lending simpler, faster, and friction-free. Coviance's goal is to create a better and faster lending experience for credit unions, their members, and employees.
During our conversation, Allen talks about  automating the lending process while enhancing the human touch to improve member experiences. The team at Coviance supports credit unions during the entire process of analyzing, innovating, and initiating new workflows.  Allen believes credit unions are long standing financial institutions with a lot of insight to leverage. As we look to the future, Coviance is focused on perfecting the lending experience and continuously improving the process so credit unions can operate more efficiently and gain new members through real estate loans. Listen as Allen shares how credit unions can encourage each other to innovate and lead the movement forward.
As we wrap up the episode, Allen talks about spending time with family, a gadget that he can't live without for business and personal use, and enjoying nature. Enjoy my conversation with Allen Jingst!
Connect with Allen:
Allen Jingst, Chief Revenue Officer at Coviance
ajingst@coviance.com
coviance.com
Allen: LinkedIn
Coviance: LinkedIn | Facebook | Twitter 
Show notes from this episode:
What an amazing interview with Allen! Check out all the exceptional work his team is doing over at Coviance here.
Want to hear more from Allen? Click here.
Shout-out: Allen's son
Place mentioned: Des Moines, IA
Shout-out: Dwolla
Shout-out: Omar Jordan
Shout-out: Sears
Shout-out: Amazon
Place mentioned: Chicago, IL
Shout-out: reMarkable
Shout-out: Allen's previous coworker
Artist mentioned: Lord Huron
Book mentioned: Grit: The Power of Passion and Perseverance by Angela Duckworth
In this episode:
[00:44] – Allen Jingst didn't have a dream job as a kid, but he did know he loves helping people. 
[02:39] – Allen recalls how he became fascinated with tech solutions and credit unions.
[04:58] – How are people interacting with equity?
[07:44] – Redefine the membership experience.
[10:01] – Allen talks about the importance of partnership with credit unions and members.
[13:02] – Be careful with decisions that impact the spirit of the brand.
[15:21] – What happens when a brand loses its way?
[17:08] – Meet today's borrowers where they're at.
[20:02] – Allen enjoys using this convenient device for taking notes.
[21:49] – Allen talks about the feedback that changed the trajectory of this career.
[23:40] – What content does Allen consume these days?
[26:01] – How can credit unions find spaces to lead and leverage past experience?
[28:28] – "Let's challenge each other to lead."
Lauren Culp is the Publisher & CEO at CUInsight.com. She leads the growing team at CUInsight, works with organizations serving credit unions to maximize their brand and exposure, connects with ...
Web: https://www.cuinsight.com
Details