The CUInsight Network podcast: Lending protection – Securian Financial (#1)
Featuring Bill Gould, Senior Vice President, Affinity Solutions of Securian Financial
Thank you for tuning in to episode 1 of The CUInsight Network, with your host, Randy Smith, co-founder of CUInsight.com. In The CUInsight Network, we take a deeper dive with the thought leaders who support the credit union community. We discuss issues and challenges facing credit unions and identify best practices to learn and grow together.
My guest on today's show is Bill Gould, the Senior Vice President at Securian Financial Group. He oversees sales, business development, financial management, strategic planning, marketing, compliance, and operations. And if that's not enough, he's also responsible for the financial institution insurance business in Canada.
Listen in as Bill discusses his journey to the credit union industry and how his current position has been a bit of a 'full circle' experience. Bill talks about the ability to attract and retain members through examining insights and trends while having a variety of  lending options. 
Bill shares how Securian's most recent research helps credit unions assist their members with lending protection to prevent delinquencies, especially during the pandemic. He sheds light on the importance of industry leaders accepting change and being able to quickly adapt to it. Bill explains that what sets credit unions apart is the willingness to collaborate and share tips and strategies with each other to best serve members. 
In the rapid-fire questions, we find out that Bill recently purchased a puppy for his family and realized it was something he didn't know he needed. When Bill thinks of success, his father comes to mind as a leader and entrepreneur along with Warren Buffet for his generosity. After work, Bill loves running and getting outdoors to decompress. Enjoy my conversation with Bill!
How to find Bill:
Bill Gould, Senior Vice President at Securian Financial Group
william.gould@securian.com
www.securian.com
Facebook | LinkedIn | Twitter | Instagram | YouTube
Show notes from this episode:
Shout out: Bill's dad
Shout out: Allied Solutions
Book mentioned: So You Want to Talk About Race by Ijeoma Olou
Book mentioned: Grit: The Power of Passion & Perseverance by Angela Duckworth
Album mentioned: How to Dismantle an Atomic Bomb by U2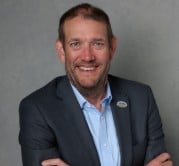 Randall Smith is the co-founder of CUInsight.com, the host of The CUInsight Experience podcast, and a bit of a wanderlust. As one of the co-founders of CUInsight.com he ...
Web: www.CUInsight.com
Details