The CUInsight Network podcast: Modern core – Nymbus CUSO (#55)
Featuring John Janclaes, President at Nymbus CUSO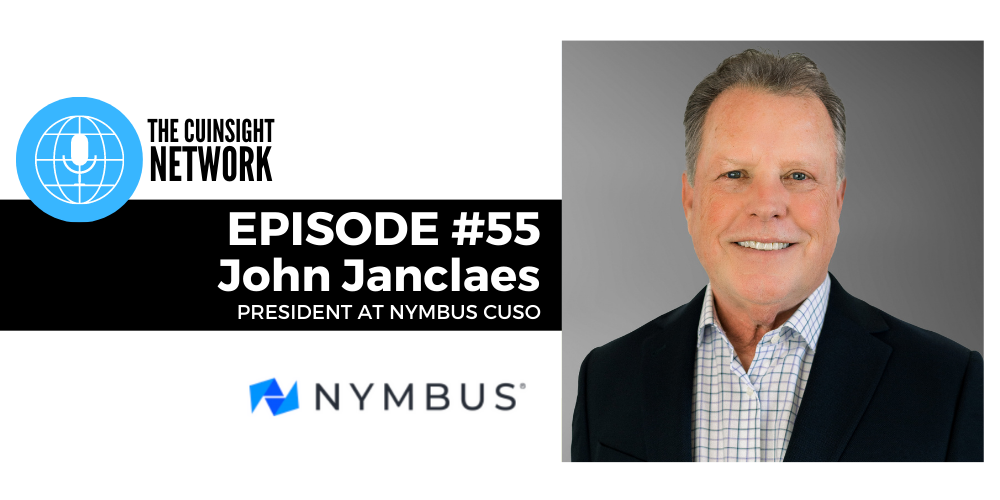 Thank you for tuning in to episode 55 of The CUInsight Network, with your host, Lauren Culp, Publisher & CEO of CUInsight.com. In The CUInsight Network, we take a deeper dive with the thought leaders who support the credit union community. We discuss issues and challenges facing credit unions and identify best practices to learn and grow together.
My guest on today's show is John Janclaes, President at Nymbus CUSO. John was a guest on the podcast two years ago so we dive right into how the environment for credit unions has evolved and how Nymbus has grown. The team at Nymbus offers a fresh perspective on growth for brands, credit unions, banks, and fintechs, with the technology and support for digital transformation. 
During our conversation, John talks about the significance of technology as it pertains to acquiring members, deepening relationships, and retaining members for growth. He expresses how digital transformation is a team sport and it takes collaboration to integrate new systems and see progress. John talks about the book he is writing to help leaders assess, manage, and optimize partner relationships called, "The Partnership Advantage: How to Revitalize Community Financial Institutions." It will be available this summer. When looking ahead, John is particularly looking forward to the Modern Core his team is developing to reach new growth and unlock new opportunities. Listen as John shares insights as the industry is evolving and how we can continue learning from each other.
As we wrap up the episode, John talks about an influential leader in his life, a book about high performing companies, and a city he loves to visit. Enjoy my conversation with John Janclaes!
Connect with John:
John Janclaes, President at Nymbus CUSO
jjanclaes@nymbus.com
nymbus.com/
John: LinkedIn
Nymbus: LinkedIn | Twitter 
Show notes from this episode:
What an amazing interview with John! Check out all the exceptional work his team is doing over at Nymbus here.
Want to hear more from John? Click here.
Historic event mentioned: COVID-19 Pandemic
Shout-out: Governmental Affairs Conference (GAC)
Shout-out: Fintech Meetup
Shout-out: NACUSO
John's book: The Partnership Advantage: How to Revitalize Community Financial Institutions 
Shout-out: Nymbus Core
Shout-out: John's previous leader, Mike Steinhauer
Shout-out: Joe Namath
Shout-out: Sting
Place mentioned: Chicago, IL
Book mentioned: Radical Candor: How to Get What You Want by Saying What You Mean by Kim Scott
Book mentioned: Time, Talent, Energy: Overcome Organizational Drag and Unleash Your Team S Productive Power by Eric Garton and Michael C. Mankins
Previous guests mentioned in this episode: John Janclaes
In this episode:
[00:44] – John Janclaes talks about how digital transformation evolved over the last couple years.
[03:26] – How has Nymbus changed in the last two years?
[06:19] – John talks about the operation changes his team made to improve performance.
[08:57] – Digital transformation is really a team sport.
[10:43] – John is excited about writing a book. When will it be out?
[13:18] – "Are we delighting the members?"
[15:02] – John discusses the modern core his team is developing.
[16:38] – John remembers an influential leader in his life.
[18:12] – What are the three components that powerful companies manage well?
[20:55] – Thank you John, and thank you for listening!
Lauren Culp is the Publisher & CEO at CUInsight.com. She leads the growing team at CUInsight, works with organizations serving credit unions to maximize their brand and exposure, connects with ...
Web: https://www.cuinsight.com
Details