The CUInsight Network podcast: The right data – TransUnion (#4)
Featuring Sean Flynn, Senior Director of Credit Unions at TransUnion
Thank you for tuning in to episode 4 of The CUInsight Network, with your host, Randy Smith, co-founder of CUInsight.com. In The CUInsight Network, we take a deeper dive with the thought leaders who support the credit union community. We discuss issues and challenges facing credit unions and identify best practices to learn and grow together.
My guest today is Sean Flynn, the Senior Director of Credit Unions at TransUnion. Sean discusses how he wanted to be a Navy pilot when he grew up but ended up in a high school program that put him on the path to financial services plus much more.
Sean shares that TransUnion is a lot more than a credit reporting bureau, now arming credit unions with tools and strategies to create economic opportunities for the members they serve. We discuss how Sean and his team have a personal connection to the mission of credit unions. He believes that, along with member relationships, employing the right data at the right time  to make informed recommendations is the secret to credit unions enhancing the digital experience. 
Sean discusses the trends he sees in lending and overall financial services and shares that TransUnion is focused on providing credit unions a more holistic picture of the consumer. For credit unions to stay relevant, Sean believes that making time for creative and strategic thinking is critical.
During the rapid-fire questions, we learn Sean is all about comfort, and he shares one recent purchase that was definitely worth it. To clear his mind, Sean loves to ski and cycle. When he thinks of the word success, two very different people come to mind, and you'll be surprised to find out who they are. Enjoy my conversation with Sean!
How to find Sean:
Sean Flynn, Senior Director of Credit Unions at TransUnion
sean.flynn@transunion.com
www.transunion.com
LinkedIn | Facebook | Twitter | YouTube | Instagram 
Show notes from this episode:
What an amazing interview with Sean, check out all the awesome work his team is doing over at TransUnion here.
Want to see more from Sean? Click here.
Learn more about the National Academy Foundation by clicking here.
There is still time to register for Mini-Con: 2021.
Shout-out: Service Credit Union
Shout-out: George Hofheimer
Shout-out: Tom Brady
Shout-out: Larry Stooker
Shout-out: Ellen DeGeneres
Album mentioned: Goodbye Yellow Brick Road by Elton John
Book mentioned: Leading Change by John Kotter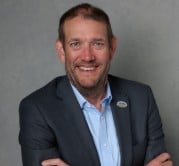 Randall Smith is the co-founder of CUInsight.com, the host of The CUInsight Experience podcast, and a bit of a wanderlust. As one of the co-founders of CUInsight.com he ...
Web: www.CUInsight.com
Details