The Great Resignation's impact on the CU industry – Is there a silver lining?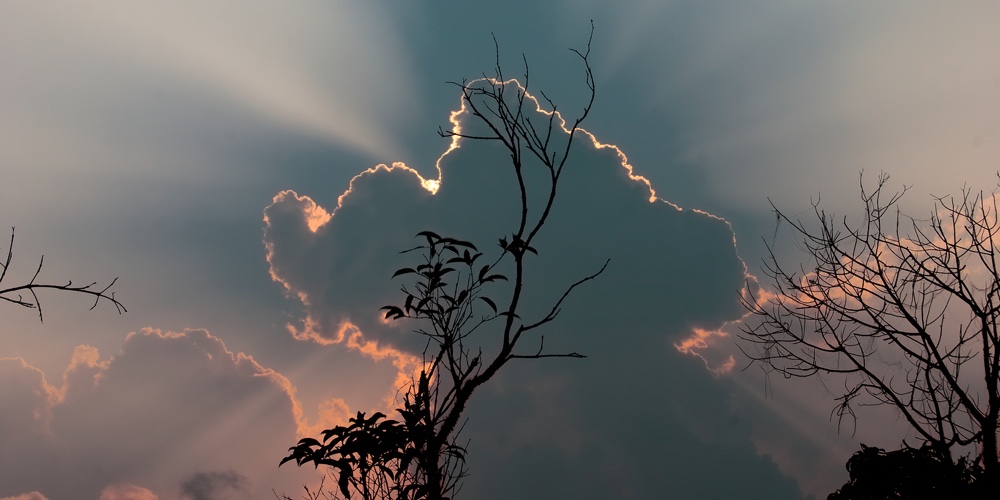 The Great Resignation is Real
We have all read about or heard about it, but how many credit unions have been affected by it? And experts are now predicting there is another surge coming sometime in early 2022. Nearly 18 million workers resigned from their employment since July 2021*, with an initial alarming peak that occurred between August and September — 4.4 million workers quit their jobs in September alone (that's 2.9% of the non-farm workforce). There was a drop in October, but in November we experienced an even larger spike—5% quit their jobs. Is the worst over? No one really knows for sure.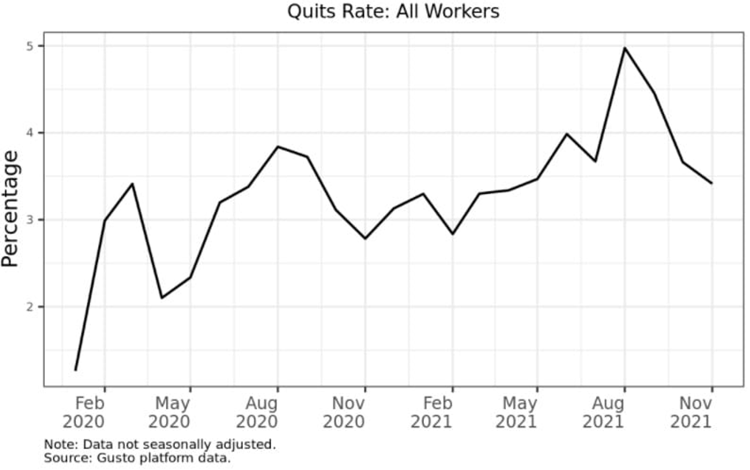 *As of this writing, there is no published data yet for December 2021.
The cause of this phenomenon points primarily to the effects of the COVID-19 pandemic. The coronavirus has produced many uncertainties including fear of contracting the illness, vaccination requirements and efficacy, remote work and forced telecommuting, virtual and home schooling, and the disruptions brought on by dramatic social and economic change. The pandemic has changed the way we view our lives and the world.
Gender and Age Disparities Exist
Based on the data gathered and analyzed by the US Bureau of Labor Statistics (BLS), women are leaving work at consistently higher rates than men during the Great Resignation. This could be partially explained by an increase in at-home childcare needs. In November 2021, 3.73% of women quit their jobs, compared to 3.1% of men — a gender gap of 0.63 percentage points.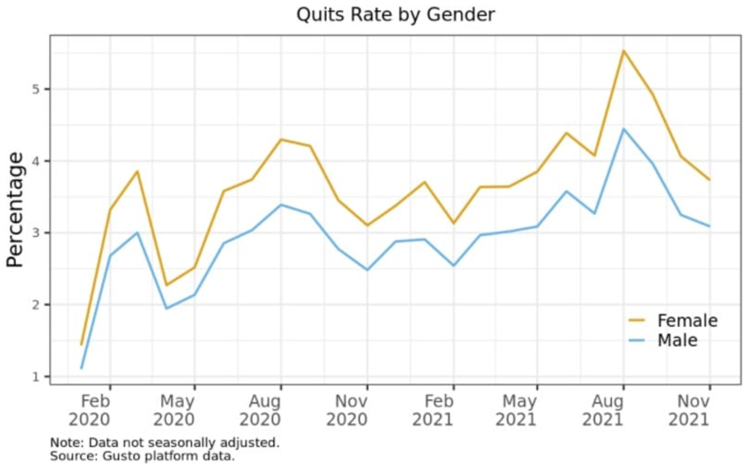 Age-related differences are also apparent, with resignation rates highest among mid-career employees. Employees between 30 and 45 years old have had the greatest overall increase in resignation rates. Several factors might help explain the increase in resignations by mid-level employees. First, there is greater demand for mid-career employees, which provides them with greater leverage in securing new positions. Second, many of these mid-level employees may have delayed transitioning out of their roles due to the uncertainty caused by the pandemic, resulting in a year's worth of pent-up resignations. Additionally, it is possible that many of these workers may have simply reached a breaking point after months of high workloads, hiring freezes, and other pressures, causing them to rethink their work and life goals.
Financial Services is Faring Better Than Other Industries
Fortunately, the financial services sector has been among the lowest of all categories experiencing employee quits. Nonetheless, many credit unions are experiencing the effects of this trend.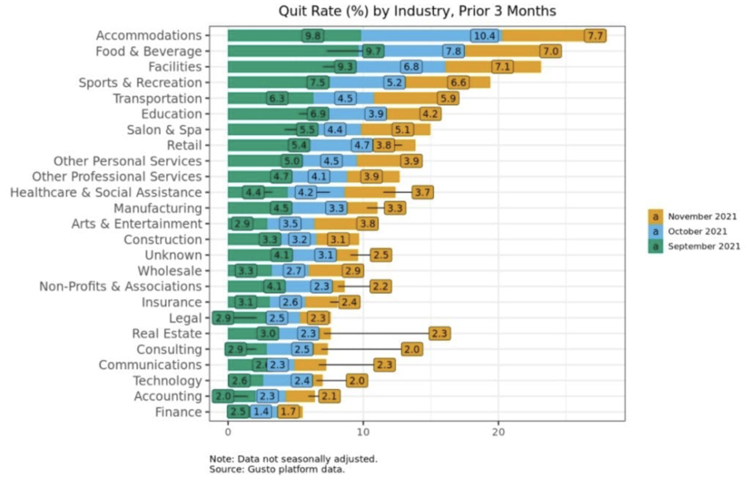 Credit unions are losing frontline staff—tellers, MSRs—those who work the branches, whether at teller window or the drive-through. These employees are often the lowest paid and compensated credit union workers. They are also the ones who deal directly with members face-to-face. They may require vaccinations, or at least required to mask up. Their jobs are not conducive to working from home. Finding replacements for those who have quit these jobs is proving difficult for many within the industry. Some credit unions have increased hourly wages and offered additional benefits to try to keep and attract frontline staff. However, until the virus dies down, this will be a difficult area to keep staffed. According to analysis of data by Callahan & Associates, expenses to retain and attract new employees has resulted in huge increases and reduced annual growth within the industry. Compensation has risen by 10.5%, or $8,395 per employee since the start of the pandemic in 2020. These increased wage and benefit costs have chipped away at revenue growth as a result, as well.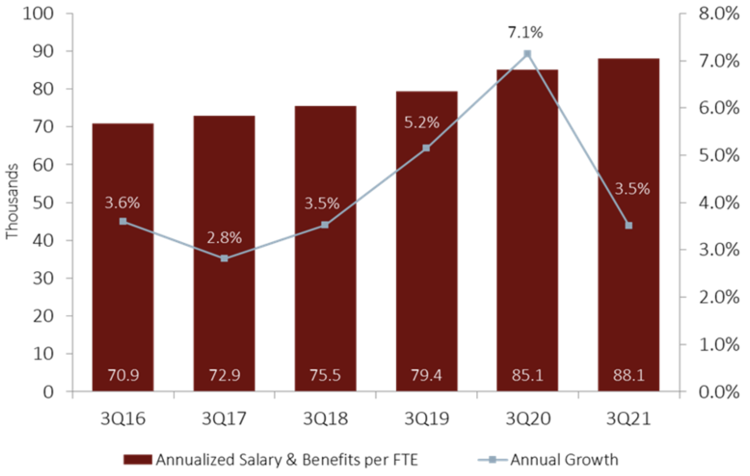 Source: Callahan & Associates
Many back-office employees have also left their credit union jobs. We have spoken with many credit unions who have lost accountants, data entry clerks and compliance specialists. That said, as an industry, credit unions (and banks) have experienced some of the lowest levels of job resignations compared to other industries. That still doesn't lessen the sting, but it could be worse.
Is There a Silver Lining?
Losing employees due to circumstances beyond your control is never easy. But so far, the pinch pales in comparison to other industries. Nonetheless, the Great Resignation could provide credit unions with an opportunity to evaluate ways to save money and reduce expenses. Perhaps it's time to explore outsourcing some of the organization's positions/functions to a lower cost model, like a CUSO provider, and possibly gain greater expertise or a deeper bench at the same time. And it may be time to accelerate the digital transition, lessening the need for as many in-branch frontline staff positions that handle transactions that can be accomplished electronically and without human touch.
While purely anecdotal, at Aux we are experiencing a much higher than usual interest in our outsourced Accounting and Compliance services. Most of these inquiries are the result of the loss of talent—workers who have decided to leave their positions at credit unions. Since these back-office functions are important, if not critical, for credit unions to continue operating—many cannot wait for or successfully find replacements, so they are turning to CUSOs like Aux, to either augment or reassign these functions.
This is occurring among credit unions who had never thought of or considered outsourcing some of these critical back-office functions. They did not realize that outsourcing to a CUSO can provide clear benefits–a deeper bench of talent, broader expertise and experience, avoid the hassle of recruiting, training and compensating talent, as well as the possibility of saving money in the process.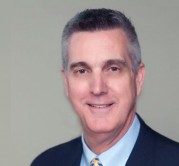 Alan is a passionate credit union veteran, having served as CMO for two different $B+ credit unions and Brand Director for CUNA Mutual Group's TruStage, from its launch to ...
Web: https://auxteam.com
Details