The hybrid work from home model – reimagining how we work together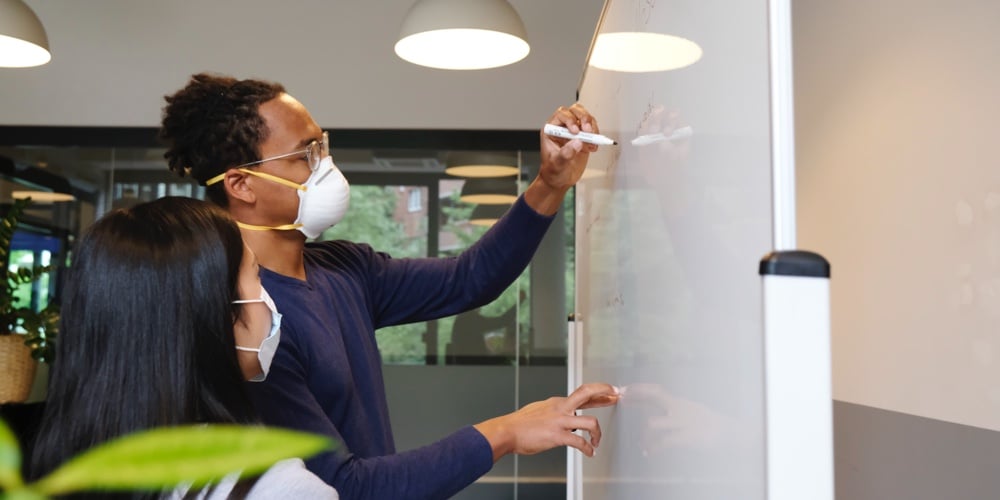 As I speak with credit union leaders every week about organizational culture considerations, it's clear that the COVID-19 pandemic has created both opportunities and challenges associated with the work from home shift. These issues have both short-term and long-term implications. Of course, none of us had a choice in the short-term. We were thrust into a remote work world, ready or not. But now as leaders who understand that perhaps our greatest responsibility is to foster a great culture, we realize that we better get busy planning for the long haul.
For CU Solutions Group and the MCUL, and our 150 employees, the lights are still off in our two offices as we keep our employees safe in a remote work environment. It has been somewhat different for credit unions as most have returned to open branch operations and at least partial opening of in-office operations with safety precautions. Out of necessity, credit unions continue to stretch to meet the retail banking needs of their members with an omnichannel approach that includes branches and drive-throughs.
But whether for credit unions or support organizations, leaders are universally considering what the more permanent approach for remote work will entail. Most leaders tell me that they will indeed take a hybrid approach with three categories of positions, 1 – In office/branch, 2 – Totally remote and 3 – Hybrid mix of remote and in office/branch. For those of us without retail-facing operations, the hybrid approach has more to do with the percentage of time that employees work completely from home.
For CUSG, with our 23,000 square foot lease expiring in November of 2021, my knee-jerk reaction was initially to seize the opportunity for cost savings and an employee morale boost by declaring that we were never going back to the traditional office. Our plan was to downsize by two-thirds and allow all staff to work remotely, using the office only for collaboration, shared office cubes, board and departmental meetings and external relations with prospective partners, etc.
But as I have learned and pondered the tradeoffs of remote work, and discussed them with other leaders and team members, I realize that I may have initially over-reacted. Instead, I now favor a company-wide hybrid approach to remote work that includes a certain minimum level of being in-office. And there are three primary reasons for this. The first two are the most important. But essentially my three reasons can be summarized as, 1 – The need for human connection and community, 2 – Employee emotional well-being and 3 – Staff appreciation for the Work from Home benefit.
As we downsize our offices and focus on the future, we will survey our employees and their supervisors to determine which positions and employees fit best in the three categories of remote, in-office or hybrid. Even after the categorization, however, we will likely require and encourage at least 20 percent, or one day per week in a group office environment when we re-open our safe and secure office around July 1, 2021, subject to the distribution of vaccines and the evolution of the virus and its impact.
For decades, employees have been asking for greater flexibility to work from home. And as companies have moved partially or completely in that direction, a lot has been learned. For instance, according to a recent McKinsey study, 80 percent of employees surveyed said they enjoyed working from home. Forty-one percent said they were more productive at home and another 28 percent said they were as productive. Of course, that means 31 percent were less productive, and some 20 percent don't enjoy it. The bottom line of this and other studies is that remote work is NOT for everyone and leaders should take this into consideration to develop a hybrid approach vs. a universal one-size-fits-all arrangement.
Derek Thompson, staff writer for the Atlantic describes the Coronavirus as a "huge, stressful experiment in working from home." He points out that even before the pandemic, the remote work portion of the labor force had tripled in the past 15 years, driven by living costs in metros with the highest density of knowledge workers and new models from primarily technology companies.
He also cited several case studies that show how remote work can impede creativity, affect employee happiness and productivity for some and the biggest revelation that overshadowed all else: Loneliness. Beyond the lost creativity and companionship fostered by an office, remote work in many cases can put a damper on productive teamwork and employee development.
Of course, on the flip side, most employees may thrive in a work from home model. The average daily commute in the U.S. recently hit an all-time record of 27 minutes one-way. Taking an hour or more away from your day is a big deal for most of us. And so, obviously, the win-win inherent in lower facility costs for the company and more time with the family for employees just makes sense, but not universally for all employees. And that's the point of a hybrid approach.
If leaders of credit unions and credit union organizations can seize this moment to plan for an effectively implemented hybrid model, there is a once-in-a-generation opportunity to maximize employee wellness and satisfaction while reducing organizational costs and improving productivity – a true win-win.
The McKinsey Group suggests four steps to reimagine work and workplaces when undertaking this management exercise.
First, we must reconstruct how work is done. This means challenging supervisors and employees to understand which functions can be performed remotely vs. in person. And for individual employees, this means making sure that we understand their preferences and abilities so they can align with the new requirements.
Employee wellness and professional development also need to be considered. Avoid the temptation to revert to the old ways of doing things for all, or to push too hard in the direction of universal remote work. Like most other management practices, each position and every employee deserve a thoughtful and dynamic approach in order to achieve a good fit.
Next, decide "people to work" or "work to people". Once the inventory and analysis have been started, the process for alignment begins. That is, deciding whether employees should be completely remote, completely in office, or in-branch or a hybrid of the two. For the hybrid, the percentage of time remote will have to be determined.
As we assess the tradeoffs here at CUSG, we are leaning toward requiring or encouraging all staff to be in-office at least 1 day per week or approximately 20 percent. Of course, this will vary up or down depending on positions and employee needs. The reason for the mandatory minimum is that we feel that almost universally, employees need to feed their need for connection and community, fostering better employee wellness and appreciation for the work from home benefit.
Third, redesign the workplace to support organizational priorities. The redesign of a facility or facilities will always be a means to an end of improved member service and the creation of a happy and productive environment for employees. The office of the future will likely have more shared offices, perhaps universally including the CEO, with more conference rooms and collaborative space as well as features that enhance training, development and the greeting of visitors and members.
Of course, there will be important technology considerations for the long haul and safety considerations in the near-term to assure a clean, safe environment for all. And with all of this, it is important to achieve a blend of in-person and remote capabilities for videoconferencing, networking and collaboration.
And finally, resize the footprint creatively. McKinsey suggests a transformational approach and an iterative process beginning with a foundation of concepts and values but with a willingness to adapt as needed. This has always been the case, but creating a dynamic approach to office design is more important now than ever before. Across the economy, McKinsey estimates that time worked in main and satellite offices will decline by 12 and 9 percent, respectively, while flex office space will hold constant and work from home will increase to 27 percent of work time, from 20 percent. Of course for credit unions and support organizations, these shifts will likely be more dramatic.
We intend to use a cross-divisional team approach to consider all of the opportunities for an improved organizational culture that takes full advantage of this hybrid remote work concept.
McKinsey suggests that these changes may not only improve how work is done but also lead to savings. Rent, capital costs, facilities operations, maintenance and management make real estate one of the largest cost categories for credit unions and support organizations. Managing these costs has always been a priority and the COVID environment learnings can prove invaluable for finding the proper decisions moving forward.
But opportunities for improving employee health and satisfaction should overshadow all cost-efficiency benefits. As McKinsey points out, "a well-planned return to offices can use this moment to reinvent their role and create a better experience for talent, improve collaboration and productivity, and reduce costs."
Arguably, this should be a top 5 priority for every company's strategic plan given the important implications for both operating costs and staff morale. Studies have shown that when employees are given choice over their schedule and location of their work, the psychological, physical and productivity benefits can double.
But working from home isn't always the best option for employee wellness and happiness. Organizations need to provide the proper facilities, coaching support, and organizational culture dynamics for periodic connection and collaboration. And even though loneliness, depression and reduced productivity may only pertain to a small portion of our employees, we don't want anyone to be negatively impacted by an opportunity that benefits most, but not all of us.
Dave Adams is  President / Chief Executive Officer of CU Solutions Group. The  CUSG office is located in Livonia, Michigan. Mr. Adams joined the Michigan Credit Union League in August of ...
Web: www.CUSolutionsGroup.com
Details