There's no such thing as just a janitor
There may be a movie someday about Richard Montañez.  I wouldn't bet against it.
If you've eaten a Flamin' Hot Cheeto, you have him to thank. His story (The Hustle) is the stuff of legends.
Montañez is a first-generation Mexican immigrant. He had a hard time in school and eventually dropped out. He eventually landed a job as a janitor in a Frito-Lay plant in California.
Before he started, his grandfather gave him advice.
"Make sure that floor shines," the man told his grandson. "And let them know that a Montañez mopped it."
Montañez decided he was going to be the "best janitor Frito-Lay had ever seen" — and he quickly made his presence known.
"Every time someone walked into a room, it would smell fresh," he says. "I realized there's no such thing as 'just a janitor' when you believe you're going to be the best."
Montañez worked hard, learning everything he could about Frito-Lay. When he heard the CEO of Frito-Lay urge employees to act like an owner, something was triggered within him.
After nearly a decade mopping floors, Montañez gathered the courage to ask one of the Frito-Lay salesmen if he could tag along and learn more about the process.
They went to a convenience store in a Latino neighborhood — and while the salesman restocked inventory, Montañez made a fortuitous observation: "I saw our products on the shelves and they were all plain: Lay's, Fritos, Ruffles," he recalls. "And right next to these chips happened to be a shelf of Mexican spices."
In that moment, he realized that Frito-Lay had "nothing spicy or hot."
A few weeks later, Montañez stopped at a local vendor to get some elote, a Mexican "street corn" doused in chili powder, salt, cotija, lime juice, and crema fresca. Cob in hand, a "revelation" struck: What if I put chili on a Cheeto?
Montañez made his own prototype spicy Cheetos, and boldly set up a meeting with Frito-Lay's CEO.
Montañez stepped into the boardroom. "Here I was," he says, "a janitor presenting to some of the most highly qualified executives in America."
At one point during the presentation, an executive in the room interjected: "How much market share do you think you can get?"
"It hit me that I had no idea what he was talking about, or what I was doing," Montañez recalled. "I was shaking, and I damn near wanted to pass out…[but] I opened my arms and I said, 'This much market share!' I didn't even know how ridiculous that looked."
The room went silent as the CEO stood up and smiled. "Ladies and gentlemen, do you realize we have an opportunity to go after this much market share?" he said, stretching out his arms.
He turned to Montañez. "Put that mop away, you're coming with us."
Today, Montañez is the VP of multicultural sales for PepsiCo America – the holding company of Frito-Lay.
His story is remarkable. And I think it all boils down to his mindset.
Be the best at whatever you do. Be world-class. Whether with a mop. Or as a colleague. Or as a parent. 
Or with a Cheeto.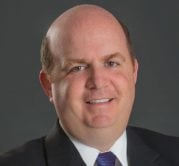 Anthony Demangone is executive vice president and chief operating officer at the National Association of Federal Credit Unions (NAFCU). Demangone oversees day-to-day operations and manages the association's education, membership, ...
Web: https://www.cuinsight.com/partner/nafcu
Details