Thought leadership and global change begins with one single step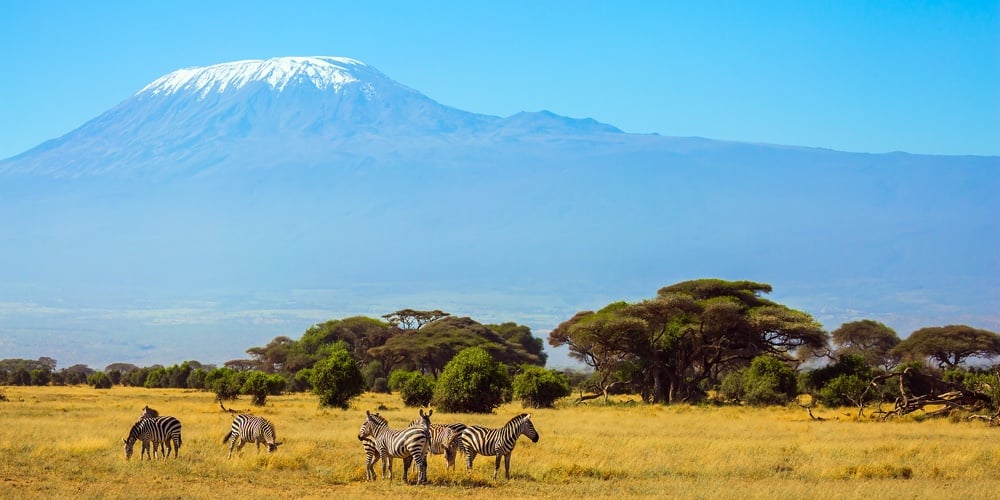 "Every journey begins with a single step. Some journeys are harder – much harder than others. This is why these are the most memorable." – Lois Kitsch, Co-Founder of CUDifference
In October of 2022, I will be joining nine other Americans who plan to scale the highest peak in Africa – Mount Kilimanjaro – also affectionately known as Kili. Having done this once before in 2007, I know that this is no easy task. Joining us and rounding out our international climbing team are climbers from the UK, Germany, Canada, Kenya, the Gambia and Ghana. People who know me have asked me why are you doing this? Caroline Willard, President of the Cornerstone League and a member of the Climb Team says it perfectly, "This climb blends two of my greatest passions exploration and travel along with credit unions and getting to live at the intersection of these two things is pretty remarkable".
Kili soars 19,341 feet above sea level. It is the highest peak in Africa and the highest free-standing mountain in the world. This majestic mountain is a snow-capped volcano. The glaciers on the top of Kili are shrinking and expected to disappear in the next 3 to 4 decades. When I first climbed Kili 15 years ago I thought I was physically prepared – and I was – until summit day. Summit day begins at midnight. We climbed through the cold night air hoping to reach Uluru by daybreak. It was the most physically grueling experience in my life. However, when you reach the top of Africa, you realize that it was all worth it. This time I know what to expect. I am getting ready. My weekly workouts include an 8-to-9-mile daily walk, 100s of flights of stairs, weights and yoga. The mental preparation is even more important. Staying focused is critical. I am hoping the preparation will pay off and result in a successful effort.
The African Adventure is a four-part tour designed to do bring awareness of the African SACCO system to the global credit union network. Kili will bring awareness and a focus to our goal to raise $450,000 to complete a state-of-the-art training academy through the African Cooperative Development Foundation. Doing so will provide opportunities for credit union professionals to experience Africa while they learn more about African credit unions. As stated by George Ombado, Executive Director of ACCOSCA "2022 will be an historical year for Africa and the financial cooperatives in Africa through ACCOSCA. One of the key things we will do is to climb Kilimanjaro to source funds for a new state of the art training academy for SACCOs (credit unions)."
The new Academy will become part of ACCOSCA which is the Pan-African trade association and development organization for SACCOs. Using blended training techniques (webinars, certifications, virtual learning and in-person programs), the Academy will help SACCOS modernize their business models, grow membership and build safe and sound institutions. The Academy will increase the level of participation of regulators and encourage them to explore the mission of credit unions while maintaining internationally accepted key indicators in SACCOS to build a stronger Africa.
Do you want to join us? We would love to have you participate in one or all four parts of the 2022 African tour.
Our climbing team is full. However, I invite you to join the Kili Ground Team. This team will be completing a project in Tanzania aimed to solve global development issues affecting the region. The ground team will also join the climb team as we walk off the mountain together to celebrate a successful climb.
Participate in an international Development Education Workshop (three days).
Safari on the Serengeti. The Serengeti National Park is a World Heritage Site teeming with wildlife. You are likely to see lions, leopards, cheetahs, elephants, wildebeest, impalas, giraffe, zebras and so much more. The Serengeti is one of the most magical places on earth – a must do at least once in every life.
Each year our travel group leaves behind a project. Our 2022 group project will be to assist the Salima School for the Blind in Malawi. We strive to make our project days memorable and bring lasting change.
There are many ways to support this great initiative. You can support from you own home or travel with us to Tanzania. Please email me directly for further information at lois@cudifference.com.
For American credit unions, which operate in one of the world's most competitive, and metrics-driven industries, Lois Kitsch is the cooperative conscience. With 35 plus years of credit union ...
Web: https://cudifference.com
Details