Three individuals share their first journeys with Global Women's Leadership Network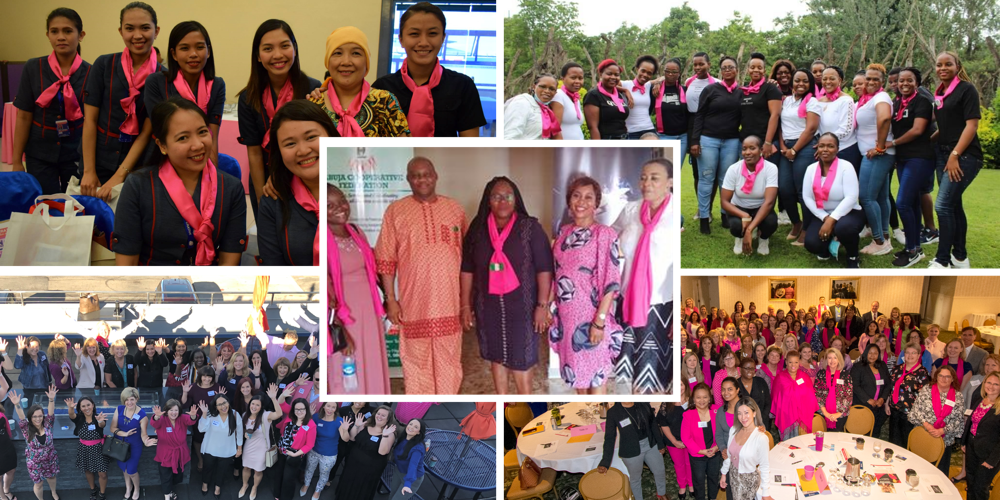 For all engaged and connected to Global Women's Leadership Network (GWLN), we celebrate women each and every day of the year. As we continue with our work on advancing women in leadership in the credit union space, I want to share three stories of individuals who were among many of the firsts who joined, learned from and engaged with GWLN.
Linda White, Eleonora (Eli) Zgonjanin Petrovic and Ryan Donovan. All have different backgrounds, expertise and entry points to the world that is GWLN.
Linda, Eli and Ryan. Three credit union professionals. Two countries. One common thread. In our case, the GWLN pink thread.
Co-leader of the First GWLN Sister Society
I first met Linda White, CEO at Upward Credit Union, located in Burlingame, California when she joined the World Council of Credit Unions on an engagement visit to Thailand in August 2018. We visited the national associations and local Sister Societies who showcased items sold by female entrepreneurs who had received loans and support from their financial cooperatives/credit unions.
Linda White is one of the women to start the first GWLN Sister Society. Linda joined founding volunteer chair Susan Mitchell of Mitchell, Stankovic & Associates, Patelco Credit Union board member Colleen Cabey and a number of women who met for the first time at the 2009 World Credit Union Conference (WCUC) in Barcelona where GWLN was officially launched.
During this meeting, the concept of having a localized grouping of women focused on women's advancement in leadership in the credit union space was discussed. This idea evolved into what became the Sister Society model – the primary mechanism through which GWLN members, industry partners, volunteers and advocates for women's advancement connect on a local level to make a global impact for women in credit unions.
In April 2012, the Bay Area-California Sister Society, the first for GWLN launched with a meeting at Patelco Credit Union's office in San Francisco with 20 people in attendance.
A part of the invite to all the credit unions in the San Francisco/Bay area read: "We hope you can appreciate the importance of having a place to connect with other women leaders facing similar challenges in their mission to effect positive change."
Retired San Mateo Credit Union CEO Barry Jolette, who served as the World Council chair at the time, joined the co-leaders as they presented the Sister Society as the means for credit union women to meet, connect, support and learn from each other, focusing on personal & professional development, the credit union and the community development.
White said they asked a large credit union in the area to host the meeting and to select a local community organization the Sister Society could support at the meeting. At that first meeting, they wanted to introduce GWLN and what the initiative was all about, how attendees could join the network and get involved and show the importance of supporting the only international platform for women's advancement in credit unions.
Since then, Sister Societies have grown domestically and internationally and currently there are more than 150 on six continents.
White said the growth of the Sister Societies in the US and abroad is something she hadn't imagined. "You can't put a price on what happens outside the four walls of a meeting. The connections and exposure to show our differences, actually shows us we have many more similarities than we think we do," said White.
First Scholar and Empowerment Grant Recipient
Eleonora (Eli) Zgonjanin Petrovic, CEO of FULM Savings House in North Macedonia is someone I consider my European neighbor. Her home in the city of Skopje is a two-hour car ride across a beautiful, mountainous landscape to Thessaloniki, Greece, the place I called home for 20+ years.
FULM Savings House is the country's first and only credit union, established in 1999 through a United States Agency for International Development (USAID) / World Council of Credit Unions project. In September 2019, I joined Zgonjanin Petrovic and a number of partners from the US on a visit to Skopje, meeting with North Macedonian dignitaries and participating in FULM's 20th anniversary celebration.
Zgonjanin Petrovic's journey with GWLN began from day one in 2009.  She, too, was among the 40+ women who met at the inaugural meeting at WCUC in Barcelona. In 2010, the first year the GWLN scholarship program was offered, she was among the first eight scholars to win the opportunity to travel to and participate in that year's World Credit Union Conference in Las Vegas.
In 2015, she was one of the first recipients of a GWLN Empowerment Grant. Her grant of $15,000 was to develop a communication strategy at FULM for financially excluded women and youth. This year-long project resulted in the creation of a program "My Business, My freedom" which attracted new members to FULM and served more than 1000 people throughout her country.
"We talked with GWLN members about how to best approach the women and the youth in our region and the input we received was priceless. Connecting with the network you're always learning, getting new perspectives and for that I'm grateful!" said Zgonjanin Petrovic. "It's not about the size or the amount of the grant. It's about the vision. And that comes from the connections through GWLN!"
Among the first HeforShes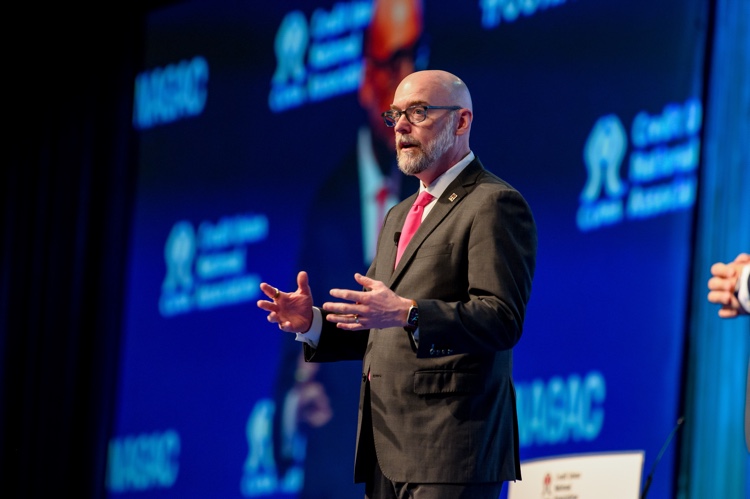 Ryan Donovan, Executive Vice President and Chief Advocacy Officer at Credit Union National Association (CUNA) was among the first three HeforShes to join GWLN. Donovan has been with CUNA for 15 years and in his current role for the past seven.
Donovan recalls first hearing about GWLN at the World Credit Union Conferences in Gdansk in 2012 and shared that although he was not invited to attend the meeting (GWLN opened membership to males in 2017), he stressed how important it was that we have a platform for women in our industry to network, support and learn from one another.
He is a strong advocate and supporter to the initiative. Donovan actually became a dues-paying GWLN member on International Women's Day in 2017!
The number of male GWLN members is growing fairly uniformly across the world, as they participate in more GWLN Sister Societies and attend GWLN events. GWLN's membership is comprised of approximately 15% men of more than 4500 individuals engaged with the network.
Donovan talked about the power of the pink, "For GWLN, the conversation starter is the pink. Whether I wear my pink tie on the main stage at CUNA's Governmental Affairs Conference or non-GWLN events, people ask me about it. This is your brand. This is who you are and I hope my wearing this sends a message of support."
When asked about the role of credit union women in leadership, Donovan shared that sometimes it is hard to identify women who may be the best candidates for opportunities which may arise, because you don't see the women stepping forward to take these types of opportunities.
"When you are invited to the table, sit at the table. And then, make your voice heard," said Donovan.
GWLN continues to work toward bridging the gender gap, establishing institutional best practices for women in executive or leadership roles in the credit union industry, leveraging opportunities and welcoming more firsts to the growing network. 
To learn more about how to join and get engaged with the Global Women's Leadership Network, visit the page here. To join the effort to Bridge the Gender Gap, you can donate here.
The Worldwide Foundation is the fundraising and engagement arm of the World Council. Join us on a global journey to transform a billion lives worldwide using credit unions. Visit www.doglobalgood.org to start your journey today.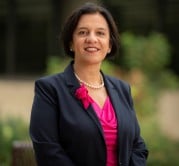 Giakoumopoulos has over 20 years of international experience working in 15 countries in western, central and eastern Europe. Prior to joining the World Council, she worked for consultancies funding European ...
Web: https://www.woccu.org
Details