Top 5 lessons from the 2016 Analytics and Financial Innovation (AXFI) Conference
1. Your Members are not just Numbers, but Numbers Help You Understand Your Members
The best way to build strong relationships with your member is to know your member. Learn their habits, needs, and patterns. In the same way that you can learn more from a video than a snapshot, you can learn more about a person using data over time and analyzing transactional data behavior.
Help your members (and your business) by making members' lives easier. According to Blesson Abraham, CEO and Co-Founder of SavvyIntel, the future of credit unions is to be financial advisors to the financially engaged masses. Credit unions should be able to provide specific offerings to individuals based on transactional behavior.
You will continue to experience success by continuing to engage with members. According to Tony Rizzo of Marquis, businesses that have a strategy for engagement are more successful. For example, Starbucks has built a model around building relationships with customers, getting feedback, and utilizing those inputs to create profitable opportunities. Make it easy for your members to utilize your services, and it will reward your business.
2. Times are Changing and Credit Unions Need to Keep Up
New technology today means faster changes and greater effects on financial institutions than ever. Therefore, it is very important that credit unions understand and know how to deal with the implications of these changes.
Lodging, taxis, and financial institutions are all examples of industries, which have been around for a long time with little innovation. However, recent years have brought disruptors into the industries of lodging and ride services with breakthroughs such as Airbnb and Uber. Both Airbnb and Uber have turned their industries upside down and have one thing in common: they are supported by easy-to-use mobile applications.
As these types of innovations grow in number and popularity, credit unions must keep up. Innovations are happening already in the financial lending industry. Credit unions must learn how to cater to the needs of members before they are made irrelevant by the next Uber or Airbnb of lending. According to Anne Legg, CEO of Thrive, credit unions need to understand that "data is king". Data is the solution to building meaningful relationships with members by understanding their needs and providing solutions to questions they have not even asked.
3. More data can lead to either more confusion or more success – It's your choice
With the changing technologies and banking methods, it is becoming easier to collect larger quantities of data. This can either overwhelm you and go to waste, or you can utilize the data and it will become your best friend.
Larger banks have been heavily investing in analytics and it has been paying off. There are a number of examples to show that mistakes are made when analytics are not used. It is easy for these mistakes to cost hundreds of thousands, if not millions of dollars. In order to stay relevant and competitively meet the needs of your members, it is increasingly important to effectively utilize data.
According to Bill Goedken, CEO of Idea5, credit unions must use analytics, predictive modeling, and marketing to improve and understand trends. It is no longer acceptable to just present numbers. Credit unions need to truly understand their data and tell the story of what the numbers mean.
4. Data has Two Sides
The key to effectively utilizing data analytics is understanding the two different sides: descriptive and predictive. You can collect all the data in the world, but it is not very helpful until you learn to analyze the data and build predictive models, from which you can base future decisions for the company. According to Rahul Nawab, the CEO and Co-Founder of IQR Consulting, hindsight plus insight equals foresight. You will not be able to successfully predict future trends until you have collected and analyzed the past data.
Once the data is collected and inputted successfully, you have a very powerful tool. You can use the data to learn solutions to pre-determined problems, or even use "data lake" technologies to uncover unseen trends and correlations.
5. Getting Started is Easier than You Think
Beginning to integrate data and using predictive analytics can seem like a huge and overwhelming step. Like most projects, start with a goal. To build a house, design the house before collecting materials. When building a data warehouse, determine the goals for the data and create a strategy. After a strategy is set, the data to collect and the method of organization can be determined. At that point, the strategy can be executed to meet the goals.
Like any big decision, there are likely some reservations. A common concern with big data is the members' perceptions. Some members might have concerns revealing private information because they are worried about being "stalked". However, the credit union's role is utilizing data, not stalking members. Data allows the credit union to leverage information for the benefit of members.
Another concern of credit unions might be a lack of software. The number of software options can be overwhelming. Think back to the strategy for using data and use that as a guide to evaluate software.
A third concern for credit unions is likely lack of expertise. Most credit unions do not employ data scientists to drive the analytics effort. Fortunately, many excellent vendors operate in this market ready to provide expertise so the credit union can get started. It is important, however, for the credit union to use this opportunity to learn and develop an internal capability over time. There is no better judge of what business questions need to be answered than the credit union. Analytics that are targeted at critical business questions create the most value.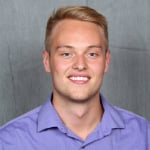 Austin J. Wentzlaff joined OnApproach in 2013 as a Business Development Analyst and is now currently Director of Business Development. He is responsible for developing marketing strategies, driving prospects to ...
Web: www.onapproach.net
Details