My top 5 moments from Finastra #Perspectives17
Late summer kicks off a flurry of financial services conferences that last through the fall. The first on my radar this year was Perspectives. Touted as Finastra's largest U.S. customer conference and the first since their formation of Finastra less than 80 days ago, credit unions invaded Orlando to hear the latest on the merger, technology evolution and industry trends at Perspectives.  
After an extremely busy few days, I headed off to the airport and left the Walt Disney Swan and Dolphin Resort behind while replaying the most memorable portions of the conference.
Here are my top 5 moments from Perspectives:
Reconnecting with industry peers
The number of years spent in the U.S. banking space equates directly to the number of hugs I receive on opening night of a conference. Times 10. In all seriousness though, I cannot pass up the opportunity to visit in person with valued customers, peers, and industry experts from leading financial services organizations.
Hanging with celebrity chef Todd English
Leave it to Hyland Software to plan the cocktail party of the conference! Held at the award-winning restaurant, Todd English bluezoo, Hyland hosted 80 of its customers for an evening away from the conference hustle. Todd's special appearance and an exceptional lobster dish he prepared exclusively for the party spoiled attendees and left folks buzzing about the event for days.
Digital transformation, analytics, lending automation and the elimination of data silos across the financial institution were all hot topics during the conference. It's clear, financial institutions are exploring more efficient ways to integrate their existing software systems. This gives them the ability to share information and reduce the mounting pressures on IT staff. The best solutions will help financial institutions do more with less by connecting important systems while giving a single place to store and manage information.
Baseballs, fidget spinners, water bottles and even bunny slippers (yes, slippers!) were the hit of the Partner Expo. I may have even seen the bunny slippers on the feet of some patrons on Disney's BoardWalk one evening!
Hearing Robert Herjavec's insights
Investor, entrepreneur, and lead Shark on ABC's Shark Tank, Robert Herjavec, delivered the keynote and it did not disappoint. Entertaining and informative, Robert shared his wisdom on how customers want to be sold to and marketed to.  
What else did I walk away from the conference with? The desire to go back again next year!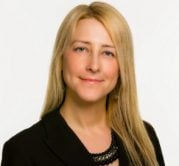 Michelle Shapiro has more than a 15 years of experience in the banking industry to her role as Financial Services Industry Expert at Hyland Software. Her mission is to share ...
Web: www.onbase.com
Details