Tweetup Tuesdays with Vantage Credit Union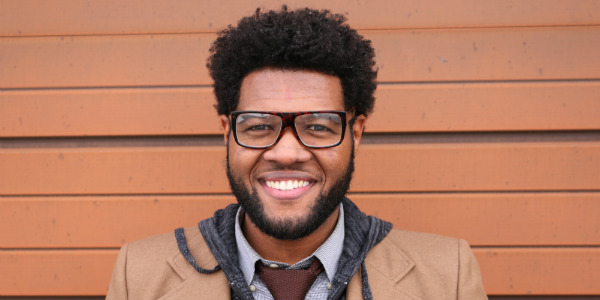 Fatemeh Fakhraie
Kenny DeShields (pictured above) has been Vantage Credit Union's Social Media Specialist since 2013. Recently, he helped create a monthly social media meet-up for St. Louis credit unions, using the hashtag #TweetupTuesdays. We talk with him about the meet ups and what they mean for credit union social strategy.
brass: Tell us a little bit about your role at VCU, Kenny.
Kenny DeShields: I  manage VCU's Facebook, Twitter, LInkedIn, Pinterest, and YouTube channels, and I write the Vantage Point Blog, three times a week with our fellow VCU credit union employees serving as guest bloggers from time to time. I blog about my financial experiences and profile local businesses and people to help connect the community. The whole point is to enhance our members' lives.
brass: And how does social media fit into VCU?
KD: Eric Acree, our new CEO, is a social media person; he understands how it works and why it's important, so it's just trickled down. All the research we're seeing that says people are using social media for a lot of "life" reasons. And we want to be available to our members even if there's a big snowstorm like we had a few weeks ago, where people couldn't get to the branches but still had lots of questions.
brass: So I'm curious to hear about #TweetupTuesdays. How did this come about?
KD: I've always used social media, and I like being social and getting people together. I just started reaching out to different people from local credit unions on Twitter to get feedback, suggestions, and it evolved into a meet-up with social media for credit unions as the focus. We have an agenda and topics to discuss, we meet in a cool venue with good food, and nobody feels like their evening has been wasted. We know what we're going to meet about, but everyone has a chance to give input. We help each other out–that's the credit union difference, yo know? It's about people helping people. This is a way, from an industry standpoint, that we can help one another.
We've had two meetups so far. VCU hosted the first one in December, at Plush in midtown St. Louis. Nora Holloway with the Missouri Credit Union Association (MCUA) helped us all get together, and they hosted the second meetup we had in January. I'm already thinking about ideas for February!
continue reading »