The CUInsight Experience podcast: Andy Janning – Serving others (#110)
"You don't have to have the biggest life to have the most successful one." - Andy Janning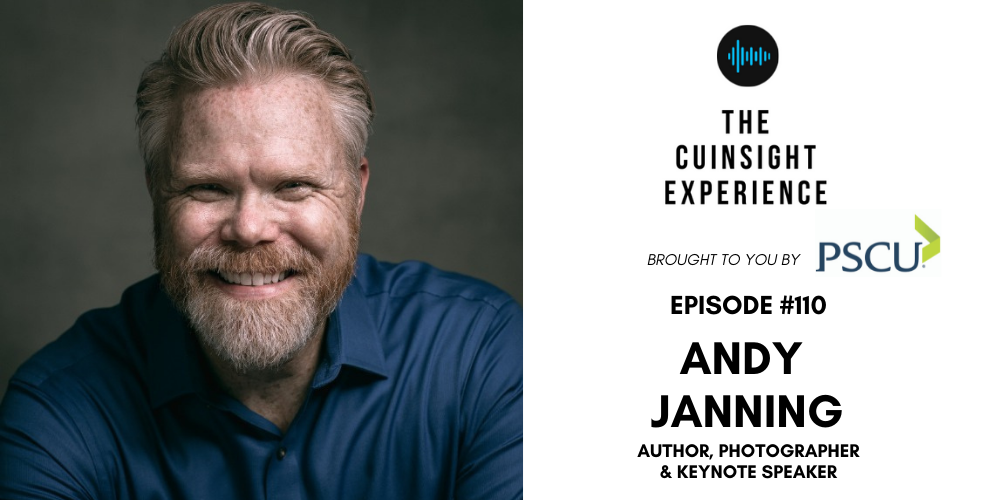 Thank you for tuning in to episode 110 of The CUInsight Experience podcast with your host, Randy Smith, co-founder of CUInsight.com. This episode is brought to you by our friends at PSCU. As the nation's premier payments CUSO, PSCU proudly supports the success of more than 1,500 credit unions.
My guest on today's show is Andy Janning. Andy is a filmmaker, author, photographer, keynote speaker, and a long-time supporter and member of the credit union community. We take a deep dive into the work he is doing in collaboration with our friends over at the National Credit Union Foundation entitled "Side Effects." We also discuss Andy's credit union journey and how he has been able to keep his purpose constant during the pandemic. 
Listen in as Andy shares with us his inspiration behind the Side Effects project and the correlation he discovered between physical health and financial well-being for cancer patients. He believes credit unions are able to "see and serve" these members in an effort to minimize their financial distress during such a difficult time. 
As shifts have become more frequent, Andy shares hacks with leaders on how to manage change including blending career experiences and using them to fuel the next move. He shares questions he routinely asks himself during those moments of transition. Andy believes it is important to provide safe spaces to your colleagues and your team when "the world is weird." 
In closing the show, we find out how Andy recharges himself and what he enjoys doing with his wife and daughters in his free time. We also chat about the most recent purchases Andy made during quarantine and what he is reading to keep him inspired. Want to know who Andy thinks of when he hears the word "success?" You'll have to tune in to find out. Enjoy my conversation with Andy Janning!
Subscribe on: Apple Podcasts, Spotify, Google Play, Stitcher 
Books mentioned on The CUInsight Experience podcast: Book List 
How to find Andy:
Andy Janning, Author, Photographer & Keynote Speaker
www.andyjanningphoto.com
andy@anyjanning.com
LinkedIn | Instagram | Twitter | Facebook  
Show notes from this episode:
A big shout-out to our friends at PSCU, an amazing sponsor of The CUInsight Experience podcast. Thank you!
Check out the Side Effects project here.
Want to hear more from Andy? Click here.
Take a look at Gigi Hyland's white paper "Health and Financial Well-being: Two Good Things That Go Better Together – The Case for Credit Union and Health Care Collaboration."
Read Andy's books: Heroes, Villains, and Drunk Old Men: A Love Story for Real Life and The Breast Cancer Portrait Project, Vol. 1: Survivor Stories.
Click here to check out Ruby Ribbon shapewear.
Shout-out: The National Credit Union Foundation (NCUF)
Shout-out: Gigi Hyland
Shout-out: Herb Wegner Awards Dinner
Shout-out: CUNA GAC
Shout-out: Andy's wife, Karla
Shout-out: American Cancer Society
Shout-out: Dr. S. Yousuf Zafar, Duke Cancer Institute
Shout-out: Jill Nowacki
Shout-out: Andy's daughters
Shout-out: Ernest Hemingway
Shout-out: Evernote App
Shout-out: Amanda Thomas
Shout-out: Ronaldo Hardy
Shout-out: Kenny DeShields
Shout-out: Bryan Moffitt
Shout-out: Andrea Dose
Shout-out: Jodi Allen
Shout-out: Kristin Ryan
TV show mentioned: The Chosen
Project mentioned: The Credit Union Photography Project
Shout-out: NFL Super Bowl
Shout-out: Bruce Springsteen
Shout-out: Jeep
Program mentioned: Cooperative Trust (Crasher Program)
Streaming service mentioned: Paramount+
TV show mentioned: Falcon and the Winter Soldier
Streaming service mentioned: Disney+
TV show mentioned: WandaVision
TV show mentioned: American Idol
Shout-out: Hamilton Musical
Shout-out: Christopher Morris
Shout-out: Jackson Pollock
Shout-out: Apollo II
Shout-out: Hasselblad Camera
Movie mentioned: Anchorman: The Legend of Ron Burgundy
Book mentioned: White Fragility: Why It's So Hard for White People to Talk About Racism by Robin DiAngelo
Book mentioned: The War of Art: Break Through the Blocks and Win Your Inner Creative Battles by Steven Presfield
Book mentioned: Hamilton the Revolution by Lin-Manuel Miranda
Album mentioned: Hamilton (Original Broadway Cast Recording)
Album mentioned: Paul's Boutique by Beastie Boys
Album mentioned: Anomaly by Lecrae
Previous guests mentioned in this episode: Gigi Hyland, Jill Nowacki (episodes 4, 18, 37, 64, 82 & 101) 
In This Episode:
[02:34] – Welcome to the show, Andy!
[03:29] – Andy shares what Side Effects is, the goal behind it, and his motivation for creating it.
[06:23] – They want to show the financial crisis of cancer as vividly as they can.
[07:50] – Andy shares some research they found while doing this project.
[09:38] – Andy's wife is officially cancer-free but still dealing with some rare side effects.
[12:07] – Do you have any hacks for someone wanting to pivot and change the direction of their careers?
[15:10] – Andy speaks about taking time to assess what is working and what is not.
[18:36] – How have you given yourself the space to write a book?
[20:42] – Andy discusses the people he surrounds himself and who have helped him along the way.
[23:20] – Andy shares how he keeps focusing on his purpose.
[25:53] – Andy talks about what he believes credit unions need to do better.
[28:04] – Andy speaks about the Credit Union Photography Project.
[32:17] – "Don't ask what you want to be when you grow up; ask what problems you want to solve as you grow."
[33:47] – Andy shares the leadership myth that he wants never to hear again.
[35:44] – Training for marathons is something he wishes he'd never stopped doing.
[36:47] – Andy spends as much intentional time with his family as possible when he has time off.
[38:53] – Is there something you said 'no' to that you are glad you did?
[40:59] – Andy shares the things he has purchased recently that he can't live without.
[42:02] – Andy was a great uptight student in high school.
[44:14] – Is there a book you think everyone should read?
[46:24] – What is the greatest album of all time?
[46:59] – Andy's wife is the first person he thinks of when he hears the word success.
[48:21] – Andy would like everyone to view and experience Side Effects.
[49:37] – Thank you for being on the show!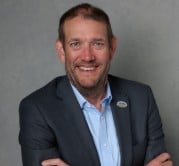 Randall Smith is the co-founder of CUInsight.com, the host of The CUInsight Experience podcast, and a bit of a wanderlust. As one of the co-founders of CUInsight.com he ...
Web: www.CUInsight.com
Details