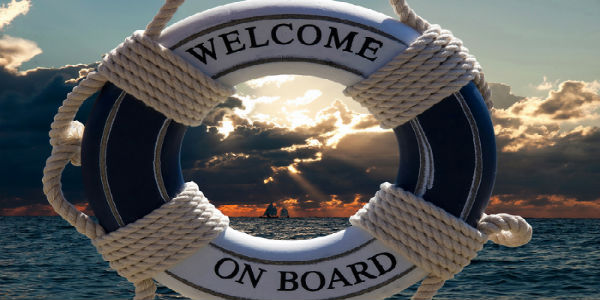 Tips for keeping new employees happy and productive after they're In place
Getting new employees in the door is just the initial step in maintaining a high-quality workforce. Once you have the right people in place, it is essential to help them transition successfully into the organization's culture, provide them with the tools they need, and support their skills development in order for them to be productive and happy for the long term.
According to HR industry data, half of outside senior hires fail within the first 18 months and nearly half of all hourly workers leave new jobs within the first four months. Banks can avoid such high turnover rates and transition new hires into productive team members by implementing an effective on-boarding program and making it a priority throughout the organization.
Process should begin before a new employee's start date
A successful on-boarding process begins before a new hire officially accepts the job and continues past the 90-day orientation and evaluation period. To begin, make sure you have a job description for every position that specifies such things as a job title, where the position falls on the organizational chart, the assigned supervisor, job qualifications, position overview, physical requirements, as well as salary and benefits.
Next, develop a check list of everything that needs to be covered when a new staff member comes on board. The list may vary, depending on an employees' position, but it should guarantee that all new hires are provided the information, resources and support they need to help them get up to speed as quickly as possible.
Before the new employee's first day, make sure his or her office is ready to go with all the necessary furniture and technology. And don't forget to supply important information such as a computer user name and password, software and user manuals, printer access, email and phone logins.
Supplies, such as business cards, desk or door name plaques, i.d. badge should be ordered and in place. Also provide any keys the employee will need and explain if there are any areas he or she will not be able to access, and why not.
Also, consider having the employee visit the office before the first official day on the job to receive the employee handbook and complete some of the HR paperwork. This will allow him or her to spend the first day in more productive activities.
Make a good impression from day one
Make sure new employees feel at home as soon as they step into the door on Day One.
Make a good impression from day one
Make sure new employees feel at home as soon as they step into the door on Day One. According to Annette Matthies, chief human resources officer at Elevations Credit Union in Colorado, the goal of  a good on-boarding process is to make an employee feel valued.  "A thorough orientation gives new employees more confidence from the 'get-go' and contributes to their ability to be more productive," she said. "It contributes significantly to an employee's engagement and we know that highly engaged employees will create more loyal members for the credit union."
Designate someone on staff who will be responsible for on-boarding new hires. This person will serve as a buddy throughout the introductory period and be the go-to resource whenever the new employee has any questions or needs.
Plan a facility tour that highlights the location of the restroom, kitchen or lounge area and offices of key personnel. Introduce the new hire to the entire staff – including leadership, contemporaries and subordinates. Explain the role each employee fills in the organization and how he or she might interface with the new employee. A good way to help the new employee get acquainted with co-workers is to make lunch plans for the first week. Whether one-on-one or in small groups, this is a great way to build working relationships, help familiarize the new staff member with the area and avoid the awkward feeling of being left alone when everyone else leaves over the lunch hour.
Provide an explanation of the institution's history, goals, business philosophy and organizational chart. This will immediately provide the new employee with an idea of how he or she fits into the big picture. Set aside time for the new employee to ask questions about the organization, as well as the expectations for his or her role and the opportunities for growth within the organization.
After the initial introductions and training are complete, it's important to set aside some time to review the information that has been provided during the first few weeks of employment. Don't assume that new staff members will remember everything they have been told as they were getting accustomed to their new work environment.
For C-level personnel, provide an overview of any committees or special projects they will be assigned. Identify the institution's board members and explain a little about their history with the organization, along with their strengths and community involvement. As soon as it can be arranged, provide introductions to board members, community groups and civic leadership, especially if the employee is new to the area.
Getting started on the right foot can result in a long, steady employee relationship
Remember, first impressions are lasting. While many organizations spend time and money searching for, recruiting and hiring a new employee, many drop the ball when it comes to making that new hire feel at home and providing the tools and work environment necessary to ensure that he or she will be happy, successful and a long-term asset to the organization. On-boarding is the number one thing that banks can do to make new employees feel like an important part of the team right away and set the stage for a long-term, productive workforce.
Charles Shanley has specialized in executive recruiting and project management for more than 20 years. He has a solid background in all facets of Executive Search and has extensive experience ...
Web: www.jmfa.com
Details