What are embedded payments?
The banking industry talks a lot about the fintech revolution, and some financial institutions are going so far as calling themselves tech companies. However, just beyond the normal lip service given to this topic is the real revolution that is happening behind the scenes at most U.S.-based financial institutions—payments transformation. We hear a lot about digital transformation as an umbrella topic, but the conversation sometimes lacks substance. We don't tend to hear too much about payments transformation, maybe because it's not visible to the typical consumer, it's not the fancy mobile app or the new slick UI on the website. Instead, it's the embedded payment functionality, which makes the UI function slick.
So what are embedded payments anyway? 
Simply put, embedded payments are the money movement functionalities within a bank that have been exposed to upstream applications (e.g., the mobile app or bank website) that enables the user to transact. But that's only the first step. The real value occurs once the bank layers in the ability for external third parties, like Fintech companies or new economy digital players (e.g., Uber, GrubHub, etc.) to take hold of those functions and embed them in their user experiences. From the user's perspective, the payments are invisible, as they don't have to think about it. The payment just happens as a part of their interaction.
From the financial institution POV, embedded payments are a true innovation enabler. When I talk to the market about potential use cases for real-time payments, I often find myself talking about the art of the possible. What could faster money movement enable, not so much focusing on the money movement itself, but what experience one could build upon the money movement functionality? It's a key building block in re-thinking the entire product portfolio. Look at where you can extend beyond the banking products of the 20th century that were limited by analog-digital money movement functionality (e.g., batch-based or paper based products). Start to focus on what your customers truly want and need, products that offer advice, reassurances when warranted, and solutions that meet needs that go beyond just dollars in one account to dollars in another.
What about real-life examples? 
Uber uses insights from payments data to create a support program for drivers without cash to buy fuel, helping struggling drivers to keep earning.
Shopify offers integrated payment processing and lending services to their sub-merchants
Tesla offers an insurance program that allows customers to purchase coverage almost instantly, eliminating the insurance agent/broker from the purchase process. 
Digital transformation is a great topic, but embedded payments are the fuel that will make the journey possible, so what are you waiting for?
Want to learn more payments terms? Read the What Are Integrated Payments blog.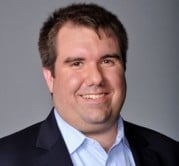 As Alacriti's Strategic Payments Lead, Mark is responsible for working with our market partners and financial institution customers discussing, exploring, and examining market trends and key drivers in the evolving ...
Details