What Zillow's move into the mortgage business means for credit unions
Real estate industry disruptor Zillow made big news last week when it announced it had acquired Mortgage Lenders of America. The digital firm's step – or rather, leap – into the lending space has quite a few traditional lenders wondering, what does this mean for us?
"Getting a mortgage can be the toughest, most painstaking and time-consuming part of the home-buying process," Greg Schwartz, president of media and marketplaces at Zillow Group, said in a press release. "We believe that having our own mortgage origination service as an option for consumers will allow us to streamline the process for people who buy a Zillow-owned home."
Wait, did he say a Zillow-owned home? He did.
Earlier this year, Zillow expanded its digital home-selling marketplace by adding a home-buying program that offered sellers fast cash for their properties. With the further addition of mortgage lending, it's easy to see the future Zillow has in mind. By connecting buyers and sellers, lenders and borrowers, Zillow becomes a powerful real estate ecosystem, solving every problem confronted during a real estate transaction.
In what appears to be Zillow's attempts to calm the nerves of other lenders, the firm says its advertising products for lenders remains an important – and growing – part of the business. In 2017, consumers submitted 23 million loan requests through Zillow. Mortgage Lenders of America, on the other hand, originated just 4,400 mortgage loans – "leaving plenty of opportunity for independent lenders to continue to advertise and build their businesses on the Zillow Group platform."
That's all fine for now. But, at the end of the day, Zillow's move points to a much shakier future. Young digital companies like Zillow are gaining marketshare and trust, creeping in on members from all directions. That's not to make them sound nefarious; what they are doing is smart, and actually, pretty consumer-centric. When digital companies see an opportunity to make life easier for users, they chase it whole hog. A fail-forward mentality drives them to pursue ideas, solve problems – and buy up any expertise they don't have – bringing new solutions to the market with incredible speed.
How can credit unions respond?
While Zillow's move may be a bit nerve-wracking from a competitive lens, it does not signal the end of mortgage lending for credit unions. It may, however, require a shift in thinking to compete. Here are a few places to start.
Focus on trust. If there's an area credit unions have a significant leg up on the new digital competition, it's trust. Digital marketplaces connect unknown third parties, which is still uncomfortable for some. It's one thing to deal with a stranger on the sale of an old couch, quite another to sell your home for cash. That said, Zillow's user base of 175 million (the site's average monthly unique users) is pretty strong evidence that society's discomfort with stranger-to-stranger digital transactions is waning.
Keep in mind, trust grows with scale. As more people have great experiences with Zillow and similar marketplaces, they'll tell their neighbors, and brand trust will grow exponentially. That's a pretty big threat to community financial institutions. As you consider how you will continue to market and grow your credit union's lending program, think about all the people you've guided through the purchase of their first, second or third homes. Tell those stories and show how the experience is easy, personal and enjoyable. Better yet, empower your members tell those stories for you.
Take a page from their book. Startups and digital-first companies are in a constant state of evolution. How they begin is hardly how they will finish. Who could have predicted Amazon, an online marketplace for book sellers and buyers, would one day own Whole Foods?
Many legacy companies are following suit. Look at how Walmart has so deftly worked its way into financial services. How can your lending team take a similar iterative approach? What tangential needs of your borrowers you can help meet? Storage? Moving? How can that become a part of your services in a digitally forward way?
Get onboard the digital train. Being "digital" means so much more than having an online application. It's about evolving to become that ecosystem of problem solving for your members. Evaluate your current lending program to determine the biggest gaps in the borrower experience. Are you falling short on speed? On ease of use? On channel delivery?
The next step is determining if it's easier to build your own solutions or to partner with a collaborator, preferably one that understands the credit union difference, to get to those solutions at the speed of your digital competitors. The web-based LenderClose platform, for example, uses API integrations to bring everything lenders require to originate a mortgage or HELOC under a single access point. This allows lending staff to run a streamlined and vastly accelerated underwriting process borrowers feel right away… the kind of experience they tell neighbors about.  
The rush of digital and legacy firms going after your members' business isn't about to slow down. But with a willingness to shift your strategy – along with a little creative thinking and some proactive steps – your credit union will continue to thrive, perhaps even grow, in the digital era.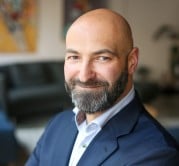 Omar Jordan is the founder and CEO of Coviance (formerly LenderClose), a CUSO, fintech company that's transforming the home equity lending process with its cloud-based platform, Home Equity Express™ (...
Web: https://www.coviance.com
Details