2 big lessons your credit union can learn from a "dance mom"
Cheer hair? Check. Purple glitter eye makeup? Check. Thousands of bobby pins? Check.
Outrageous dance mom shirt for me? Of course!
After triple checking my packing checklist and attempting to compose my beyond-excited 8-year-old, I loaded up my decorated SUV (picture lots of "Go team!" messages painted in pink on the windows) and headed out for the annual American Youth on Parade (AYOP) dance competition at the University of Notre Dame.  
Watching these girls and witnessing firsthand their determination and dedication has proven to me that they are impressive athletes. These teams work endlessly striving for perfection. Even without the hundreds of hours of carting a kid to and from practice, planning your vacation time around competitions, or tackling hair and makeup on a crying child, here are three things your credit union can learn from this proud dance mom.
Millennial demands and evolving member expectations are forcing all financial institutions to change the way they do business. Technology is at the heart of most change initiatives.
These younger people expect to apply for new accounts and loans, deposit checks, pay bills, transfer funds, and receive alerts via online and mobile devices. If you aren't giving them that immediate access to their financial transactions, they look at alterative banking options.
As the infamous Abby Lee Miller of the television show 'Dance Moms' says, "Do your job. Do it the best you can. Do it right, because somebody, sometimes your best friend, is waiting for you to screw up so she can take your place."
Do not become complacent! Look internally for improvements and prevent your credit union from getting dumped and replaced by an alternative banking option.
Two weeks before the big competition, a young girl on my daughter's dance team had an unfortunate incident on a forbidden hoverboard. Sadly, she was unable to compete due to her injuries. After months of practicing their routines and placements, the team had to make countless adjustments to compensate for the missing teammate (who was beyond devastated).
Some changes are almost impossible to plan for, like my example. But, some changes – the kind your credit union can anticipate and prepare for accordingly – are the changes associated with digital transformation.
Whoever is leading the unavoidable digital transformation project at your credit union should ensure that the organization provides the managers with the support necessary to lead their teams through the change, gives them a clear understanding of the vision, and supplies them with tools and talking points to help manage their teams throughout the transformation.
The steps to a successful digital transformation journey have a lot less to do with technology changes than they are to do with people and planning effectively for change. And that's the key to technology in general – if it doesn't fit well with people, it won't work.
Competitive dance is so much more than sparkly outfits and matching eyeshadow; it has shaped my daughter into the kid I adore. She has a newfound and undeniable confidence. She has a sense of team and community; it has allowed us to create everlasting memories and it has even taught me a thing or two about adaptability, dedication and evolving for relevancy.
Those are dance lessons we can all learn.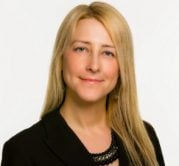 Michelle Shapiro has more than a 15 years of experience in the banking industry to her role as Financial Services Industry Expert at Hyland Software. Her mission is to share ...
Web: www.onbase.com
Details