4 ways to be a better manager in 2022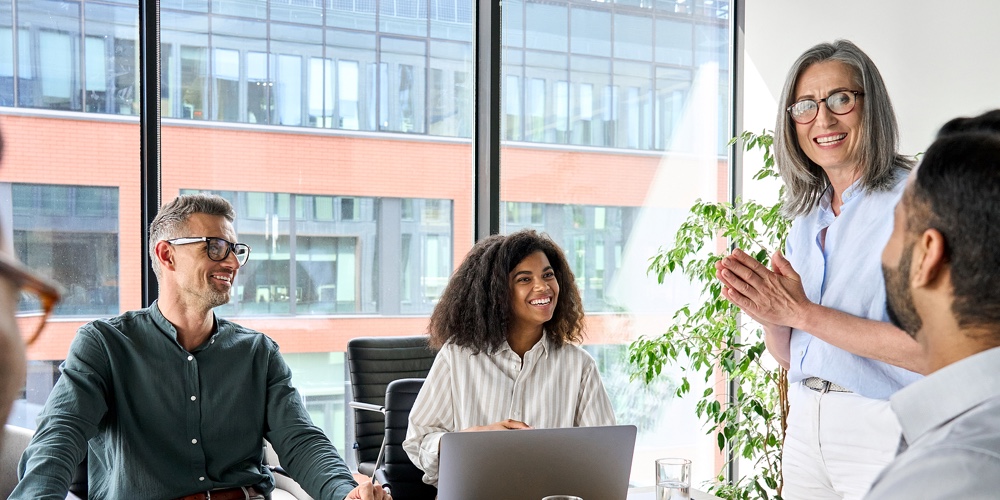 Publisher's Note: CUInsight is hosting our first Mini-Con of the year on Wednesday, February 16th titled, LEAD. We hope you'll join us to hear more from our keynote speaker Hamza Khan! Register here.
The short answer to the question of "how can I become a better manager" is to stop managing altogether and to start leading instead. For in the wise words of Admiral Grace Murray Hopper, "you manage things; you lead people." Leading in 2022 (and beyond) requires operationalizing and maximizing four distinctly "human" values: servitude, innovation, diversity, and empathy. To create value-driven, change-friendly, self-disrupting, and future-proof organizations, modern leaders should consider implementing the following four tried-and-tested strategies:
1. Co-Create the Organization
To get the best results out of your team, foster an environment where they think and feel like owners in the company.
"Think like an owner" is a phrase used by leaders to get their employees to perform at an elite level. But it's a cop-out if the leaders don't actually treat their employees as owners.
Here are some practical ways to inspire owner-level contributions from your employees:
Be transparent about how you make business and compensation decisions. When leaders share company goals, priorities, initiatives, and challenges, employees can make better choices regarding their priorities.
Ask employees to set their own goals. The familiar Objectives and Key Results (OKR) method, which dates back to the 1980s, is particularly useful here. It removes misunderstandings and puts the responsibility on everyone to meet their commitments.
Provide an upside. Give people a stake in the success of the organization. Traditionally, this could be stock options, a monthly bonus, or profit-sharing.
Give stretch goals. A stretch goal is a project that requires new expertise to complete. Research from the organizational consulting firm Korn Ferry found that stretch goals are better than action learning, mentoring, exposure to more senior leaders, and formal classroom training for building skills.
Encourage employee feedback. Regularly ask your employees these three questions: 1) What are we doing well? 2) What do we need to improve? 3) What else is on your mind?
Take employee input seriously. Employees who feel like their opinions make a difference in their organization feel more invested in its success. Also, this practice sets a precedent for a feedback-driven environment, in which every person is growing and improving.
Harvard Business School professor Francesco Gino suggests that empowering employees to think like owners is an antidote to disengagement. And the cost of disengaged employees is startling. In the United States alone, it's estimated to be approximately $550 billion a year. And that's only the direct financial losses. What about the negative influences on culture? Poor customer service? Employee attrition? Lower productivity? All of these failings are directly linked to employee disengagement.
In addition to investing in employees, Gino argues that fostering an ownership mentality increases the likelihood that employees will positively impact others around them. When you take the time to encourage employees to think like owners, they'll grow more productive and effective. As well, they'll feel more valued as members of the organization.
2. Assign the Time for Innovation
Allocate time for your team to follow their own creativity wherever it leads. And allocate financial resources to support experimentation and creative events.
For innovation to truly become a part of the culture, it must be reflected in the organization's budget. Not just its financial budget, but also in the budget which represents the organization's priorities most accurately: time.
Broadly speaking, there are two approaches to this (and they're not mutually exclusive):
Structured time. One of Google's best-known innovation mechanisms was its policy of "20 percent time," allowing engineers to spend 20 percent of their work time on personal projects of their own choosing. The result? Gmail, AdSense, Google Talk, and other popular services. Several top companies, including those in the Fortune 50, use the 70-20-10 model: people spend 70 percent of their time focusing on their main roles, 20 percent on initiatives for the greater good, and 10 percent on learning.
Structured events. Microsoft, under Satya Nadella, hosts the annual Microsoft Hackathon, which the company calls the "largest private hackathon in the world." Though only a handful of the projects pitched lead to mainstream products, any of them could be a game-changing idea one day. Nadella knows that tomorrow is just around the corner.
Allocating an entire organization's time and other resources towards innovation can seem counterproductive. Why, after all, should leaders shift the status quo, especially if there's no revenue to be generated immediately?
Innovation is about generating ideas that will prevent the company from failing in the future. Consider research by the BCG Henderson Institute which reveals that in recessions and downturns, 14 percent of companies outperform both historically and competitively, because "they invest in new growth areas." If you can keep your team's imagination alive, especially under pressure, your organization can reap significant value.
3. Examine and Challenge Unconscious Bias
Privilege is invisible to those who have it. Continually educate yourself and your organization about who might unintentionally be excluded from full participation.
In a TED Talk about diversity, Yassmin Abdel-Magied explains, "Unconscious bias is not the same as conscious discrimination. They're the filters through which we see the world." We rely on filters to speed up our decision-making. And when time is short and pressure is high, we can rely on them too much.
The 2016 #OscarsSoWhite controversy effectively uncovered a systemic problem rooted in unconscious bias: the Oscar voting pool was biased to overlook Black talent, which in turn made studios less likely to support Black talent, thereby minimizing the chance for Black talent to stand out in the first place. A circular problem. This is the very same problem revealed by Harvard's Implicit Association Test, which demonstrates that 75 percent of people have a preference for white people over Black people when it comes to hiring. When the decision-makers are homogeneous, their unconscious bias keeps diversity away.
But this can be fixed. A Los Angeles-based HR consultancy, Peoplescape, produced a handy guide on how to fix unconscious bias. The solutions are all about coming to terms with reality:
Face yourself. Raise your awareness about your own biases. A good place to start is to take the aforementioned Implicit Association Test, at the Project Implicit website. It's a brief and easy online test.
Face your board. Enabling diversity in an organization starts at the top. Your board members influence the decisions you make based on their own unconscious biases. And don't be afraid to challenge them. Identify any imbalance in what should be a holistic board comprised of diverse perspectives, backgrounds, and experiences.
Face your processes. Review your recruitment and promotion processes. Are they geared towards surrounding you with people who are different from you?
Face your team. Seek out workshops that get at the unwritten cultural rules and how everyday stuff can enable behaviors that we don't want to encourage.
It's not enough to state your commitment to diversity and your opposition to overt racism. To truly change, an organization must make unconscious bias education and training a priority. The result is to open up a new array of possibilities, giving rise to critical and commercial victories such as the Black Panther film and Roc Nation's partnership with the NFL. By examining and challenging unconscious bias, by allocating time and money towards it, you make diversity a priority. And an investment in diversity is an investment in your organization's longevity.
4. Embark on a Listening Tour
Learn vital information about your organization by intentionally listening to the people who compose it as well as those who interact with it.
According to a recent study by employee engagement firm Sideways 6, more than 40 percent of workers state that they are "afraid to bring ideas or concerns to upper management." This is to the detriment of any business because, without a complete picture of employee ideas and apprehensions, a leader risks missing the mark.
As a modern leader, to truly understand your organization in a useful way you should work on understanding its internal and external environments. Begin this process as early as possible; if you can't do it during a probationary period, then do it within the first 100 days of your appointment. Starting as soon as you can will help you to identify issues and address them before they have a chance to manifest into problems that are impossible to untangle.
As a leader, it's imperative that you step into your leadership moment with optimal situational awareness, with your mind and heart wide open. Schedule meetings with a full spectrum of people across the organization's value chain, from executives to front-line workers, to investors, to customers, and everyone in-between (even competitors, if you can). Strive for a variety of perspectives from different functional areas of the operation, especially the organization's leadership.
To get started, ask the following questions about the organization:
What's working?
What's not working?
What are our strengths?
What are our weaknesses?
What are the opportunities for growth?
What are the threats to our organization?
Compile the answers, summarize them, and then use your findings to guide your first 100 days as a new leader. Evaluating the data against the organizational mission, vision, values, principles, and purpose. This diagnostic is critical to the organization's success, as it challenges your perception of the organization, potentially exposing blind spots. It works effectively early on, as well as throughout your leadership journey.
Remember to never stop listening. Create or invest in mechanisms to ask these questions and obtain this data regularly. The more information you have, the more situational awareness (and even self-awareness) you'll develop. As a leader, one of your responsibilities is to ensure that the rate of change inside the organization (beginning in the inner sanctum of a leader's heart and mind) exceeds the rate of change outside of the organization. And that must begin with a clear understanding of what exactly is on the inside and the outside.
Avoidant, aggressive, and authoritarian leadership have caused the demise of many great organizations. Leave the old paradigms in our pre-COVID world. Instead, embrace new standards—especially the values of servitude, innovation, diversity, and empathy. Those core values will allow you to anticipate and prepare for adversity long before it happens. Embracing them will grant you true resilience. And as a more resilient leader, you will create a more resilient organization. Stop managing, start leading.
Publisher's Note: CUInsight is hosting our first Mini-Con of the year on Wednesday, February 16th titled, LEAD. We hope you'll join us to hear more from our keynote speaker Hamza Khan! Register here.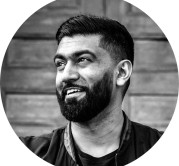 Hamza Khan is a multi-award-winning marketer, bestselling author, and global keynote speaker whose TEDx talk "Stop Managing, Start Leading" has been viewed over a million times. He shares actionable insights ...
Details