5 ways to build a better member experience
There's no doubt that as a credit union your members are always top priority. Without them, you wouldn't have a credit union! Providing excellent customer service and innovative technology is a must in order to attract and retain members in a highly competitive market. We know that member buying habits are constantly evolving and with technology advancements, member demands are at an all-time high. So, can your credit union keep up with their demands and offer up a better member experience?
Here are 5 ways to build a better member experience and help attract new prospects, increase engagement, and nurture existing relationships.
There are a lot of different actions that can occur within a credit union and you want to provide an area where members can enter and not feel overwhelmed about what their next step will be. Think about all areas of your branch–inside and outside–as being an intricate part of your overall growth strategy. What members experience at a branch is also a large part of the journey that they have with their credit union. Some items to keep in mind before a member even steps foot into a branch include signage, ATMs, and your parking area. Once inside, you want the member to have a clear understanding of where to go based off of their goal for visiting. A warm and welcoming lobby is essential when members walk into your credit union. Focus on making it easy for your members to engage with staff, self-serve kiosks, or any other areas that are available to them.
Members want their credit union's services to be convenient. While it seems common for big banks to have free ATM access, it is possible for credit unions to offer the same level of convenience to enhance their member experience. Many credit unions belong to nationwide ATM networks, allowing their members to visit thousands of ATMs around the country free of charge. If you're currently not part of an ATM network, it may be worth your time and effort to look further into this option in order to meet your member's growing demands for convenient access to ATMs.
Educate through Financial Literacy
Money plays an important role in everyday life which is why it's shocking that just 57% of adults in the U.S. are financially literate according to the S&P Global FinLit Survey. By being an advocate and educator for financial literacy, you're empowering your members to take control of their finances while showing them how to save, earn, borrow, invest, and protect their money. Be creative! Create a library of content on your website with useful resources like tips on how to build wealth or a sheet on how to start a budget. Host an event at your branch and invite the people in your community. These type of events can focus on valuable topics like saving for the future or how to manage credit cards. The possibilities of educating your members while building a stronger relationship with them are truly endless!
Engage through Social Media
Social media is a crucial piece needed for engagement. It provides an outlet for fast, real-time communication. When you have a social presence you open the door to members sharing feedback or asking questions 24/7. This in turn allows your credit union to use that valuable information to enhance their experience. While it is easy to create an account through any social network, the key is actively engaging with your audience. Keep your communication lines open and be social! This may seem time consuming, but your efforts will pay off in the end. How? Social media is a great way to expand your audience and reach a bigger demographic than other outlets allow. Social presence also helps you stay current with industry trends and it gives you an edge to stay ahead of you competitors.
Easy and Convenient Ways to Make Payments
Don't fear financial technology—embrace it. As technology evolves, so must your credit union. By keeping up with the times, you will not only keep current members but help attract new ones. Your credit union's role of managing members' money and conducting business for them is not likely to change but the way that they expect for this to be done is constantly shifting. When it comes to payments, your members look for ease and convenience. In addition to their demand for fast transactions, they also want to see sleek, user-friendly interfaces and applications when it comes to payment settlements. If you can't adapt with your members demands, someone else will.
Members have an abundant amount of options when it comes to banking and managing their money. Providing a better member experience will strengthen relationships, enhance the member journey, and ultimately retain your members' loyalty for years to come.
Download our ebook, Meeting Consumer Self-Serve Payment Demands, to explore the current state of the payment industry and gain useful tips on how lenders can engage their digital users in order to meet their self-serve payment demands.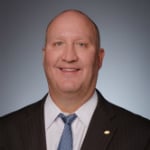 As COO of The Financial Institution Group's AutoPilot® Services, Brad Young manages and consults on all aspects of SWBC's suite of risk and account management services, including collections, ...
Web: www.swbc.com
Details