Attracting and retaining young professionals – What's keeping us at credit unions?
In elementary school, one of my favorite teachers would read "The Road Not Taken" by Robert Frost to the class on a regular basis. 
"Two roads diverged in a wood, and I—

I took the one less traveled by,

And that has made all the difference."
I had no idea how much those last three lines would stick with me as years passed. When I first started working at Hiway Credit Union, I didn't know much about the industry. I grew up with credit union accounts because my grandfather had worked at the post office, but I never really understood their significance or how they differed from banks. My most vivid recollection of visiting the credit union as a child is the Dum-Dum sucker basket, which I was allowed to dig into for my favorite flavor at the time — root beer.
I never set out to work in finance or imagined that it would become my career. Given how many stories I've heard about people stumbling into the industry by accident, it appears that some of us are destined to work at a credit union. While I began my career at a small community bank, I knew it wasn't where I wanted to stay. Leaving my job at the bank was a difficult decision at first, but after an old co-worker came to tell me about their new job (and phenomenal benefit package) at Hiway Credit Union, I applied to work with them later that week. I had a fantastic boss and coworkers, but after two years of frustration in the banking industry, I was ready for a change. Coming from the home health care and hospice industries, I've always had a passion for helping people. I was disappointed that the banking industry would never make me feel like I was making a difference in people's lives. 
On the day of my interview, I was waiting in the lobby when an associate walked by to say hello. They suggested I join the young professional's group, explaining what it was and how I could benefit from it. In hearing that, I was planning my future at Hiway before I even interviewed for the job. Soon after starting my new job, I immersed myself into every "extracurricular" activity I could find. Hiway has so many fun committees to join, I had a hard time choosing! That initial foray into personal development marked the start of my credit union career.
During my first few years at Hiway, I had the opportunity to work directly with our membership base as a contact center representative. I personally witnessed the impact we have on our members' lives and our community. I was motivated and felt a sense of purpose every time I was able to assist someone, even if it was just by refunding a fee. Hiway empowers me to 'make it right' by our members and that concept truly aligns with my values. I often reflect on my time at the bank and how we treated customers so differently; the days of compassion-free service are long gone now that I'm at a credit union. Thinking back to my personal experience with the banks, I thought there was also a noticeable disparity in how management would treat their associates. At Hiway, my direction and goals aren't based around making money for the company; I'm here to better our members' lives. This combination of positivity constantly inspires me. I can't leave the house without mentioning credit unions. One of my favorite questions to date is, "What is the difference between a bank and a credit union?" I've been recognized as the girl who gives CU movement monologues at chamber of commerce networking events; I'm there to represent and support the movement, and I want everyone to know it!
I couldn't get enough networking in my life at this point. I'll be honest and say that when I first started, I would attend 4-5 events every week. Credit unions were the center of my social life. I realized my potential professional trajectory for the first time in my life, and I couldn't be happier. I was able to get through those stressful moments in the contact center because I knew there was always an event coming up. At times, everyone's workload seems a little daunting and monotonous. My involvement with the young professionals helped me to stay motivated by adding a little spice and variety to my work week. Workplace stress is unavoidable; incorporating young professional participation into your routine can help to replenish your cup when it runs dry, an indispensable tool not all career fields offer.
Living in an age of instant gratification, it can be difficult to want to do something now when you can't see the payoff until later. However, a long-term commitment to relationship building is an important part of advancing your career in the industry – and yes, it takes time. Because we are a cooperative industry that encourages collaboration, credit unions have an advantage over banks. The distinction allows for our networks to be a valuable resource when we are looking for solutions. I can't tell you how many times the relationships I have within the industry provided me with advice, answers, or content. The symbiotic relationship between credit unions benefits everyone, especially our members!
Whether you're a young professional or an executive, your final takeaway should be this – being an engaged young professional in the credit union movement has immense value and is an opportunity not often found in other industries. Make the most of everything it has to offer, encourage others to get engaged, and provide opportunities to anyone willing to work for them. What appears to be the less traveled path doesn't have to be.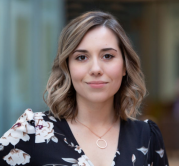 As the Executive Admin Assistant at Hiway, Savanna provides adaptive strategic support to her senior leadership team, participating in all facets of the credit union. Her responsibilities include business development, ...
Web: https://www.hiway.org
Details