Atypical automation
Why credit unions should demand more from process automation – and how to get it
If you've ever slogged your way through a tedious task and wondered if there were a way to make it easier (and who hasn't?), then the concept of process automation has probably popped into your mind. After all, taking countless hours or even weeks to sift through data or click through endless screens to complete what on its surface appears to be a simple task can leave even the most patient of us exhausted, frustrated and wishing we could take back the wasted time and effort – and use it for something more meaningful … more human.
Unfortunately, with the wrong approach, process automation solutions can leave you equally frustrated – or even more so when you consider the time and money that went into a "bot" that doesn't fit your credit union. Too often, the typical automation bots lack the customization, depth and support needed to truly solve the credit union's problems, and there are many reasons why. What makes the biggest difference in creating process automation bots that deliver more is the human touch.
Start with understanding
The key to process automation that actually benefits the credit union, and by extension its members, is gaining a deep insight into the tasks the credit union is trying to complete, the obstacles it faces and the goals it is trying to reach. This insight doesn't just happen on its own. For the best result, insist that your solution provider roll up their sleeves and get in the trenches with you, even spending time with you on site at your credit union.
When the credit union employees who are actually doing the jobs at hand can have a meeting of the minds with the solution provider, the bots are much more likely to meet your needs. The bot developers have the opportunity to learn what challenges your staff is facing, as well as their current way of doing things. Through this process, a great deal of valuable insight is gained – insight that can be applied to creating tools for greater efficiency.
This kind of interaction gives credit union employees tremendous insight as well, helping them potentially learn how additional tasks can benefit from automation. Most departments have no idea how many of their processes can be automated. It also aids in building employee buy-in for the solutions to be developed, motivating staff to adopt them more readily. Employees may also realize that the way they originally envisioned automating a process would be best achieved another way. This kind of collaboration shines the light on troublesome tasks and on how process automation can free the credit union's staff to focus on human interaction, customer service and planning.
Process automation solutions that don't include this step simply fall short in terms of what they can do and how they perform for the credit union. Failure to dig in and spend time with the credit union to understand their needs results in solutions that fail to live up to expectations, with missed opportunities and bots that simply miss the mark.
From strategy through implementation
Once this phase of collaboration is complete, a solution provider should then create a plan of action. This involves taking all the ideas gathered on site and gridding out what can be accomplished both in the near term and in the long term. Again, collaborate with your solution provider to prioritize objectives and work with them every step of the way through implementation. This is the key to getting up and running smoothly almost right away, with some exciting additional objectives to work toward.
This consultancy approach hones in on personalized strategy, creating a pathway to help your credit union maximize its process automation both immediately and in the years to come. Working with a solution provider that sees your projects through and walks hand in hand with you until the credit union's goals are accomplished can be a game changer.
The bottom line
Perhaps one of the most frustrating aspects some credit unions face with process automation is the financial aspect. Pricing policies that require credit unions to pay separately for each bot – and even require additional payment for each user, or "seat" – tend to be very cost-prohibitive.
Instead, select a solution provider that offers more flexible pricing structures, such as unlimited bots and seats. This kind of added value can help your credit union save big in the long run because once you start using robotic process automation, you'll likely want to integrate it into more of what you do. With unlimited seats, there's no need to restrict work flow or productivity.
If the real bottom line is how well bots can perform – how efficient, robust, customized and cost effective it is – then it's easy to see that credit unions need to look beyond typical offers and start demanding more from robotic process automation and their partnerships.
To learn more about CU NextGen, visit cunextgen.com or call 1-800-311-3928.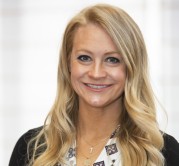 Coffee Connoisseur. Proud Disney Adult. Boy Mom. Exercise Fanatic. Hayley drives the world of banking forward as an innovative and member-focused leader. She has led the way with numerous automation ...
Web: cunextgen.com
Details