Be brave: The art of courage
When we were kids we heard, read, and watched stories about bravery. My personal favorite was the story about David and Goliath. This Biblical story is simple in detail but beautiful in its narrative. It's the story about how a shepherd boy takes on a seasoned warrior, with nothing but a sling and a stone.
Acclaimed author Malcolm Gladwell used this narrative to write one of his bestselling books, David and Goliath: Underdogs, Misfits, and the Art of Battling Giants. In this book, Gladwell challenges the way we think about obstacles and disadvantages, drawing from this powerful story to reshape our perceptions about adversity.
Through adolescence and adulthood, fear is ever-present in our lives – inescapable, even. The giants of our lives often appear too big to tear down with what we have at our disposal. But in the face of outward defeat, we can find inward courage. That is, if we refuse to underestimate ourselves and prove naysayers wrong. In the face of giants, we may be underdogs, but preparation, diligence and bravery can lead us to victory.
Our credit union movement has faced many giants. From the Great Depression to a global pandemic, we've seen it all. But I believe that credit unions do their best work in times of uncertainty. Like David, we use what we have. Our sling and stone are our cooperative principles and the people who live them out daily. We fight to win, and when we win, our members win too. And through it all, we realize that our giants were not as strong and powerful as they once seemed.
The giant we're up against is that big D word [diversity] that, truthfully, excites, scares, and annoys us. Creating a diverse, equitable, and inclusive industry is an enormous challenge. But does the size of the challenge matter? No, it doesn't. Because the enormity of the challenge does not determine what's possible for us to achieve. David knew size doesn't matter. He chose to be brave, leaning into his confident mindset and foundational beliefs. We should take a page from David and find the hidden hopes within our giants. Heart, courage, and commitment matters. In fact, it's required to accomplish what we have set out to do with DEI and the Commitment to Change initiative.
Credit unions are the underdog of the financial sector. We are the insurgent challengers to the so-called leaders of our field. But the great thing is that there has always been a special affinity for underdogs. Most people want to see David take down Goliath. That's why it is critical that we don't underestimate our capabilities. When we do underestimate ourselves, it diminishes our capabilities as a movement and pulls us further away from collective success. We are capable of much more than we believe. Perhaps we just have yet to see it because we haven't given ourselves the chance to.
Finally, we must believe that change is possible. We must believe that we can take down the socio-economic giant of structural racism – which exists even in a collaborative system such as ours. Those around David didn't believe it was possible to defeat Goliath, that's why nobody else stepped up to the plate! But David believed in himself; he punched in twice above his weight. He even turned down the offer for armor in battle and refused to accept it because of the confidence, courage, and bravery that he embodied.
Do you believe that change is possible?
If your answer, truthfully, is no, I encourage you to start looking from a different perspective. Without the firm belief that change is possible, we will fail. We will give up before we have really gotten started. Our fears cannot be stronger than our self-belief, which must be greater than the obstacles we face.
We can't quit this journey now. It has only just begun. Will you be brave with me?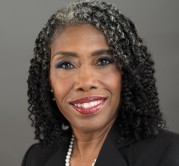 Renée Sattiewhite is the President and CEO of the African-American Credit Union Coalition (AACUC) and is responsible for the execution of the strategic vision of the Board of Directors. ...
Web: https://www.aacuc.org
Details