Cognitive collaboration: The emerging role of AI in banking
What makes a consumers' experience exceptional in financial services? The consumer wants every transaction to offer simplified authentication, absolute convenience, and personalized relevance. They also expect superfast transactions and for your financial institution (FI) to leverage their transaction insight to do even more.
To deliver on the promise of an exceptional experience the FI has to address three broad areas:
Directly collect relevant transactional data from multiple sources
Normalize, analyze, and decipher this data in real-time
Convert the deciphered data into information that is actionable
This seems easier said than done because of the sheer magnitude of data being collected. And at times even simple transactions can turn into arduous tasks.
Let me highlight this with an example. I received a letter from my airline telling me that my personal information may have been compromised as a result of a data breach. They assured me that they would do their best to assist me and as a token of goodwill they even offered me two years of "identity monitoring and protection." All I had to do was to fill out a form online.
As I filled out my personal information into the online form I grew wary of the authenticity of the letter from the airline so I called the airline to make sure the letter was legitimate. It took the representative almost 20 minutes to validate things – from finding the actual letter and then reading the letter to explain the content back to me.
At around the same time, I received a similar notification from my credit card provider. I went online and used voice and text to communicate with the brand. It took me less than three minutes to get the same level of confirmation that took 20 minutes with the airline. And, towards the end of my chat session, I even received a call from a representative to make sure that I was satisfied with the answers.
Many voice and text based chatbots are driven by rules-based engines that are limited in their ability to answer conversational questions. Two of my financial institutions offer me voice and text-based banking services (very rudimentary) but I need to know how to phrase/ask the questions.
The above examples are only the beginning. Emerging solutions are powered by an Artificial Intelligence stack (AI programs) that can deliver seamless and useful experiences. AI can power websites, systems, and especially consumer owned devices (mobile phones, Alexa, Google Home, etc.) to do so much more.
Think about these every day and emerging scenarios:
Your vacation takes your family to a new location far away from home. As unfamiliar as you are with the surroundings you commute like a local. The perfect route prescribed through filters – road conditions, weather, and your personal preferences.
You summon a vehicle that comes to pick you up and drives away after dropping you off to your destination – you don't even have to say thank you. There was no driver!
A robot delivers pizza to your home, the pizza was produced by another robot, while the vehicle with a full kitchen was driven without a driver. Your dinner, all the way from order to fulfillment was handled my machines.
You can visit locations through immersive virtual experiences. Realtors are now using this technology to showcase homes without the buyer even leaving their home.
Medical providers are conducting "intelligent" pilots where a medical device monitors a patient's health and provides real-time suggestions to both physicians and the patient.
Food distributors can manage their supply chain by viewing satellite data, predicting weather patterns, and tracking crop yields without even visiting their supplying farms.  
90% of the staff at a hotel chain are robots. They interact with guests, perform most tasks, and ensure measurable performance. The robots speak multiple languages and are extremely perceptive to the guests that they serve.
The consumer uses voice commands to direct digitally connected appliances for a variety of tasks. From playing music, to understanding weather, to even directing financial transactions – they use their smart phone, or other digital devices.
Artificial intelligence can be strengthened by big data and big machines – today, supercomputers are making available transaction intelligence to brands at a fraction of the cost in real time and can even predict likely outcomes.
Artificial Intelligence is slowly becoming the top tier of the technological ecosystem as we know it. A once unforeseeable technology, AI has made its way through the grassy depths, now emerging as a top predator among other existing technologies. Operating as an intelligent learning system, AI has the ability to learn and grow- using data as an input, to create new and smarter outputs. The financial institution must use AI to make the conversion from blue-collar automation to white-collar automation.
Whether it is driverless cars or a robotic concierge, Artificial Intelligence demonstrates its chameleon ability to implement innovative machinery and also, machinery with a touch of personalization. Financial institutions must face the impending threat of AI on the services they offer, in place of its top predator, payment institutions. Capitalizing on the "sixth sense" of AI, empathy, financial institutions can focus on seven key areas of focus where Artificial Intelligence can be applied:
Perfecting Service: Recognizing and treating people well
Circumventing Fraud: Protecting people – information, transactions, and data
Precise Offers: Serving the consumers what they need, when they need it
Optimizing Risk: Dynamic models to balance between success and failure
Regulatory Compliance: To ensure that you are doing what you are required to
Intuitive Research: Having anytime, easy access to information
Empathetic Employees: Allowing employees the time to listen, connect, and serve
These topics harbor the idea of secure, superfast, and personalized transactions, three characteristics that compete with a mounting AI presence. The financial institution is capable of coupling precision with personalization in order to stay in the game.
In a world where artificial is more real and mainstream, new and more intelligent competition has emerged. This competition has the ability to constantly evolve, creating consistently better results, and keeping it ahead of the curb. We should capitalize on these intelligent machines by seamlessly integrating artificiality into our own services, changing the connotation of AI to an environment of cognitive collaboration that is defining the future of financial services.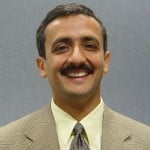 Sundeep has been assisting financial institutions with their omni-channel strategies - a more effective branch, a better online experience, & great consumer engagement. He is the author of an online ...
Web: www.digitalcredence.com
Details