Commitment to Change – AACUC's charge to the credit union industry
In this time of turmoil, civil unrest, economic uncertainty, COVID-19 and the relentless images we see on media outlets, we must take a step back. I am not a scholar, but I am a woman living in the United States of America. I offer the following comments as a citizen of the United States and a credit union advocate.
My title is President/CEO of the African-American Credit Union Coalition (AACUC). It took me a long time to decide to accept the position from Executive Director to President/CEO. The reason it took so long (2 years) is because with that specific title comes great responsibility. Everyone has an expectation of what the organization should be doing. Our board of directors, our members, our partners and the community approach the organization from different perspectives.
Our mission statement is: To increase diversity within the credit union community through advocacy and professional development. That is pretty focused, seems simple – but it isn't. There are many layers to advocacy and certainly for professional development. AACUC does not try to be all things to all people, however, we do strive to be good stewards, good corporate citizens and provide a safe space for people of color to express themselves. In addition, we provide a safe place for people of a lighter hue to also have a safe space to ask hard questions about cultural things that they do not understand.
AACUC is an example of how our nation could learn to be interactive with all races. When you attend an AACUC event you interact with people from many different backgrounds. Interns, young professionals (under 40), seasoned professionals (41 – 65), elder professionals (66+), many different ethnicities and cultures – people who work in trade organizations, credit union vendors, credit union executives, board members and staff all coming together having a shared non-violent experience. We are an inclusive organization. We don't just say it – we demonstrate it.
It is my belief that while there are atrocities that have continued for well over 400 years, that if people were to get to know one another – see their fellow man/woman as a person, talk about their challenges, struggles, successes, that kind of interaction would break down barriers.
I have a personal motto, "I am the possibility of people serving other people passionately." There is no other industry that serves people as passionately as the Credit Union Industry. I am convinced more now than ever that the credit union industry can lead the nation in eliminating racial discrimination. Credit union people do not have all the answers, but as practitioners of financial institutions we have a commodity that everyone needs. Our Cooperative Principles, Credit Union Motto (Not for Profit, not for charity, but for service) and the Credit Union Philosophy of "People helping people," provide the agreed upon tenants to help us eradicate racism.
Commitment to Change – here is the opportunity for people in the credit union movement to stand together, united against racism. We must be intentional in our thoughts and our deeds. Simple kindness goes a long way in healing. Let's be kind to one another, let's create groups to address the social ills that plague our society, let's be committed to doing what we can, when we can, because we can.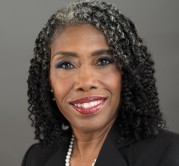 Renée Sattiewhite is the President and CEO of the African-American Credit Union Coalition (AACUC) and is responsible for the execution of the strategic vision of the Board of Directors. ...
Web: https://www.aacuc.org
Details