Credit unions can lead the way
After the recent terrorist attack conducted on the people of Paris, France by the despicable ISIS forces, individuals are left wondering what the world has come to. The United States on September 11, 2001 experienced first-hand the trauma caused by a terrorist attack when four hijacked airplanes filled with passengers slammed into the World Trade Center, the Pentagon and an open field in Pennsylvania. Life, as Americans knew it, changed forever.
The citizens of France have rallied and united together as did everyone in our country following the attacks on our Homeland. In the free world when one country is subjected to such cowardly acts, all others are quick to offer every type of help and support needed to show concern and solidarity. Hopefully, the combined efforts of all these countries, led by the United States, will destroy and eliminate ISIS.
While the effort to stop ISIS is everyone's concern, the ability to get it done lies with our elected officials and military leaders. While that is being accomplished, life must go on. People need to work, shop, go to church, and continue to enjoy their favorite places to eat breakfast, lunch or dinner. Students need to go to school. Children have to go out and play. We do these things because we need to and because we must show those that would try to harm and change our way of life that it's not going to happen.
The credit union industry is in a unique position. They not only have the ability to continue providing financial products to their members but also to be pro-active in showing our country's solidarity and our individual concern for each other.
Credit unions are known for outstanding member service as well as a genuine interest in the well-being of those who are a part of the credit union family. Because of that they are looked upon as a calming and reassuring influence on their members.
As they have in other instances, credit unions are able to lead the way in what needs to be done to get people through a troubling time. Much like they did during the financial crisis that began in 2008.
Credit unions can and must assume the leadership role in reassuring their members with exceptional service, attention and a friendly smile. They need to engage their members in conversation and if they show concern or apprehension, remind them of the leadership role and strength of our nation. Tell them that credit unions stand with their members and are there for them every way. It must be business and life as usual.
It's really all about the credit union philosophy. One for all and all for one. People helping people. It has made credit unions great just as it has made our country the greatest in the world.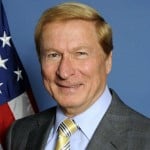 Michael Fryzel is the former Chairman of the National Credit Union Administration and is now a financial services consultant and government affairs attorney in Chicago. He can be reached at ...
Details