Digital is not always green: 5 ways to be environmentally responsible in the digital space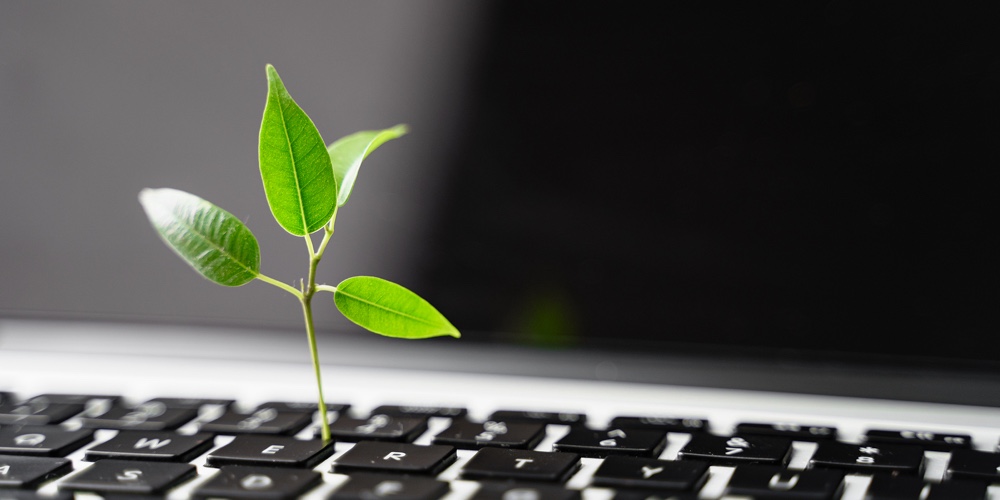 This is Part I of a four-part series about digital responsibility.
Digital has infiltrated nearly every aspect of our lives, and even more so over the past year. There are plenty of benefits to digital, like being able to access electronic health records, apply for a loan at 2:00 a.m., connect with far-away friends, or book your own plane ticket. 
But there's also a dark side, which we're only just starting to fully grasp—echo chambers created by highly targeted and often factually questionable content; easy ways to spread violent, racist, hateful rhetoric; increases in depression and anxiety driven by isolation and distorted perceptions of reality; and much more.  
How credit unions use and deliver digital impacts members, employees, and the larger community in ways that might not even be on our radar. Done well, there are plenty of benefits. Done not so well—even unintentionally—and the risk of damage is high.
Credit unions are hardwired to be civically responsible, especially when it comes to meeting the needs of the vulnerable and underserved, and the digital space is unearthing both new opportunities and challenges. The emerging concept of "digital responsibility," as explained by this 2020 article in MITSloan Management Review, takes into account social, economic, technological, and environmental factors.
When it comes to the environment, you might first think about all the benefits of digital. Remote work options mean less commuter traffic, virtual conferences mean less air travel, and online and mobile tools mean less paper.
But here's a not so "fun" fact you might find surprising: If the global IT industry were a country, only the United States and China would contribute more to climate change. So how can your credit union become more environmentally responsible when it comes to its digital services, products, and equipment?
Here are a few tips:

Make a NetZero carbon commitment: A NetZero carbon commitment simply means not adding new emissions to the atmosphere. Tim Frick—Founder and President of Mightybytes and a recent PixelSpoke podcast guest—recommended two steps to make this a reality: power your technology with renewable energy (many utilities offer ways to tap into wind and solar power even if you don't have the equipment yourself) and use offsets through a service like Terrapass to cover the remainder of your carbon footprint.
Audit your digital vendors: Here at PixelSpoke, we want our clients to feel good about working with us, not only because of our high-quality services but also because we're committed to being a force for good. We are carbon neutral, and as a B Corp, we've met the rigorous standards of social and environmental performance, accountability, and transparency as regulated by the nonprofit B Lab. Ask your digital vendors if they are actively tracking, reducing, and/or offsetting their carbon emissions. If you are looking for a new vendor, make environmental commitment part of the vetting process.You can find opportunities in places you might not think to look—for instance, you can change your default search engine to Ecosia to plant a tree with every search, or find a green host for your website through the Green Web Foundation's hosting directory.
S-t-r-e-t-c-h your equipment replacement cycle—and dispose of old equipment properly: Does your credit union dispose of equipment on a set schedule or an as-needed basis? And do you automatically dispose of malfunctioning equipment or investigate a repair? Postponing replacement timelines and repairing equipment when it's practical could go a long way toward minimizing e-waste, which comprises a stunning 70 percent of our country's toxic waste.

You can also look for better ways to dispose of equipment — for instance, donating it to Goodwill or a local nonprofit like Free Geek. Last year, Free Geek repurposed one of our older company laptops to facilitate virtual learning for a foster child.

Optimize your site speed: How fast does your site load? We all know that the faster your site loads, the less you risk losing users and the higher your website will rank in search engines. But it's also worth noting that a slow-loading site also uses more power. Even a simple Google search requires as much energy as lighting up a 60-watt bulb for 17 seconds and emits 0.2 grams of C02. That might not sound like a lot, but shaving just a second off your load time could have a real impact when multiplied by thousands of visits!

Here at PixelSpoke, we conduct site speed audits for our clients to determine where to trim the fat. Common recommended tasks include optimizing image sizes; using JPG images instead of PNG images; examining third-party integrations and looking for code that can be deleted or better streamlined; and deleting obsolete pages, plugins, and/or files.
Track and communicate your progress: I'm a big fan of the popular adage, "What gets measured gets improved." Clearwater Credit Union, a PixelSpoke client, captured year-over-year figures (comparing 2017 and 2018) and used these benchmarks to come up with a list of environmental goals, which included tracking purchased electricity.

Clearwater set an ambitious goal of achieving carbon neutrality by 2020, and we're excited to report they were successful! Not only did they meet their goal, but they were fully transparent about where they were and where they hoped to be, making a concerted effort to to keep their members and broader community apprised of their progress.
Remember, digital responsibility is not confined to the marketing or IT department. Including environmental goals related to digital in your strategic planning process and making them public commitments can ensure that it becomes a company-wide priority in which all staff members are invested. Proactively communicating progress can further foster this collaborative spirit.
Next month we'll tackle the social factors that credit unions should take into account when it comes to being digitally responsible. In the meantime, let's start thinking about how we can "green" our digital spaces and minimize our environmental footprint.
Cameron Madill is the CEO of PixelSpoke, a B Corp, worker-owned marketing agency that builds websites for credit unions and other impact-focused cooperatives. He is also the host of The ...
Details