Embrace uncertainty––it's your opportunity to become the leader you might never have imagined without it!
"We are often taught that uncertainty is a bad thing––that it reflects weakness of character, a lack of enough data, a 'wishy-washy' attitude…In reality, uncertainty is the most important thing that we have. It tells us not only what we believe about the world, but also how reasonable those beliefs are in the first place."
Yes, yes and yes!
I found this in a Berkeley Science Review article by Chris Holdgraf, who "studies cognitive and computational neuroscience…"
So why should you as a CU leader care about this?
One of the key strategies of The Sensei Leader is: "Be flexible, adaptable and comfortable with uncertainty." Far from a sign of weakness, your ability to deal with uncertain is one of the most powerful indicators of success as a leader.
At every workshop I ask CU leaders this exact question: "What's going to happen tomorrow?"
This is not a joke. What is amazing is that while inexperienced or aspiring leaders will often try to contribute some meaningful predictions, the experienced leaders know the only reliable answer…
"I don't know."
The CU world is rapidly changing. You're constantly adapting to new technologies and security threats. You're facing shifts in economic conditions, culture and expectations. And yet no leader can anticipate every possible change. Nobody can predict the future with absolute certainty.
Of course we work to reduce uncertainty so that we don't make foolish mistakes or unwise decisions. We want to reduce the chances that we'll be blindsided or caught unprepared. Still, the idea that we can operate with absolute certainty is at best naive and at worst––arrogant.
Aspiring leaders are well served to develop a comfort with uncertainty early. One of the strongest indicators of your potential to succeed in leadership is your ability to deal with it.
As a leader, your ability to manage unforeseen challenges and seize unanticipated opportunities will greatly determine your effectiveness. And your demeanor in the face of rapidly changing conditions is one of the key factors in how you are perceived as a leader in the hearts and minds of the people you serve.
Leaders who deal calmly and skillfully with uncertainty are seen as strong, confident and able. This earns the trust of the people you serve and increases your ability to attract willing followers––the trademark of an authentic leader.
But still, how is it that uncertainty isn't just a sign of weakness? Don't confuse uncertainty with ignorance or lack of preparation. Those are weaknesses.
Executive strategist Eric Douglas posted a commentary on LinkedIn recently. Citing a study on the relationship of confidence and certainty, he found:
"Leaders who were confident but relatively uncertain were viewed as more effective, more likely to foster creative thinking and independent thinking. Those who were confident and certain were viewed as authoritarian and inflexible."
Holdgraf finished his article with this powerful thought:
"Ultimately, it's our uncertainty about the world that drives humans to discover new ideas, invent new tools, and get to the bottom of things. Dealing with uncertainty is one of the most human endeavors, and knowing how to think about uncertainty makes you incredibly powerful in making decisions."
It took me a long time to understand this, but the only real certainty in life is uncertainty. Life is change, and for a leader, that reality is amplified by your responsibility to guide others through all this change and uncertainty.
If you're going to be an effective leader, you'd best get comfortable with it!
Better still, embrace it…
Uncertainty is your opportunity to become the leader you might never have imagined without it!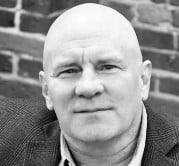 Jim Bouchard is an internationally recognized speaker, Leadership Activist, and founder of The SENSEI LEADER Movement™. He's the author of 8 leadership books, and hosts Walking The Walk, a ...
Web: www.armstrongspeakers.com
Details