Formula for a bad sales experience – based on true stories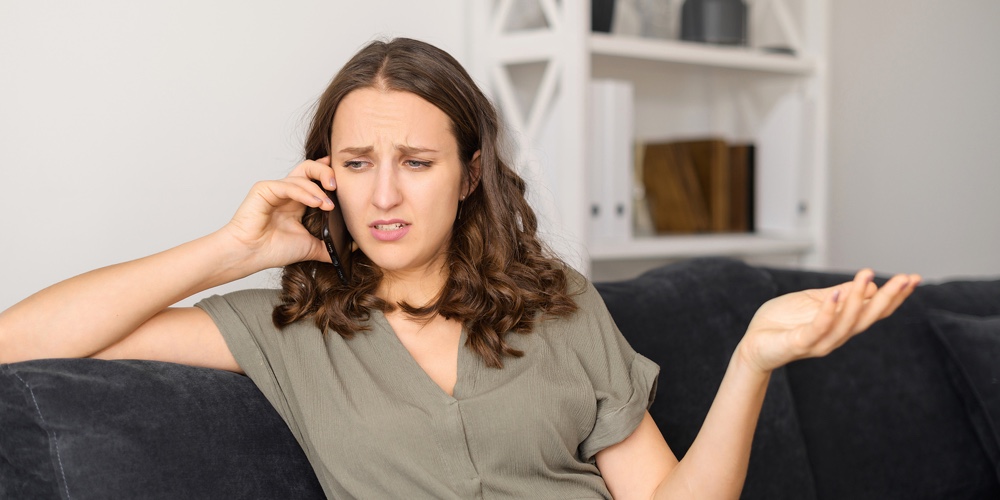 Most of us have been on the receiving end of a nightmare sales or service call. This could be from your financial institution, doctor's office, car dealership, or any number of other businesses. While these calls are uncomfortable at the time, they also provide a great opportunity to examine your own process for performing member outreach.
Below we will examine two examples of real-life sales calls gone wrong, and discuss lessons we can learn from these unfortunate experiences.
Bad Sales Experience #1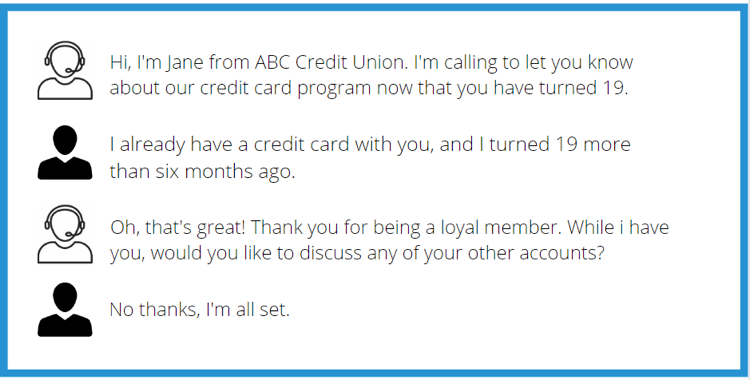 Where did this financial institution go wrong?
The financial institution made three key mistakes during this sales experience:
Offered a product the member already has
Used an outdated trigger as the reason for the call
Was not prepared to discuss the member's relationship as a whole
These mistakes caused the member to feel like the credit union does not know or value him. By not realizing the member already had the product, it seems as though the credit union is simply working its way down a list rather than taking time to make a valuable and thoughtful recommendation to the member.
What lessons can be learned from this experience?
The financial institution must recognize that time is precious, for both members and employees. There are simple steps the financial institution can take to ensure the member's time is being respected and the employee's time is being used effectively.
Leverage technology to ensure communication is timely, relevant, and personal
Aggregate data from disparate systems to create a 360-degree view of the member
Provide a solution that is both transparent and easy for employees to track interactions
Bad Sales Experience #2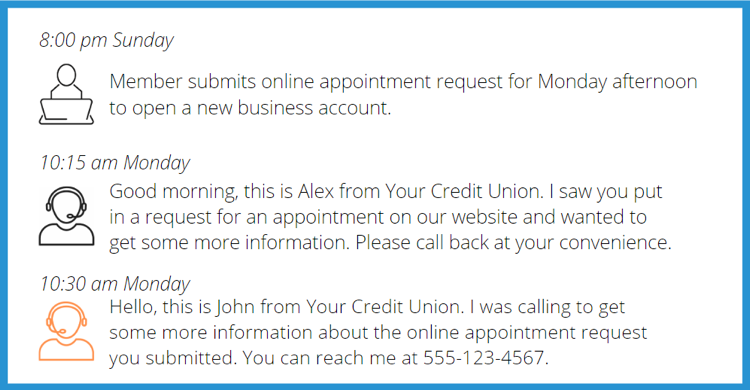 Where did this financial institution go wrong?
This sales experience exemplifies a few key mistakes, including:
Contacting the member to obtain information that had already been provided
Lack of internal communication leading to multiple contacts within a short period of time
Not respecting the member's channel preference
While it is great that the FI offers an online appointment tool, that is undermined by the branch employees' actions of calling the member to confirm the request. The member is left feeling frustrated by having to reiterate information already provided online through a channel they do not prefer. The FI also appears unorganized since more than one person reached out to the member.
What lessons can be learned from this experience?
Credit unions must get better at capturing, synthesizing, and using their data. As more interactions shift to digital channels, it is increasingly important that a member's activity from all channels be captured and displayed in a single view.
Efficiently capture and utilize data supplied in all channels, especially digital channels
Leverage an internal system such as a CRM to ensure interactions are tracked and communication efforts are not duplicated
Focus on Member Experience when designing processes, such as following up to an online request
Using Technology to Prevent Bad Sales Experiences
The credit union industry prides itself on exceptional member service and member experience. While bad sales experiences will continue to occur, we can use those as fuel when designing our own processes and experiences. After all, the lessons of "what not to do" are just as important as "what to do."
In many of these instances, proper technology—and proper utilization—can prevent these sales snafus. Lodestar Technologies specializes in aggregating data from all of your disparate systems into a single multi-source data warehouse. Lodestar's solution provides a business intelligence platform that makes it easy to access and interpret data, purpose-built workflows that can streamline and automate processes, and even a CRM solution created specifically for financial institutions. Best of all, Lodestar has the people in place to ensure you get the most out of your technology. Learn more at lodestartechnologies.com!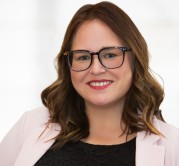 As an experienced leader in the industry, Andrea Brown enjoys sharing her passion with credit unions as they define—or refine—their analytics journeys. Andrea spent nearly a decade cultivating ...
Details