Going local: Is it the smartest – or cheapest option?
6 myths of producing your own environmental graphics & merchandising
Despite the recent transformation of financial services branches as digital services explode, the need to differentiate the essence of your brand and communicate relevant product solutions remain vital to user experience consistency and revenue creation at the point of sale.
Some would argue that the time spent by financial consumers in branches (especially in new ones) makes the physical environment the #1 choice of all touchpoints in creating a rich user experience (UX) that enhances relationships, grows wallet share and cements your brand, while establishing mission and values connections.
While financial services retailers often seek outside expert consultants to design their brand strategy and initial branch merchandising program concepts, when it comes to the production and ongoing rollout of the brand into the branch, they're often fueled by a strong desire to use local, supposedly lower cost resources. Imagine Starbucks or NIKE Town handing off their entire brand experience and merchandising systems to a local firm to save a few dollars on a million dollar store rollout.
Is the "keep it local" aspiration really the superior – or even cheaper – way to produce high impact consumer-facing branding elements, digital content, signage and product messaging setting the tone and quality for your brand?
Compounding the lack of local environmental design and merchandising expertise is the absence of specialized skills to carefully engineer staff and client experiences and messaging at headquarters spaces.
Your organization's most visible public branded showcase shouldn't be handed off to local amateurs. Frequently we see inexperienced local firms mired in the intricacies of complex environmental HQ design solutions, wayfinding signage, tech demos and brand communications. The result is uninspired design, poor execution, change orders, overwhelmed leaders, and lower quality materials that erode any early hopes at achieving real "savings."  
This DIY/Buy Local/Save money aspiration has created some prevalent myths. Let's examine the top 6 most common ones:
Myth #1:  No special financial industry knowledge is really required. In retail display and visual merchandising design, there is a level of expertise, constant material improvements, and new industry knowledge that only comes from immersion in the fields of custom large format graphics and retail fixture manufacturing for branch spaces. It's not your fault. There simply isn't time in the day or people in your resource pool to specialize.
At Weber Marketing, we link our 30-year niche expertise in the retail financial services category and the visual production industry behind our history of installing over 1,600 branch and HQ spaces. With merchandising experts who worked at Starbucks and REI Co-op, we bring an extraordinary combination of visual merchandising creativity, quality production methods, project engineering, and material cost savings that ensure we are always on budget, on time, on quality standards, and that we meet or exceed client expectations. You get exactly what you paid for with no excuses. Our multi-year client references tell our best story.
Myth #2:  There are lots of skilled firms who do this.  There actually are a number of local large format digital printers, acrylic fabricators, sign companies, kiosk manufacturers, cable and hardware suppliers, and signage installers out there. The problem is, few integrate all the elements together; and fewer still specialize in financial brand environments (branches aren't Verizon stores or Burger King). There are only a handful of expert financial industry vendors like Weber Marketing that orchestrate our partner quality standards at every step of design, fabrication, materials integration, quality control, construction management and installation of the highly specialized financial merchandising, digital and environmental graphics that create successful branch spaces.  
Go it alone and you'll spend time and research locating the few local firms, if any, that do.  Be aware though that if your local resource doesn't integrate each complex element and material of the retail display system, or work with your construction managers planning installations or remodeling – then your staff hours and risk just went up exponentially. Not to mention consistency, quality control and value delivered on each unique future project – all at prices that hopefully don't go up. If all systems are not managed under one roof, your own team will spend untold hours managing details, sub-contractors, working shop drawings, and constant critical decisions – as you now become the "orchestrator." You must now manage multiple complex vendors who don't talk, don't link quality standards and won't own the end product result that sets the visual style and tone of your branch and HQ brand environment. You learn quickly that "results may vary," and they generally do.
Myth #3:  This will save lots of money – and time. There's an interesting phenomenon in the retail display that industry salespeople refer to as "lowballing the first project to win." It happens all the time. Suppliers drop prices to win in the local new client over with an amazing set of savings – at any cost. Then later they figure out how to deliver a quality, integrated, flawless branch project that makes the new client happy. It's not sustainable business practice. Suddenly clients realize that quality and materials weren't quite what you expected. You demand makeovers: prices quickly go up. They didn't bid working with your sub-contractors shop drawings or your facility teams and branches on planning flawless installations. It was a myth that you could actually save a ton going local.
Unlinked production processes, lower quality materials and mistakes cost money to fix. But the time that mistakes, lack of expertise, wrong decisions, or delays cost your staff and organization is incalculable. The learning curve on producing quality environmental graphics, wayfinding signage and retail fixtures are long and expensive.  With critical construction timelines, a constant flow of puzzle pieces and decisions that must all come together over months on installation day with sub-contractors, it doesn't take much to derail a project, resulting in costly reworks and an unhappy C-Suite. Delayed or additional install trips, rush fees, expedited shipping and change orders add up fast and supposed "savings" disappear quickly.  
With an expert agency like Weber Marketing to plan, manage, guide, communicate with client teams and construction managers, you get exactly what you expected: on time, without surprise and without unexpected expense. With our manufacturing volumes, we negotiate great pricing up front with our trusted partners. We pass along volume savings that you will not be able to get on your own locally. As a result, we have affordable packages and quality options for any need and budget. Having an expert branding agency leading actually saves not only money, but massive staff time and resources. How do you calculate the value of your staff time? We don't need to play the lowball game and it's why we keep satisfied clients for years.
Myth #4:  It's not that hard to do.  To do it right inside a high quality professional $1-$2 million branch space; with staff working there and clients is actually pretty hard. Mistakes, inferior quality and the consequences are very visible and messy while people are trying to run a professional financial branch.
We've been there: 1,600+ times. Merchandising may be new to you, and the finished installation may seem simple, but do you know how temperature and sunshine may affect each material substrate in your area – and can cause rapid failure? How LED light will affect graphic viewing and change colors? What degree of opacity is needed to achieve privacy or messaging visibility in window graphics? Which acrylic and glues will work best (or fail) on your hardwood laminate and metal kiosks or hardware systems? Who in the heck wants to really learn all that the hard way? We work out every project design detail and material decision with our production team, partners and our install team to manage quality control each step of the way. So your team doesn't have to make each one of those decisions – and own the mistakes.
Myth #5: Local suppliers mean no crating and shipping costs. Many local markets lack qualified and experienced environmental graphics, material fabricators or metal and wood craftsman that can deliver a robust and well-linked comprehensive merchandising program. Even in large metro areas, packaging and crating is required to transport elements safely – even a few blocks.
Weber Marketing negotiates annual freight forwarding volume discount rates across the US. In comprehensive test studies of shipping a standard crate of environmental graphics across the country from Seattle to New York, and across one state from Washington to Oregon, our crating and shipping costs were the same or less than shipping from more local or regional suppliers. If they're across the street and experts at modern retail financial branch merchandising, hire them.
Myth #6: The facilities people can install all the graphics. Most likely your facility staff (and local sign installers) have never managed the complexities of high quality environmental merchandising programs. Modern quality environmental graphics isn't like hanging acrylic poster holders on the wall.  At Weber Marketing Group, we have our own internal team of retail installation experts with over 17 years of construction and branch installation experience. They have comprehensive knowledge of the wide array of engineered materials, mechanical solutions, construction issues and wall, window, ceiling and floor mounts they must carefully engineer in our environmental merchandising programs. They're involved throughout the design and manufacturing process and know every detail of your specific products long before they're onsite to complete the installation. If we provide a unique custom solution, or work on 25+ branch installs simultaneously, we also have vetted partners across the country under our direct supervision.
The best does not mean it costs more upfront, or over time.
At Weber Marketing Group, our retail merchandising business model is to provide our clients the highest quality, end-to-end, holistic, integrated and affordable retail environmental merchandising and digital design solutions in North America. That encompasses a total quality management approach for design, engineering, printing, fabrication, manufacturing, color matching, crating/shipping and installation. And we own the end product, budget and quality results.
Managing all of this effectively requires a highly specialized skillset. One that is typically not found in-house at most organizations, nor locally in a single retail merchandising or digital graphics firm. Optimism and hope surrounding a DIY localized approach to managing your environmental merchandising and graphics program to save money is not a strategy.
The reality is that going it alone comes with a steep learning curve; a minefield of hidden risks, constant decisions and potential errors. It is highly time consuming for your marketing, branch and facilities teams, in light of other vital priority projects. Travel this road with a highly experienced partner and guide and you will save untold aggravation, time, money and maybe even your reputation.
Co-Authored by Ruth Kapcia, Director of Retail Experience, Weber Marketing Group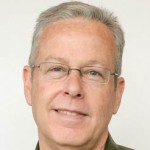 John Mathes is the Director of Brand Strategy at Weber Marketing Group, a strategic branding and marketing consulting agency focused on the financial industries. He's honed 30 years of ...
Web: www.webermarketing.com
Details