The CUInsight Experience podcast: Greg Mitchell – Going beyond (#121)
"What matters is what you believe you can do." - Greg Mitchell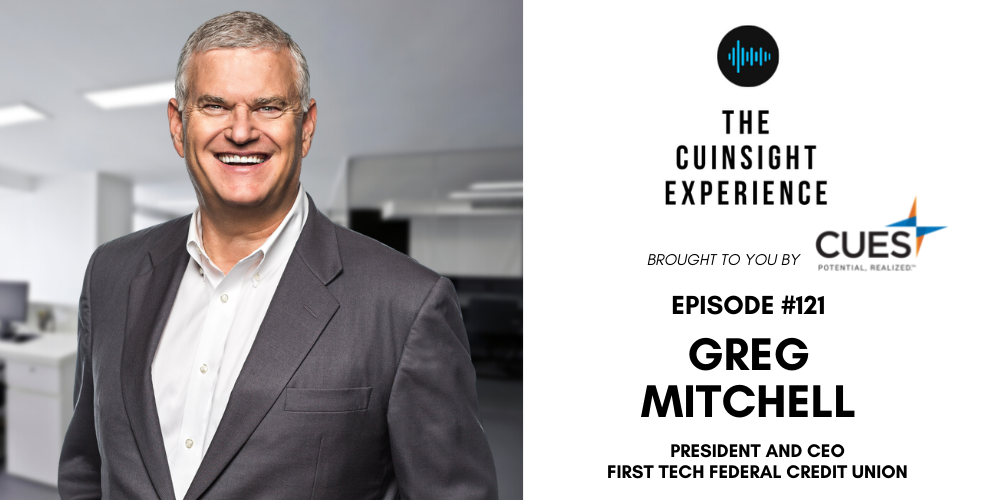 Thank you for tuning in to episode 121 of The CUInsight Experience podcast with your host, Randy Smith, co-founder of CUInsight.com. This episode is brought to you by CUES. CUES is the leading talent development solutions provider to the credit union industry. After listening to our show, be sure to register for CUES' new online panel discussion series, Real Talk. The inaugural topic, Women in the Workforce, kicks off on November 10th. Register now at cues.org/realtalk.
My guest on today's show is Greg Mitchell, President & CEO of First Tech Federal Credit Union. In this episode, we chat about strategic innovation, maintaining purpose, and levels of change in transformation. We walk through Greg's career journey from the United States Coast Guard to Credit Union CEO and the many leadership lessons he's learned along the way. 
Greg shares that First Tech's focus is on making a material difference in the community by combining technology and relationships. We learn that innovation is not new to First Tech, as the credit union was among the first to offer online banking services. During the conversation, Greg encourages leaders to research when, where, and how members want to engage before making large investments.
As we move forward, Greg shares tips for creating strategic plans around technology and member services. He explains that credit unions can position themselves to address the digital expectations of members while maintaining the human aspect with deep insight and care. No matter the size of a credit union, the right strategy can be carried out efficiently. 
Although Greg's start in the industry was not intentional, he appreciates the credit union movement for helping him discover the best version of himself as a confident leader. We learn that he enjoys the outdoors and his woodworking shop is where he finds space to think strategically. Tune in to hear what Greg is reading and his definition of a true leader. Enjoy my conversation with Greg Mitchell! 
Subscribe on: Apple Podcasts, Spotify, Stitcher 
Books mentioned on The CUInsight Experience podcast: Book List 
How to find Greg:
Greg Mitchell, President & CEO of First Tech FCU
greg.mitchell@firsttechfed.com
www.firsttechfed.com
Twitter | Instagram | Facebook | LinkedIn 
Show notes from this episode:
A big shout-out to our friends at CUES, an amazing sponsor of The CUInsight Experience podcast. Thank you!
Register for CUES' online panel discussion Real Talk: Women in the Workforce here.
Check out all that Greg and his team are doing at First Tech FCU here.
Place mentioned: Oregon
Shout-out: YP's of NWCUA
Shout-out: Gigi Hyland, The National Credit Union Foundation
Shout-out: Tektronix
Shout-out: HP
Shout-out: Amazon
Shout-out: Microsoft
Shout-out: Greg's parents
Shout-out: CUInsight Team
Shout-out: Greg's Executive Team & Board of Directors
Shout-out: Greg's wife
Shout-out: United States Coast Guard
Shout-out: Peloton
Shout-out: Drill press
Shout-out: Boy Scouts of America
Book mentioned: The Boys in the Boat: Nine Americans and Their Epic Quest for Gold at the 1936 Berlin Olympics by Daniel James Brown
Book mentioned: The Greatest Salesman In the World by Og Mandino
Book mentioned: The Four Agreements: A Practical Guide to Personal Freedom by Don Miguel Ruiz
Album mentioned: Eagles Greatest Hits
Previous guests mentioned in this episode: Gigi Hyland (episodes 2 & 120)
In This Episode:
[02:15] – Greg Mitchell explains the "Virtuous Cycle of Goodness" that is centered on teams and members sharing good.
[04:58] – Why does First Tech prioritize providing innovative service to clients?
[07:11] – Greg says that sometimes companies become overwhelmed by thinking that consumers want more than they actually do.
[09:19] – Greg gives his thoughts on the next 10-15 years in the industry around digital adoption and combining tech with a human touch.
[12:12] – Greg not only pays attention to his inner circle, but makes connections across the community and across levels.
[13:45] – Listen to Greg speak on his personal purpose, and he explains how he brings his purpose into the credit union space.
[16:43] – Why does Greg believe credit unions can benefit from being more bold?
[19:19] – Greg says he was inspired to take the CEO role at First Tech by getting to know the people in the organization and the board.
[20:49] – Here are the top attributes Greg believes are connected to great leadership.
[22:26] – Did Greg always have a confident relationship with his decision-making skills?
[24:36] – Greg discusses the difficulties in the transition into a leadership role, and shares what made the transition less difficult.
[26:06] – Which book did Greg recently read that gave actionable lessons on building a cohesive team?
[28:45] – Greg names his favorite music, and says he sometimes makes references to the rock band the Eagles.
[30:21] – Thank you for listening, and be well friends!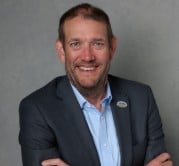 Randall Smith is the co-founder of CUInsight.com, the host of The CUInsight Experience podcast, and a bit of a wanderlust. As one of the co-founders of CUInsight.com he ...
Web: www.CUInsight.com
Details