How CUs can counter the 'monolithic,' model minority stereotypes during AAPIHM and beyond
May is Asian American and Pacific Islander Heritage Month (AAPIHM)! It is a month to lean into and celebrate the accomplishments, achievements, and contributions of Asians and Pacific Islanders to the United States. For me, this AAPIHM feels a lot more urgent and significant due to the increase of anti-Asian rhetoric and increase of Asian hate crimes in 2020 and onward. My own experiences with blatant racism, and especially microaggressions, have bubbled up from the hidden depths that I previously shoved below, and then coupled with the feelings of increasing fear for the safety of my Asian family members and friends (and myself), it all has just felt literally and figuratively heavy. On the other hand, this time has also been filled with increased awareness and support from my allies, and a greater sense of purpose and hope for the future. This acknowledgement of duality is a common philosophy in many eastern civilizations and is a tool I often call upon for perspective or centering.
I feel fortunate to be a Filipino-American Credit Union professional. Our movement, values, and structure are the epitome of cooperation, a focus on community, and alleviating social and financial issues. Credit Unions could be (and should be) a leader of pursuing Diversity, Equity, and Inclusion (DEI) and making positive change within our organizations and of course, in the communities of our memberships. It is a place where I have found some safety and the space to continue to move the equity needle forward.
A few years ago, I was sitting in a prominent credit union training. We were reviewing census data of a major American metropolitan city with the lens of racial equity and development issues. As we reviewed maps of segregation and gaps for financial access, the aggregated data only showcased the following groups: Whites, Blacks, Hispanic/Latinx, and Native Americans. I recall feeling so uncomfortable in my seat. It was then that I looked around the room and again felt just as invisible as the missing racial group on the slides. Immediately after that class, I mustered my courage and resolve and provided feedback to the facilitator. I consider this a defining moment of the start of my work in equity and inclusion. 
For most Asian and Pacific Islanders (APIs), my training experience above is probably a familiar experience: we aren't included in statistics or lumped together in ways detrimental to understanding the full API experience. Two main drivers of these feelings are the "Model Minority" myth/stereotype, defined as a belief that all Asian Americans are successful, smart, wealthy, hard-working, self-reliant, docile and submissive, obedient and uncomplaining, and never in need of assistance; and the generalization that Asians are a "monolith"—one large, homogeneous structure or group. These two prevailing thoughts shape and influence the unique racial and ethnic identities and experiences of API people in the United States. 
There are more than 40 countries in Asia—all with very different histories, cultures, languages, and other characteristics. Just as diverse as the number of countries represented, the API socioeconomic experience is also one that has the largest range from poverty to wealth. According to the Pew Research Center, Asians near the top of their income distribution (the 90th percentile) had incomes 10.7 times greater than the incomes of Asians near the bottom of their income distribution (the 10th percentile). This 90/10 ratio is greater than blacks (9.8), whites (7.8), and Hispanics (7.8).
In data from the US Census Bureau and FDIC, Asians are shown to be higher than whites in median income and comparable in poverty rate, unbanked, and fully banked percentages. Without a disaggregated view of the different subgroups under "Asians," these figures (and decisions made from them) do not consider the disparities faced for those subgroups (Center for Global Policy Solutions).
Economic Figures by Race
| | | | | |
| --- | --- | --- | --- | --- |
| | Median Income1 | Poverty Rate1 | Unbanked2 | Fully Banked3 |
| Blacks | $45,438 | 22.7% | 13.8% | 45.8% |
| Hispanic | $56,113 | 15.7% | 12.2% | 49.7% |
| Asian | $98,174 | 7.3% | 1.7% | 69.2% |
| White | $72,204 | 9.9% | 2.5% | 77.1% |
1 U.S. Census 2019 2 FDIC 2019 3 FDIC 2017
It is credit unions' responsibility to include these insights and considerations to serve our members and communities well and inclusively. We have a direct role in minimizing obstacles of systemic and social barriers that limit economic mobility not only for APIs, but for all BIPOC (Black Indigenous People of Color) people. Credit unions were made to provide financial services more compassionately and human-focused. Here are three steps that all credit unions can take to support the API community and counter the monolithic, model minority stereotypes:
Commit to continuous learning.
There are numerous resources and organizations that can help you on your API cultural competence journey. Also, check out local organizations and events in your own community.
See and include the "Invisible."
As mentioned earlier, disaggregating the data to include subgroups in the "Asian" category would give organizations a better understanding of their membership and/or markets. While this isn't always possible and may take some new data collection strategies, an even better option would be to do the work and get to know your members and your communities more intimately. Making the invisible visible, may take work and resources up front, but the data and direct connection would be invaluable. Imagine the inclusive marketing opportunities or the creation/offering of more applicable and inclusive products and services for different groups.  
Make Equity and Inclusion a priority.
In my personal DEI journey, I've been discovering that Diversity isn't enough. Sure, representation is helpful, but not if it is just a placeholder. Other steps include promoting diverse API employees into leadership and influential roles or on your boards; creating safe, trusted spaces to share; and lastly, practicing selfless listening. Action must be taken to prioritize equity and continued inclusion. If you see us hurting, don't ignore or dismiss our pain.
So in this AAPIH month and onward, as you commit to moments of learning and awareness of notable Asian and Pacific Islander figures and historical events, please include the invisible ones in your communities, the ones in your field of membership, the ones with small business accounts, the ones in your employee directory…we are speaking and need everyone to listen.
Special thank you and acknowledgements: 
To my BECU family: Thank you for being a space of growth and continuous learning.
My #CrasherFam, CUDE family: All my gratitude for keeping purpose constant. 
Renee Sattiewhite and the AACUC: For believing in me, amplifying my voice, and creating an inclusive and supportive environment in allyship and solidarity.
And of course, the biggest appreciation to my wonderful family, especially to my mom, who was never a submissive or silent woman!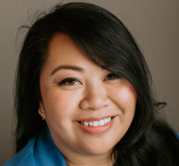 Hazelmae Overturf started her career in credit unions over eleven years ago serving BECU members in the beautiful Pacific Northwest. In 2009, her dream was to be a part of ...
Web: https://becu.org
Details