Is your business prepared for hurricane & disaster risks?
As we enter the heart of hurricane season, it is important to evaluate how prepared your institution is in the event your property or members are impacted by a tropical storm, hurricane or flooding. While this is particularly pertinent for coastal establishments, any lending institution is at risk of being impacted by inclement weather, as your collateral may reside in any number of these affected areas. Developing a plan of action ensures your institution and members will not be completely caught off guard when it comes to communicating and taking the next steps.
Considering anything can go wrong is the only way to be adequately prepared for catastrophic events. It is a smart practice to establish a disaster response plan that answers questions on what to do in the event of a hurricane. This plan should consider all areas of your business, such as:
Employees: Can employees get to work? Do you have alternative ways to get in touch with your staff members? Can your office remain open or can employees work remotely? Do you have access to adequate backup equipment to keep your business running?
Data: Can data be accessed to continue managing the business effectively? Is your data backed up and secure? How will your data remain protected if damages occur?
Service: If offices aren't accessible, do you have a plan for continuing to serve your members? Have you informed your members what's going on and what they can expect?  
Click here to download our Risk Checklist on Disaster Recovery & Response Planning
To prepare for collateral impact, set-up a proactive plan with your loan or insurance tracking partners to determine when and how you receive information before, during, and after the catastrophic event. If your loan portfolio is being properly tracked and monitored, you should have access to risk impact data specific to your collateral. It is vital that you are able to obtain information on members in named hurricane areas. There are several data sources that offer up-to-date information on hurricanes and other declared catastrophes. These include:
FEMA Daily Catastrophe Bulletins: These bulletins offer reports with extent of the damages, the path and location of the storm, and impact projections for businesses and members.
State Event Protocols and Bulletins: As soon as the storm receives a name, catastrophic event protocols and bulletins are shared by each state for lenders and insurers. These notices include temporary regulations, requirements, and policy stipulations for areas impacted by the storm.
Loan Tracking: Tracking data with details on your impacted collateral and risk exposure.
You can leverage data to build zone maps of your potentially impacted collateral and members. This information can – and should – be broken down by impacted collateral type and zip code location. Producing detailed status reports that assess the damage impact to your members and collateral at the time of the storm will also help you to address compliance needs (as regulators may ask for these). In addition to leveraging tracking data, services like license plate recognition software can help you remain informed about the risk likelihood for each of your outstanding pieces of collateral in the event of a hurricane or other catastrophic event.  
For example, when Hurricane Harvey hit Texas in August of 2017, the state transported hundreds of thousands of abandoned vehicles to a state fairground. Even though members walked away from their vehicles the lenders still had a vested interest in the collateral. Lenders who had access to tracking data via license plate recognition services could better manage the potential risk and locate their vehicles at the fairgrounds.
To recap: it is important your lending institution has a plan as we move into 2019's hurricane season. That includes:
Creating documentation that clearly states a communication and action plan for employees and members in the event of catastrophic weather.
Being proactive in data management so you have an accurate sense of your risk exposure and have information readily available to locate your collateral.
Communicating with your members so they are educated on what to expect and are clear on next steps to take if their collateral is affected.
Allied Solutions has tools and resources that can help you keep an eye on the potential areas of impact, protect against collateral losses, and stay on top of any new events, bulletins, and regulations as they happen.
Contact us if you want more support with preparing for these events and protecting against potential losses resulting from hurricanes and other natural disasters.
Sign-up for our newsletter to receive ongoing education on collateral and compliance risk management.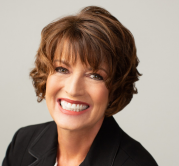 At Allied Solutions, Anne Holtzman is responsible for internal product development and identifying and developing partner vendor strategies that serve to provide risk management solutions to all facets of lending ...
Web: alliedsolutions.net
Details