Is your name helping or hurting your future growth and success?
Some financial institutions struggle for years to answer the question of whether their name is a positive brand asset with high equity that could drive growth ("if only it could be marketed better"); or an anchor causing prospect disinterest, market confusion and limiting future market share growth and performance.
The answers to the question: "should we keep or change our name," often surprise many senior leaders and board members. Underlying it is a more complex set of branding challenges and competitive market positioning issues, not just a name challenge. So how should you find out the truth, with facts and clarity, to move forward to a clear and strategic long-range choice on such a mission critical decision?
Without a well-managed process and expert brand and naming partners to guide and help you to proactively evaluate the strategic implications, the risks and scenarios of a name or brand change, emotions, personal opinions, and the irrational fear of the unknown usually prevail. These fears string out making a wise strategic decision; or worse, lead to reactive and costly short-term decision-making.
Risks and questions often dominate the early name evaluation stage among senior leaders and board members:
How many of our members may leave over a name change and their pride in our history and roots?
Could a name change be confused with a merger?
Do we just have a brand and marketing problem that our people need to fix?
Could this change hurt our staff culture, trust and confidence in leadership and the board?
Could we lose all the name equity we've built up over all these years? How can we retain it with a brand new name?
Will the huge cost be worth it in generating results, growth or improvement of our brand perceptions and market positioning?
There's a way to do the branding and naming process effectively—and many credit unions have failed to do it well on their own.
Beware of deciding to change names too hastily: engage a savvy process first.
A sound and professional name and brand evaluation process includes well-crafted market research to assess the difference between your brand equity; your competitive value proposition in consumers' minds; your reputation and your name equity. Each of those issues are distinct in tangible ways that can help ensure you avoid costly and major mistakes.
The decision to change your name should never be driven primarily around the fear of losing or keeping existing members happy or comfortable. Most consumers don't want change nor see value in growth (despite the fact it is vital to long range sustainability). The decision to change names is a decision of long-range competitive positioning, growth of future audiences and new market expansion.
Shared vision and focus are critical before considering a name change.
We believe in managing intelligent internal and external strategic processes that engage stakeholders: from board members and managers, to staff and volunteers. This early level of gaining "ownership" among key stakeholders can later help you build alignment and positive focus you will need to manage the emotions and communications around any changes you make.
Should your name tie strongly to the legacy and heritage of the credit union?
While some credit unions want a very strong tie to their past legacy and heritage, others see no value and in fact want to move beyond their past ties, as the confusion it has created with target prospects. These are true strategic branding and growth challenges that a name and brand can either help, or hinder for years to come.
What should leaders prioritize in evaluating their credit union's future strategy?
It is the responsibility of senior leaders and board members in their governance of long-term strategy, to look forward 5, 10, even 20 years without personal bias, and to ask the right strategic questions about any major change to the assets of their organization.
Whatever decision your organization chooses with your name, brand, and logo, the board and management should strive to reach aligned purpose and shared focus on the future decisions together.
Building a long-term strategic basis for decision-making helps leaders avoid getting mired in personal opinions and irrational fears of change, all which interfere with wise and thoughtful strategic business decisions. To fully ensure your credit union's future success, increasing your brand relevance to your future target prospects' lives (especially younger ones), will help you be more proactive in building a clear vision and purpose for why you exist today, while ensuring positive growth for years to come.
Strum has successfully renamed and implemented over 70 distinctive new brand names for some of the largest credit unions in the U.S. and Canada. Our robust process and research evaluate name and brand equity to guide leaders to retain, modify, or change names, and evolve their brands or redesign corporate identity.
To request the full "Identity Crisis" position paper, click here.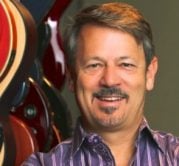 Mark Weber is the CEO and Chairman of Strum, a 30-year nationwide leader in financial services, branding, business intelligence analytics and data-driven strategy. With offices in Seattle and Boston, Strum ...
Web: www.strumagency.com
Details