Know your options in credit card processing: In-house vs. outsourced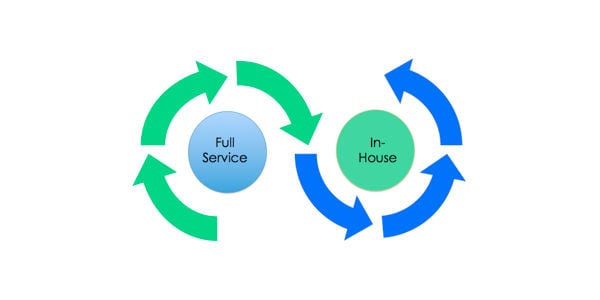 Fasten your seatbelts, ladies and gentlemen: digital disruption is alive and well in credit card processing. Financial institutions are racing to remain relevant, as consumer patience dwindles and competition from non-traditional providers increases. Meanwhile, new technologies like EMV, Tokenization, and Apple Pay proliferate, and legacy platforms struggle to keep up with the competition. Credit unions need to meet the needs of the 2015 member, and at the same time they have to manage expenses and consider operational efficiency. More and more, part of your strategic review includes an evaluation of card processing providers. Specifically, we are asked every week about ways that credit unions can have greater flexibility and control, while they manage costs and most importantly offer new features to their members. Looking at the differences between in-house and outsourced (called "full service") processing is a common thread throughout the industry today.
The Year 2000: When Technology was "Simple"
Let's take a walk down memory lane: the year is 2000. You are at your desk, marveling at the wonders of Blackberry as a pager/email device. The word "cloud" still conjured visions of fluffy cumulus clouds in the summer sky.
In the card industry, there were only a couple of viable vendors and the functionality they offered was very similar. Integration to the core was limited. Core processing providers were reticent to open their code to third parties, because they believed it weakened their position with credit union clients. Card rewards were an available feature, but creating and making changes to the program was nearly impossible.
Credit unions did not give credit cards a lot of attention. Credit cards were widely accepted as a marketing tool to attract new members away from banks, but Executive team involvement often ended there. Often, card operations were floating on an island separate from main lending functions. It was difficult to determine who owned portfolio performance. Cardholder retention strategies usually included Rewards, but there was internal dissension about how to structure the program in a profitable way for the credit union.
Members were indeed attracted by their credit union credit card offers, but utilization was often weak because there were limited features available. Transaction information was available in online banking, but only batch processing was supported, which meant that transaction data was one or two days old. Rewards seemed like a good idea, but redemption choices were limited and credit unions didn't support "householding" (where members of the same family with different cards can combine points).
All of these factors led most credit unions select to select companies that offered "full service" or outsourcing solutions for credit cards. Credit unions still had control of their members' card accounts, receivables, income and expenses.   Meanwhile, the processors handled the heavy lifting responsibilities of authorizations, balances, and transaction posting. Another benefit of full-service in those days was that most compliance burden stayed with the processor.
Fifteen years ago, only the biggest credit unions ran credit card processing internally. It was expensive and complicated. To run cards in-house required substantial resources at all levels of the organization, including Management, Operations, Compliance, Accounting and IT.
Fast Forward to 2015
Yes, the times have since changed, with that change comes confusion and that confusion causes disruption. In the midst of such disruption, however, credit unions have tremendous opportunities, specifically as they relate to deciding between in-house and outsourcing payment processing for credit and debit.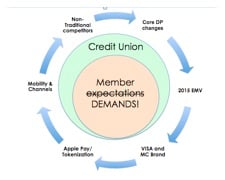 Today, many of us conduct the majority of our lives from our mobile phones. Running data "in the cloud" no longer means a meteorological phenomenon.   A variety of card processors have entered the market, providing you with more choices.   Integration between card platforms and the core is much better and often includes seamless access to member data. In the Rewards arena, probably the most interesting players are new third-party rewards vendors that rely less on transactions and more on the total member relationship.
Inside credit unions, you must keep the member at the center of every credit union decision in order to remain relevant. Technology and operations are more intertwined than ever. The old island life of card operations is long-gone, and credit cards are an important part of overall lending strategy. Among management teams, technology innovation and integration are top of mind. Tremendous data is available about the member, like how and where they shop. Credit unions are asking "how do we leverage that data to make it meaningful for us and to provide a better value proposition to our members?" As a result, credit unions require better core integration, more flexibility, and a comprehensive feature set.
Members are using credit union credit cards more than ever before. In 2014, penetration rates reached almost 18% across the industry (source: Callahan 2014 Supplier Market Share Guide: Credit Union Card Payments). At the same time, they have more technological savvy. They demand access to real-time transaction data, and most credit unions can comply. New technology features like mobile access and NFC are appealing to Gen-Y. Finally, members use the wide variety of Rewards redemption offers available today, including merchandise, travel, and cash back.
Considering Your Options for the Future
The full service model isn't the best fit for every credit union, and neither is in-house processing. The good news is that there are many choices available, regardless of credit union size.
Some full service players have unveiled an "integrated" full service model that gives credit unions more control while keeping the primary responsibilities with the processor.  The cost of processing in-house has gone down considerably. Some core processing systems have made integration with credit card data straightforward enough that it is possible to run a credit program without staffing a large department to do so.
What's the Best Approach?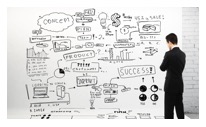 It is important to take internal operations capacity into account when considering your card processing options. Member services, marketing, and Accounting will be impacted. Your current (and future) core processing system and how it works with payment processing systems is also an important consideration.   Look to answer these important questions as you weigh the pros and cons of in-house and full service card processing:
What are you trying to accomplish: Is it growing the portfolio? Offering more features? Improved reporting? All of the above?

How do members access your products today? Do you want want change that?
How do payment products interact with channels?
Be honest about the strengths and weaknesses among your credit union team.

Operations: who owns the card portfolio? Who is responsible for balancing? For analysis?

Technology – in-house processing requires a higher level of IT proficiency. Some of that work can be outsourced, but not all of it.

Push for details about integration between your core processor and payments functionality. Ask for references that are configured similarly, and visit or at least talk to those credit unions.
How do members access your products?

Is there consistency around providing service where and when your members want it?

Work with a consulting group that thoroughly understands the nuances and pricing structure of providers in the market. A third-party can provide an invaluable window into operations and the reality of those vendor promises.
Moving Forward
At the end of the day, members want convenience, flexibility, and innovation. You need to differentiate based on service, while keeping costs low and operational efficiency high. Vendors are making strides to improve the member and credit union experience through integration.
CU Engage recently conducted a webinar reviewing the differences in the options between in house and outsourced processing. Email info@cuengage.com to receive a free recording of this webinar.
As you evaluate the differences between full service and in house processing, don't limit your options based on current contract terms. There are many options available, and vendors can offer big incentives to break current agreements.   Now is a perfect time to review your contracts. Contact CU Engage at info@cuengage.com for a FREE vendor assessment. We will review your current contract terms and pricing and provide advice on a future course of action.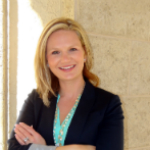 Jennifer Addabbo, co-founder and Partner of CU Engage has over 12 years of experience working with banks and credit unions in a variety of capacities. She spent 8 years at ...
Web: www.cuengage.com
Details