Looking to better engage employees? Ask them how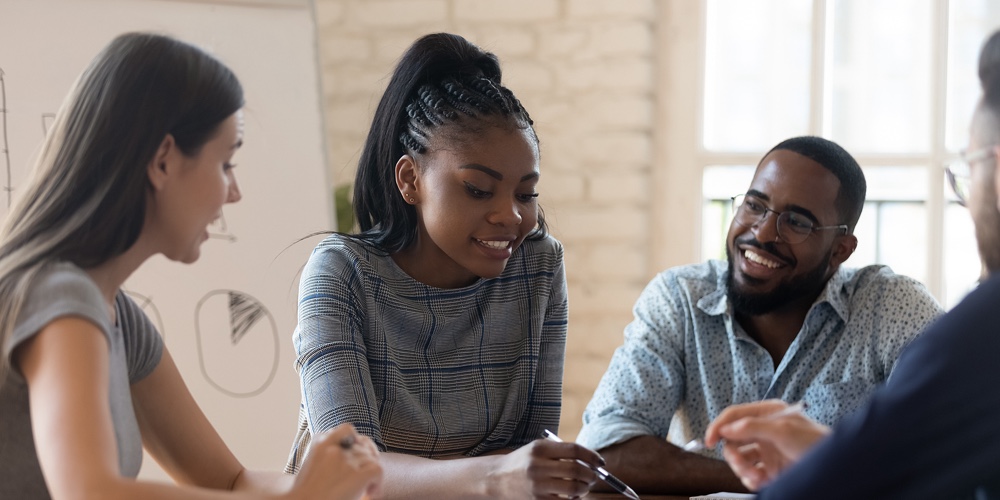 Imagine this scenario: You're in a romantic relationship and it starts to feel like your partner is a little checked out. The relationship is important to you, so you talk to your partner about what might be happening. Your partner doesn't feel appreciated and wants to hear more often about how they add value to your life.
There is no question your partner adds value: She believes in what you can accomplish and supports you in getting there. They remove barriers by taking care of tasks that free you up to chase dreams. He plans experiences that inspire you.
Now that you have heard what your partner needs, your next step is obvious, right? You have the tools to improve the relationship and just need to use them. Too often, though, people hold back: They look for the right time to express appreciation. They minimize the value of responding to an ask instead of thinking of something on their own. Even when the need was clearly stated, some people think a different idea might work better.
Reading this scenario may feel like watching a horror movie and yelling at the screen that the girl should definitely not answer the door when there is a serial killer on the loose. Viewers know this will not end well! The information to make things right is right there. Use it! Somehow, though, this doesn't seem to happen automatically— not with the important partners in our personal life, nor with our most important professional partners: Our employees.
I am a certified coach using the Harrison Assessment. One element of the Harrison is to measure employee expectations and engagement factors. The report identifies 10 engagement factors, ranks them in order, and indicates that an individual's five highest ranking factors are essential to meet. This offers clear insights into what employees need to feel engaged, delivering answers directly to managers. It is a great conversation starter to talk with employees about whether their needs are being met or what could be improved. Just like in personal relationships, it is not that uncommon for leaders to shy away from having these conversations though, or to fail to act on the feedback they receive.
If you are looking for ways to better understand individual employee expectations and improve engagement, consider the following:
Know the unique ways individuals feel most engaged. In the Diversity, Equity, Inclusion training module that Humanidei offers, we introduce participants to the Platinum Rule. Whereas the more well-known Golden Rule encourages people to treat others as they themselves wish to be treated, the Platinum Rule encourages people to treat others as others wish to be treated, recognizing you may need to ask directly to get this understanding. 
It may surprise managers to learn the different ways individuals feel most engaged. Some might want Development (the opportunity to learn new job skills), while others want Advancement (a promotion). Work-Life Balance (time spent truly and completely away from work) may meet some needs, while Having Opinions Valued (being truly listened to and knowing their ideas contribute to the mission) will keep others engaged. Imagine how giving a promotion to someone who is craving more time away from work might be detrimental to long-term engagement. If you do not understand an individual's specific needs, good intentions might cause damage.
Ask early, ask often, ask around. Exit interviews are common. What do we really learn from them, though? As people are scooting out the door, there is little reason to risk anything to benefit the organization. Instead, it makes sense to make the graceful exit and leave without any burnt bridges. Often, when someone does give critical feedback at departure, it is dismissed: This employee is leaving anyway, why do we care what they think? Instead of exit interviews with the departing employee, consider asking close colleagues of people who exit the organization for their insights. Employees talk with their friends at work before making the decision to leave and unlike the departing employee, those who stay do have something to gain from offering constructive feedback.
New employees may also provide important insight and entrance interviews may be a meaningful way to measure alignment between what an employee imagined when accepting the job, compared to the reality of the experience. My colleague Carl coached an organization through asking a very scary question to a new employee, "Knowing what you do now, would you still have accepted this role 90 days ago? Why or why not?" This gave me some butterflies. What if the answer was no? Feedback at this stage presents an opportunity to improve the experience for all. Asking early—and regularly—for that feedback allows for interventions that get employee engagement on track.
Use your data. I recently read that job search activity increases by 9% around an employee's work anniversary and 12% around an employee's birthday. Employers know when these significant events occur. How well do we use that information to remind employees of how much they are valued at a time when they might be considering other options? If birthdays and anniversaries are celebrated, is it happening in a way that respects how the employee wants to be celebrated and demonstrates personal knowledge of the individual? For example, a gift card to an employee's favorite restaurant is more meaningful than a bouquet of flowers to an employee who is allergic.
In a market where it seems like employees hold all the power and expectations are extremely high, it may feel overwhelming to try to engineer a great employee experience. Keep this manageable by understanding that you do not have to be all things to all people, and you do not have to know all the answers yourself. Instead, manager-by-manager, invest in individual relationships, working with each employee to understand and meet their needs. Most importantly, when your employees tell you what they want, believe them and take action.
Jill Nowacki started her career with credit unions in 2001. She has taken on leadership roles at credit unions and state and national trade associations. Now, she uses her experience ...
Web: www.humanidei.com
Details