Mobile banking ratings: Could lower be better?
Have you noticed how much power the rating of an app has? Think about it, the last time you were looking for a GPS, exercise tracking, or mobile game. You likely based your decision to download the app (even at a cost) on its rating.
We have grown comfortable relying on others' opinions and we assume that these anonymous raters offer unbiased insights. After all, this is what we do with other experiences, from what restaurant to choose for dinner tonight to the hotel selection for your next family vacation.
What about a mobile banking app?
I have been investing much time lately (between November 2015 and February 2016 I studied 75 mobile banking apps) helping credit unions through the work we do at Filene with our Digital Strategies program. In that effort, I have uncovered a trend among app ratings in Apple's App Store. The rating of the app had more to do with the users' expectation rather than the app's functionality.
I found financial institutions with a robust app platform, built from scratch, offering good user experience, and with innovative features, with low ratings. In fact, the top 10 largest national banks averaged 3.1 stars out of 5. And the top 10 largest credit unions averaged 2.8 stars. If Angry Birds had this type of ratings, the world wouldn't have experienced the eighteen versions that they since launched.
At the other side of the spectrum, some medium size and small credit unions' mobile banking apps with the highest ratings (4.5 stars and up) shared the same interface developer. The ratings are the complete opposite. The features perform well, but are rather basic, there are no bells and whistles here, and yet these apps enjoy high ratings.
Why are mobile banking app ratings not directly tied to the innovative features or strongest and most robust experiences?
My hypothesis based on the verbatim comments in the ratings is that we have one set of people rating the apps of the large and innovative financial institutions as if they were rating features in a luxury SUV, while a distinct group of people is rating the apps of the medium size credit unions as if they were rating features available in a small economy vehicle.
Some of the harshest reviews given to the top 10 banks and credit unions are comparisons to other financials within this same group. They are based on advanced features like the ability for the mobile app to offer money management tools, predict future balances in real time, and activate and deactivate a card from the app. Members' reviews given to the medium size or small credit unions for their app interface used phrases as "being easy to use," "reliable," and "meeting the expectations for everyday banking."
This ratings story emphasizes the importance of building for your members and solving their biggest problems and challenges. Also, who are building for? Is it the member of today or the member you want to attract for tomorrow? In either case, don't let a positive rating "fool you" into believing that the mobile experience is exceptional. If your credit union is working on redesigning your mobile banking app and your goal is to offer innovative digital solutions to your members, let's say closer to a "crossover vehicle" experience, pay close attention to members' feedback. If you see a decline on your app's rating with members pointing to new functionality that the app is missing, you might indeed be attracting a new segment of members. And that lower rating might be a positive indicator that your program is going in the right direction.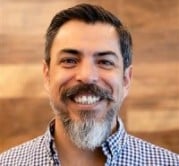 Elry Armaza is Chief Transformation Officer at Community Financial Credit Union.
Web: www.filene.org
Details